Officially brilliant! Andy and Diane celebrate awards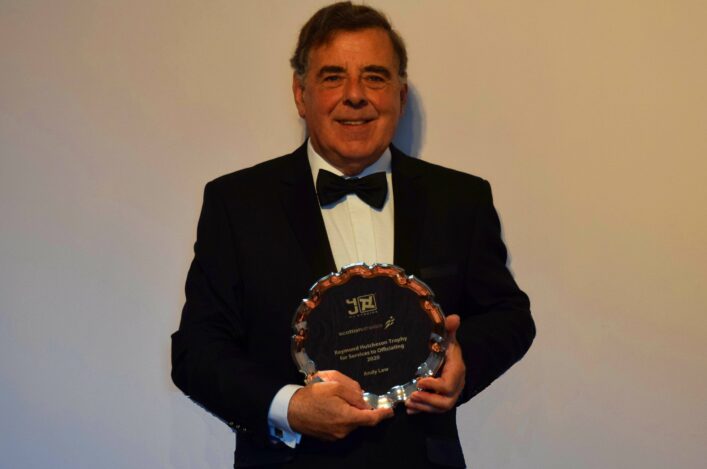 Andy Law with his award (photo contributed)
4J Studios Annual Awards winners
Our 4J Studios Annual Awards were delivered with a difference this year – as we went virtual for the first time with an online presentation.
There's been a great reaction to our special YouTube programme which ran to around 50 minutes and took in a host of scottishathletics and jogscotland awards as well as looking back at 2020.
We felt that despite the extraordinary circumstances of the past months it was still right and proper to celebrate, recognise and acknowledge the huge contribution to our sport by so many people.
In this article, we are looking specifically at our qualified scottishathletics Officials – the dedicated team of folk in purple and red who make our events happen (safely).
The Raymond Hutcheson Trophy for Services to Officiating is presented each year to mark an outstanding contribution and the 2020 recipient is Andy Law of Dundee Hawkhill Harriers.
A very accomplished Endurance runner in his day, Andy became involved in coaching and Officiating, originally as a Field Judge, on his retirement. Andy is now highly qualified in Track, Endurance, Field, Photofinish and timekeeping.
As an International Technical Official, he was on duty at the 2012 London Olympics and Paralympics and the 2014 Commonwealth Games in Glasgow.
An excellent Mentor for new and less experienced officials, Andy is an extremely popular member of the Scottish and UK athletics Officials community.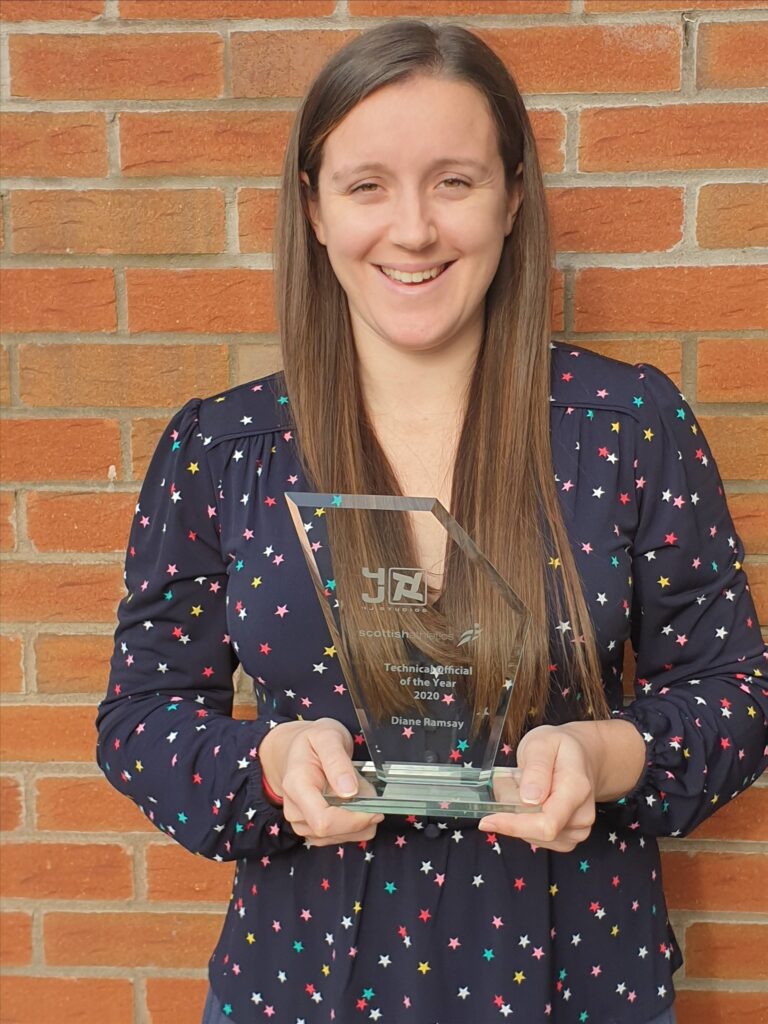 #SALtogether . . . Family ties: meet the Ramsays
The Technical Official of the Year award is presented each year after consultation with the Officials community and via nominations.
This year, the winner is Diane Ramsay of VP-Glasgow.
Diane is a former 400m athlete who competed in the 2014 Commonwealth Games in Glasgow. Having retired from competitive athletics, Diane was keen to get involved in officiating.
She is now an excellent Level 3 Track official and is working towards completing her Level 4 upgrading.
During lockdown, Diane created a video which got everyone's attention and applause when it hit social media. Her video also would be useful as an advertisement to those considering involvement in officiating.
Also short-listed for the Technical Official of the Year award for 2020 were Doleen Galbraith of Giffnock North AC and Nick Stone of Nairn Area AAC.
WATCH the full 4J Studios Awards broadcast
SUBSCRIBE to our YouTube channel here (it's FREE)
Tags: 4J Studios Annual Awards, Andy law, Diane Ramsay, Technical Official of the Year