#SALtogether: Family ties . . . meet the Ramsays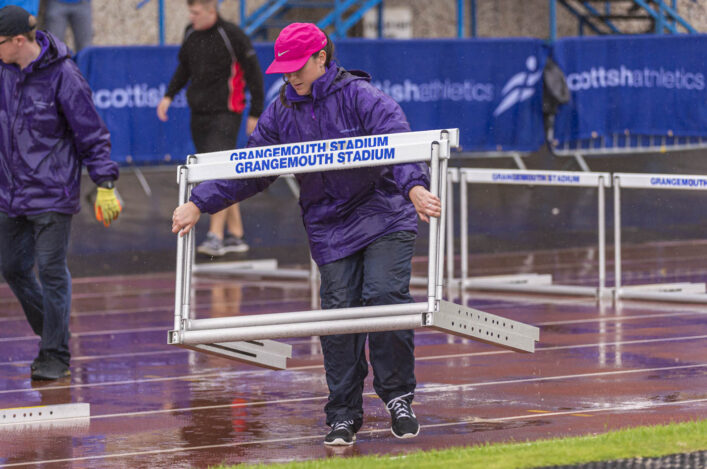 Whatever the weather . . . Diane is now a Level 3 Official who helps out at Events on a regular basis (photo by Bobby Gavin)
'Why I'm happy to help our sport' 
By Katy Barden
Diane Ramsay is candid in conversation.
'What I didn't realise,' she admits, 'was how much athletics would benefit me in the long run, for example my move into the workplace and that transition.'
It's an enlightening statement from the 27-year-old who retired from competitive athletics in 2017.
'It was a hard transition at first, moving out of university to start work, but the fact that throughout my athletics career my mum and dad weren't pushy – that it was me making decisions and my commitment to the sport that determined how successful I was or not – has meant that now that I'm in work, it's my commitment to my job that determines how successful I am. I don't have to rely on my mum and dad.'
It could be considered reverse psychology, or perhaps just clever parenting, but either way, the values instilled in Ramsay as a young athlete have served her well into her adult working life.
Having enjoyed a successful track career – which included representing Scotland in the 4 x 400m relay at the 2014 Commonwealth Games in Glasgow – she is now a Product Manager at investment bankers JP Morgan where her achievements extend beyond the office.
In 2016 she set up a running club with two colleagues and within three years they were the largest corporate team entered for the Great Scottish Run.
She is also a Level 3 track official, having initially 'stumbled into officiating' with a gentle push from the indomitable Liz Wilder and Margaret Ann McLachlan, as well as joint team manager for the new combined UK league team alongside Edinburgh's Anne Scott.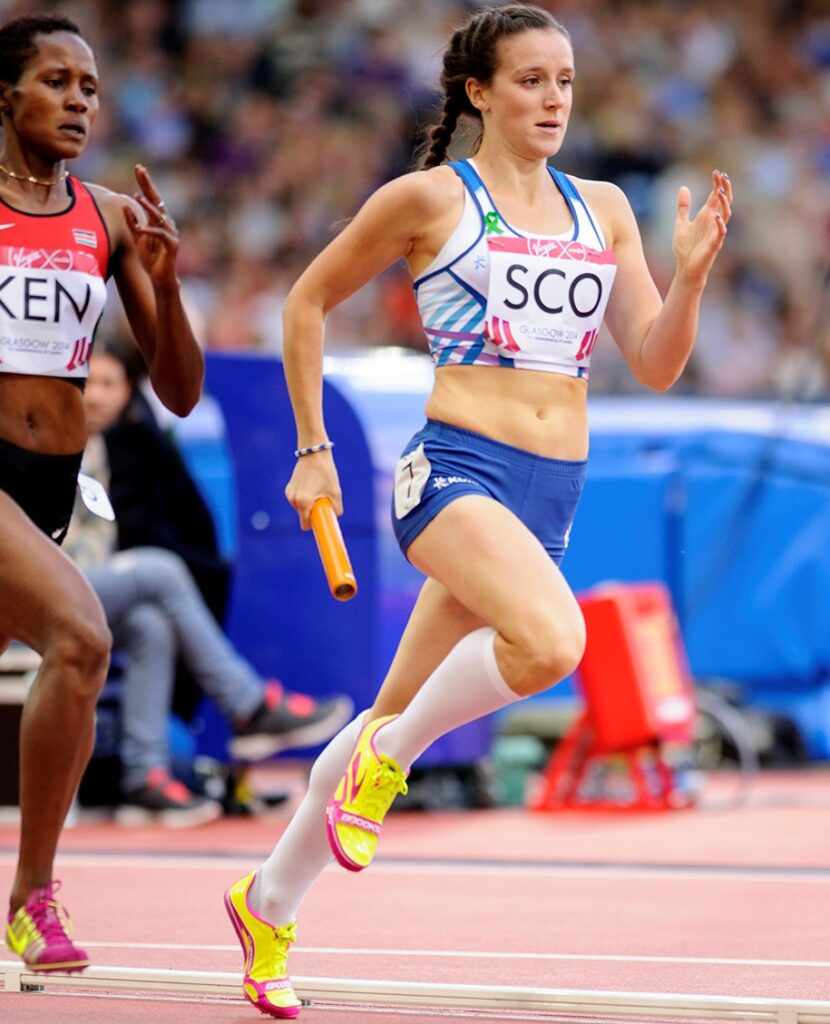 Action from Glasgow 2014 with Diane representing Scotland in the Women's 4 x 400m event (photo by Bobby Gavin)
Diane's brother Allan – a middle-distance runner two years her senior – shares her view that athletics has helped shaped him as an independent, hard-working adult.
He trains within Andy Young's talented group which includes Laura Muir and Jemma Reekie, although he too has an integral supporting role and is considered a trusted pacer, as well as a strong competitor.
Diane's involvement in athletics was the trigger for talented footballer Allan to get started in the sport, and in turn, their parents Peter and Bernadette.
'The first night Diane went to the club I didn't even want to go, but I was too young to stay in the house on my own,' says Allan, who now works in payroll for the NHS.
'There were a few guys there that I played football with. I played on the wing, so it just made sense to go to the running. It got to a stage where I was much better at running than I ever was at the football.'
Dad Peter, who spent years pitchside in football with Allan, is a timekeeper.
Like so many others, he took an improvised route into officiating, starting out as a parent helper with Team Glasgow.
'They didn't have a timekeeper at one of the matches, so they asked me to do it,' he explains.
He hasn't looked back.
Mum Bernadette, who was also a parent helper with Team Glasgow, jokes that football took over their lives – until athletics took over.
Family snap from the Glasgow 2014 Commonwealth Games (photo via the Ramsays)
Diane and Allan started out at their local club, Kirkintilloch Olympians. They initially trained under the same coach, but eventually grew apart as they focused on their respective strengths.
'Allan's training wasn't quite suited to what I was doing so that's when we split off,' says Diane, with both later moving to VP-Glasgow.
'I became the sprinter and he became the endurance runner – and mum became my chauffeur and dad became Allan's taxi.
'It soon became more than a hobby, it just became a lifestyle. We'd go to school, come home, have dinner and go to training. That's the routine we had and it's set us both up well for working life. It's given us a good attitude and motivation to keep going.
I think we both appreciated how much our parents were putting in, and if we couldn't be bothered with a session one night it wasn't just affecting us, it was affecting them too.
'We also had close relationships with our coaches. If we hadn't been committed we'd have felt like we were letting them down too.'
While they share views and values, Diane and Allan are totally different characters when it comes to training – a fact that has been highlighted over the past few months.
'We've been training together for the first time in a long time during lockdown and you can see we've got completely different styles,' says Diane.
'I like the pain, I like the struggle and trying to push through that, although I'm nowhere near the pace that I was before so I'm not quite getting to that pain stage.
'Allan finds a rhythm and is happy to sit at a pace. He's really good at pacing but he struggles to get over the wall bit.
'Our roles have actually been reversed in training because I can't go that fast so I get a start on him and pace him towards the end because I've had a stagger advantage.'
Diane and dad Peter (on right, in red) are now involved in the VP-Glasgow road running group
Both Diane and Allan, in their own ways, acknowledge the significant and influential role their parents have played in their upbringing, but most notably, that they never blurred the lines.
'Mum and dad played mum and dad,' says Diane. 'They didn't play coach, physio – they didn't try to meddle in our training. If we wanted to talk about it we could, but if we didn't that was fine too; there was never any judgement on what our sessions were, or what our times were or anything.
'If you listen to other families they're so ingrained in it, they know every detail. We never got to that level; we could all read each other and we knew when to move on.
'Mum and dad also had the trust and loyalty in our coaches so there was never a question about our sessions or anything like that. They'd never get involved in any coaching sessions, that was never their role.'
It's a good job really, as Bernadette admits that she avoided timing Diane and Allan at the track for fear of their disappointment if the sessions didn't go to plan.
'I could never have done that to them,' she says. 'I have to be brutally honest and say if they were going to be really disappointed with a time I'd have changed it.'
Without doubt, the strong values instilled by their parents and lived out through athletics have helped shape the character of the Ramsay siblings.
'Athletics has set us up well for the future,' says Diane.
'I hadn't quite appreciated how much sport did that until now.'

Tags: Diane Ramsay, Officials