#SALtogether: Family ties . . . meet the Davidsons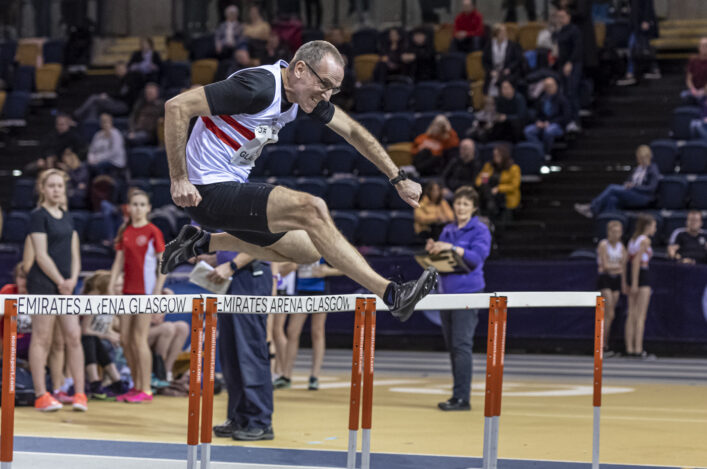 Mark Davidson in Masters action at the Emirates Arena earlier in 2020 (photo by Bobby Gavin)
By Katy Barden
It caused some amusement when, during a recent work quiz, Mark Davidson's colleagues found out he had a Wikipedia page.
Davidson, who was part of Scotland's silver-medal winning 4 x 400m relay team at the 1990 Commonwealth Games in Auckland, is a deserving recipient of such an honour.
A 400mH specialist in his day, his personal best of 50.79 is good enough to rank him fifth fastest all-time in Scotland. He was no slouch over 100m either, and in Auckland – in addition to competing in the 4 x 400m and individual 400mH – he was a member of the 4 x 100m quartet who finished sixth in the final.
Davidson, by his own admission, keeps things fairly low key.
It comes as no surprise, then, that in a similar uncovering of talent, daughter Jane has become a neighbourhood sensation with her street-based hurdles practice during this period of lockdown.
'It's certainly been a bit of spectacle with Jane doing hurdles up the street,' dad Mark, who is President of Aberdeen AAC.
'Our neighbours are like, 'What's happening? This is exciting!'.
'Over the years they've seen us disappearing out (to training) five nights a week and now they've started to realise what we do all the time!'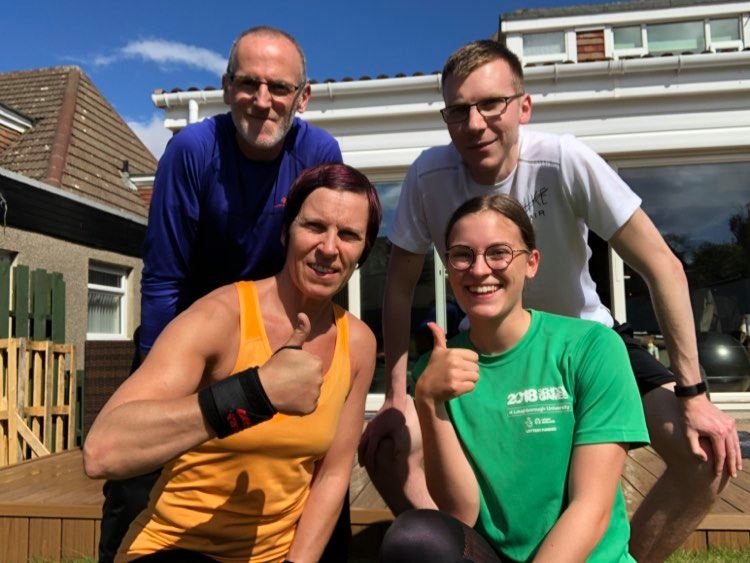 Family ties . . . Mark and Fiona with Callum and Jane in Aberdeen during lockdown
Seventeen-year-old Jane is a talent in her own right.
The former gymnast and combined eventer is now an accomplished hurdler and coached by Bob Masson, the man who coached both her parents as well as her auntie and uncle.
Having started out in athletics aged 12, she moved up to the U20 age group last year and surprised everyone – not least herself – with victory in the 60mH at the Scottish Senior Indoor Championships, representing her home club.
'It was a bit of a shock because that was my very first race at that level, we had no idea what to expect,' she says. 'Dad's videoing was going crazy because he didn't expect me to be running that quick.'
Jane, who will study Sport Science at Aberdeen University from September, was introduced to club athletics from an early age.
'Our parents were athletes and I just thought that was normal,' she says. 'I remember going on team buses to competitions when I was seven or eight and I'd just sit contented with my cuddly toys.
I wouldn't necessarily say it's put pressure on me, although I know that there could potentially be high expectations from others in the sport who know who my parents are.
'When we go to Championships there's usually someone that stops to speak to us or knows us, but I wouldn't say I've felt pressure because of it so far.
'It can be a good thing too. Our parents understand how we feel when we've raced poorly because they've had those races themselves, those experiences.'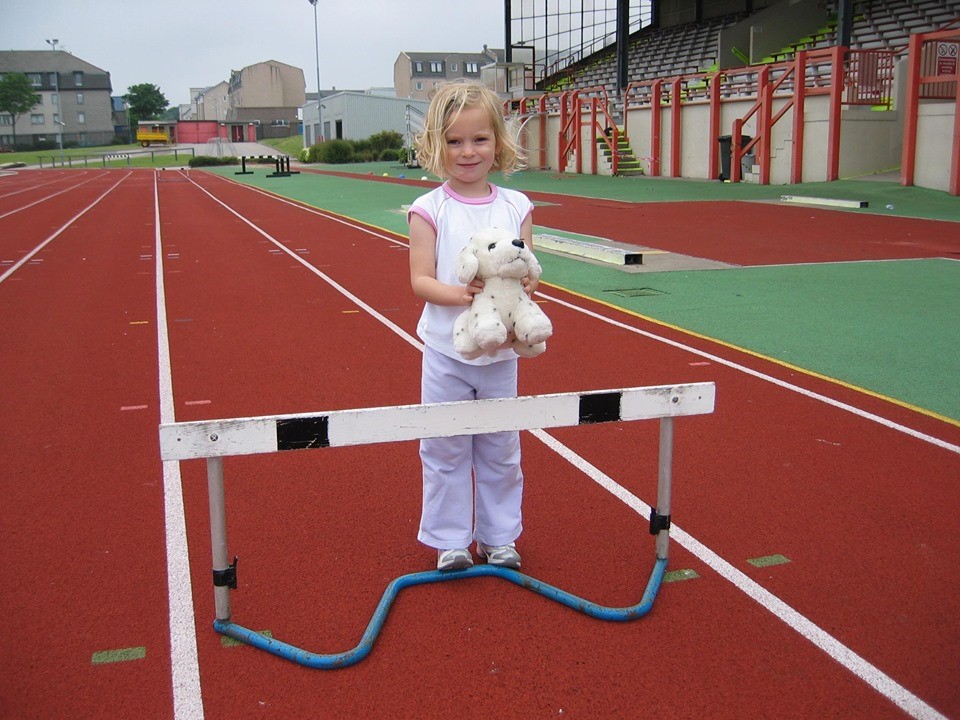 Early starter . . . Jane poses as a child in front of a hurdle and, a few years later, impresses at the Emirates Arena with U20 success in the Age Group Champs (Emirates photo by Bobby Gavin)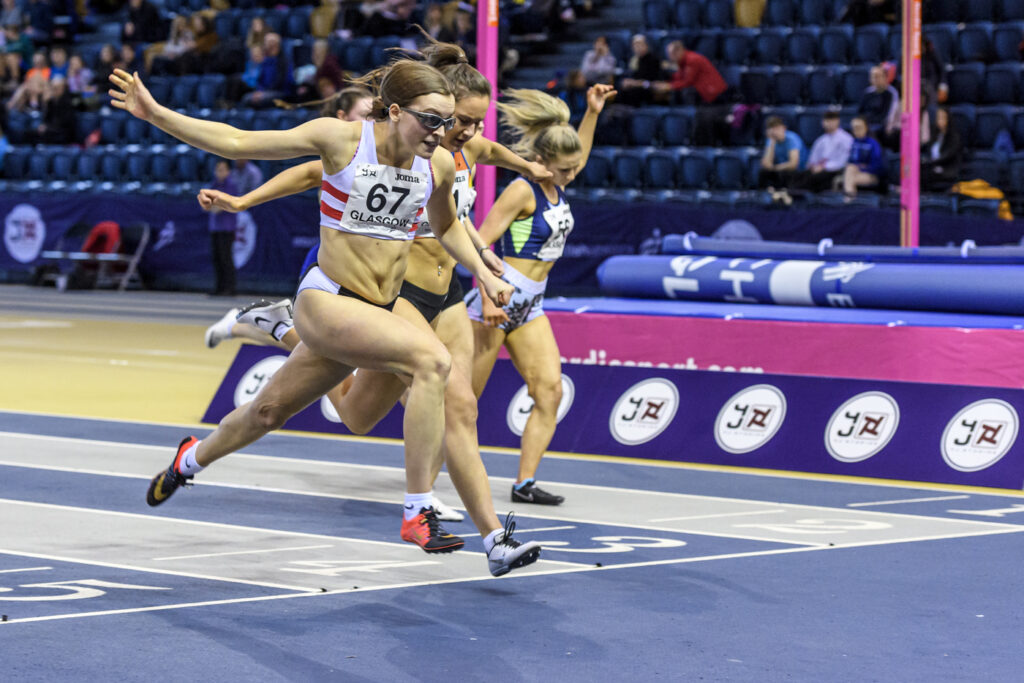 Her brother Callum, also a member of Aberdeen, prefers short sprints, but his parents believe he has the talent – and the genetics (he's 6ft4) – for the one-lap event.
He certainly gave a glimpse of his potential when winning 400mH bronze at the 2014 Scottish Schools Championships at Hampden Park in Glasgow.
His podium finish was an impressive result in its own right, but the fact that he did it with a broken arm made it even more special!
Success, however, is not the key driver for the 20-year-old who has Dyspraxia, a disorder which affects his balance, movement and co-ordination.
'Athletics has helped my confidence,' he says. 'I probably didn't enjoy my early years in the sport as much as Jane, but I was fortunate that my parents were so involved and had a positive influence on me.
'I think I enjoy training more than competing, but just being part of the sport has helped me overcome a number of challenges.'
Masterful . . . Fiona Davidson celebrates World Masters success in Lyon in 2015 with Jane and Callum
Mum Fiona – who first met Mark when representing Scotland in Turkey in 1994 – has made her own impressive contributions to the family CV.
A versatile athlete in her youth, her events ranged from 100m to 400m before focusing on the long jump and triple jump.
In 1995 she won the Scottish Indoor Championships triple jump title with a mark of 12.15m which ranks 14th on the Scottish All-Time list.
Fiona has since excelled as a Masters athlete and in 2015, in addition to winning Scottish national titles and silver (triple jump) and bronze (long jump) in the European Masters, she won triple jump gold at the World Masters Championships in France, supported trackside by Mark, Jane and Callum.
The Davidsons are undoubtedly a close family, but they know their boundaries.
'I help Jane's coach, but I'm more of an assistant,' says Mark.
'I couldn't coach Jane on my own, or Callum, it would be an absolute nightmare.
'Some parents can coach their children, and maybe now that Jane's a bit more mature it wouldn't be quite so bad, but I prefer to take a backwards step and let someone else take control.'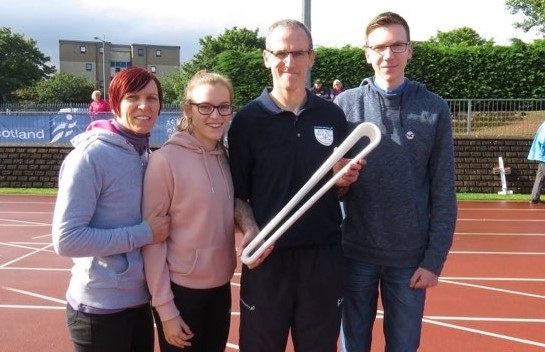 With Mark and Fiona as parents it was inevitable that Jane and Callum would be drawn to athletics, but sharing one of their greatest passions – their other love is football and the family, including grandad, are all Aberdeen FC season ticket holders – has had a hugely positive impact on their relationship.
'It would have been difficult for the kids not to be involved,' admits Mark.
'Even when they were younger we were still training and going to the track on a regular basis.
'When Callum started competing as an U11 I got involved as team manager for the U11 boys. I had been a member of Aberdeen all of that time, but it was the point at which I started volunteering a bit more.
My mother and father were officials too. My mother doesn't do it anymore and my father (a timekeeper) had drifted out of the sport a little bit, but since Jane and Callum started competing he's come back into it.
 'Athletics has definitely kept us together as a family a lot longer.
'There will be parents our age with kids the same age as Jane and Callum who are already off doing other things. We live in each other's pockets a lot of the time; but we're all doing something we love together.'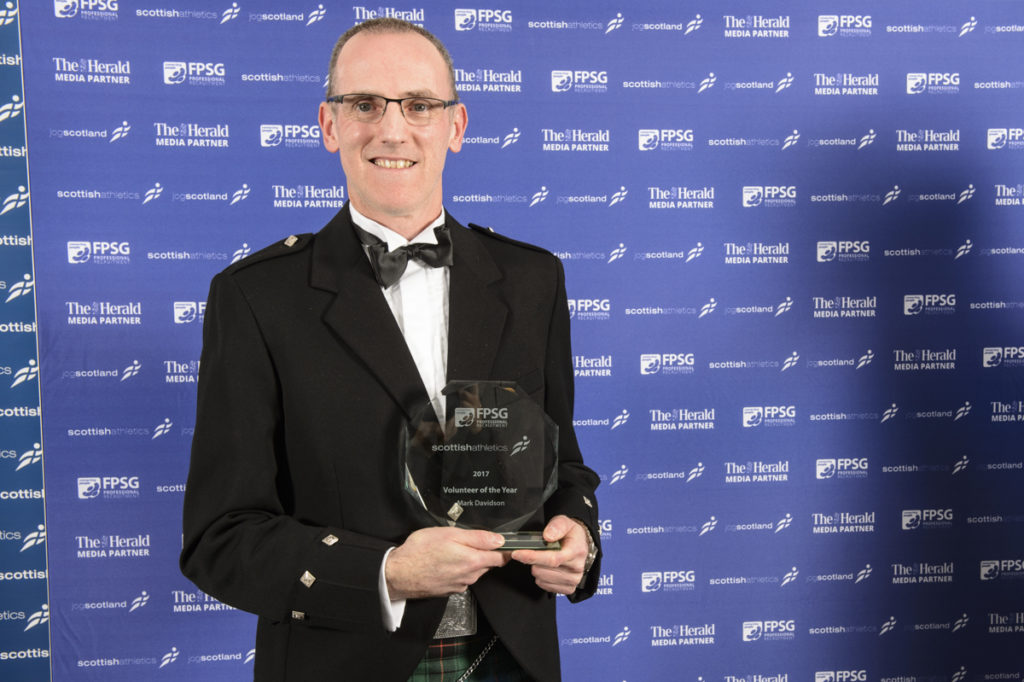 Mark was our Volunteer of the Year back in 2017 (photo by Bobby Gavin)
Tags: Aberdeen AAC, Fiona Davidson, Mark Davidson