'Being part of Tartan Trio in Doha was so special' – Neil Gourley
The 'Tartan Trio' in Doha last October 
The lights were dimmed at the warm-up track at Doha's Khalifa Stadium and the empty arena was even more sparsely-populated than a main venue where small crowds – despite big athletics stars on show – drew stinging global criticism.
Searing temperatures, another issue to bedevil the 2019 IAAF World Champs, had dropped as three men in GB and NI apparel lapped the track at the slow pace favoured of endurance runners after competition.
Nothing could disguise the warm glow of excitement emanating from three Scotsmen, however. And the adrenaline rush coursing through their veins.
Neil Gourley had marked his GB debut at a major championships by qualifying for the Men's 1500m final.
Within a matter of minutes, after the second semi-final concluded on Friday 5 October, he was duly joined in that final by Josh Kerr and Jake Wightman.
Later the realisation dawned on the 'Tartan Trio' that there were more Scots in the final that there were Kenyans. Three out of 12 finalists represented 25 percent of the field and never in GB athletics history had three representatives contested the Men's 1500m final – not even in the era of icons Seb Coe, Steve Ovett and Steve Cram.
It was all slightly surreal for former Scottish Schools medallists, so little wonder they gathered in that warm-up track and savoured the moment.
'To have three Scots in a World track final at 1500m, more than Kenya, really was a bit special,' recalled Gourley in a special interview with Scottish Athletics.
'I think I enjoyed it so much more being part of the trio in Doha.
'I got through the heats and then raced tactically very well to get through the first of two semi-finals. I went into the 'Mixed Zone' where the athletes meet the media. And I basically declined any interviews until I'd watched the second semi-final.
'I was watching on a TV screen and shouting at the telly. Josh came down the home straight and he was pretty safe for getting through. I was punching the air.
'Then Jake squeezed into seventh place and it became clear he'd made it, too, in the last slot. I was punching the air again. Foreign journalists could not understand why there was this 'delayed reaction' to making the final myself some minutes earlier.
'After the interviews, we went out to the warm-down track.
'And Jake, Josh and myself just paused at one point and wondered 'How have the three of us ended up here?'
'When you take a step back from it, and I know all of us had our aspirations and expectations that week, but to have all three Scots get into a World final was really pretty extraordinary.
'Jake I had raced at the Scottish Schools champs years earlier, and Josh and I in the NCAA. Yet here we were. It just made that whole Doha experience extra special.'
Gourley, arguably, personifies that often great intangible of major sporting events – legacy. In many ways, he blossomed out of the 'hothouse' of London 2012 and Glasgow 2014.
'I would say that 2012 was a breakthrough year,' he said.
'The Olympics in London were inspirational to many folk and I was lucky enough to race for Scotland in London in the Mini Marathon in April that year.
'I won the Scottish XC U17 title at Falkirk in February and things started to happen for me.
'To some extent you were looking at the Olympics and thinking 'One day I'd love to be part of that' but all the while knowing I was a long way off that kind of standard.
'But there was that buzz about sport around Britain that year and, at the Mini Marathon, I came third which was a result which surprised me and was a bit of a bonus at that time.'
Two years later he was beating a path to Glasgow 2014, but not yet as a high-level competitor.
'It is a ten-minute walk from my house to Hampden so I was at the Commonwealth Games in 2014 to attend a few sessions.
'I was not quite good enough at that stage but it was starting to feel tangible. I could see people I knew quite well , or certainly from the same environment and background as me, competing there for Scotland and it spurred me on, yes.
'Athletics in Scotland is blessed at the moment with some great athletes and I think so many of us were affected and motivated by the Commonwealths in 2014.
'One or two were in the team at a pretty young age but others like myself were too young or not ready.
'And, with Hampden ten minutes away from my house, I was definitely one of them who by that stage started to think if others can make that stage, then so can I.'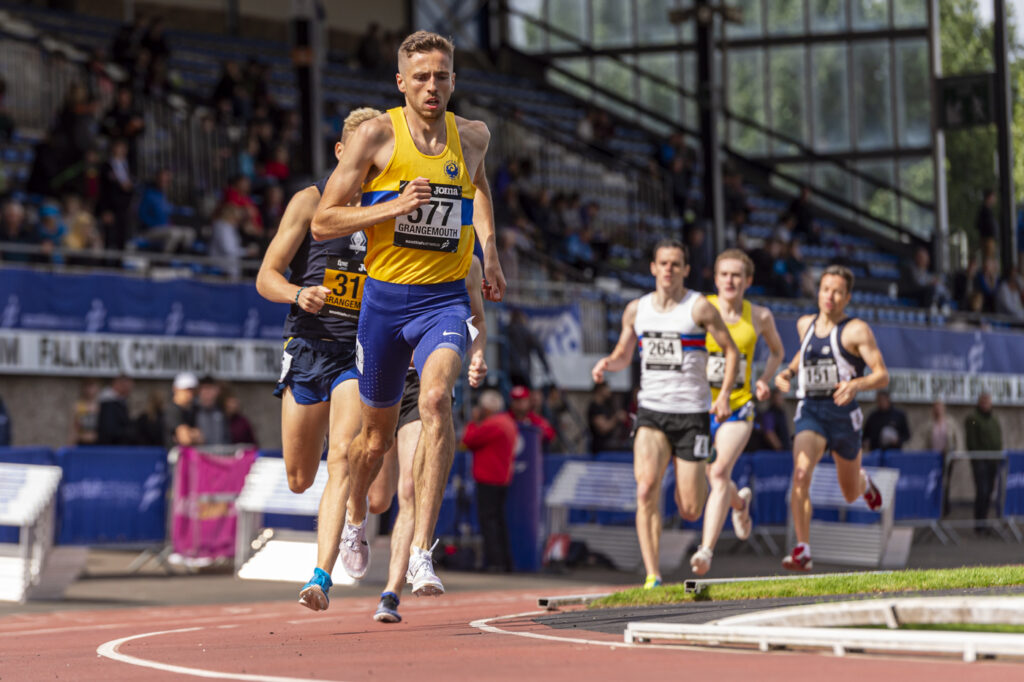 Neil wins the Scottish 800m title at Grangemouth last August just one week before claiming the British title at 1500m in Birmingham (photo by Bobby Gavin)
Moving to Virginia Tech provided Gourley with the platform from which he began to build a successful international career which includes a European U23 bronze medal in 2015, early in his time in America.
'I'd have been happy to study in Glasgow and pursue mechanical engineering at Strathclyde Uni – but I had seen Chris O'Hare performing so well in the United States in the NCAA scene and that was inspirational,' said Neil.
'While I was taking a year on an internship with Scottish Power as I tried to weigh everything up, a co-worker mentioned Virginia Tech to me. I didn't think they'd be great for athletics, even if they were good for engineering.
'But once we looked at it and had the first dealings with the coach, Ben Thomas, we hit it off. And I realised they had athletes who had made big improvements over four or five years.
'The team aspect of the NCAA helped cultivate my passion for the sport. And I'm grateful for the race learning I've had in that arena. I made a lot of mistakes in races in the first couple of years in America.'
In 2018, he took third in the British Champs and landed his first GB vest at the inaugural World Cup at the London stadium. The Scot took bronze but was still over-looked for the European Champs in Berlin.
'Missing out on Berlin in 2018 was a big disappointment and I think my coach, Ben, was even angrier than me,' he recalled.
'That raw emotion of being 'over-looked' if you like faded faster than you might think, however.
'We just had to sit down together and say 'look, if this is what it takes and it has to be black and white for selection then, in terms of GB and the way British trials are currently set-up, I have to make top two at the trials'.
'Some people might have remained bitter for months afterwards and that could have affected training and competition.'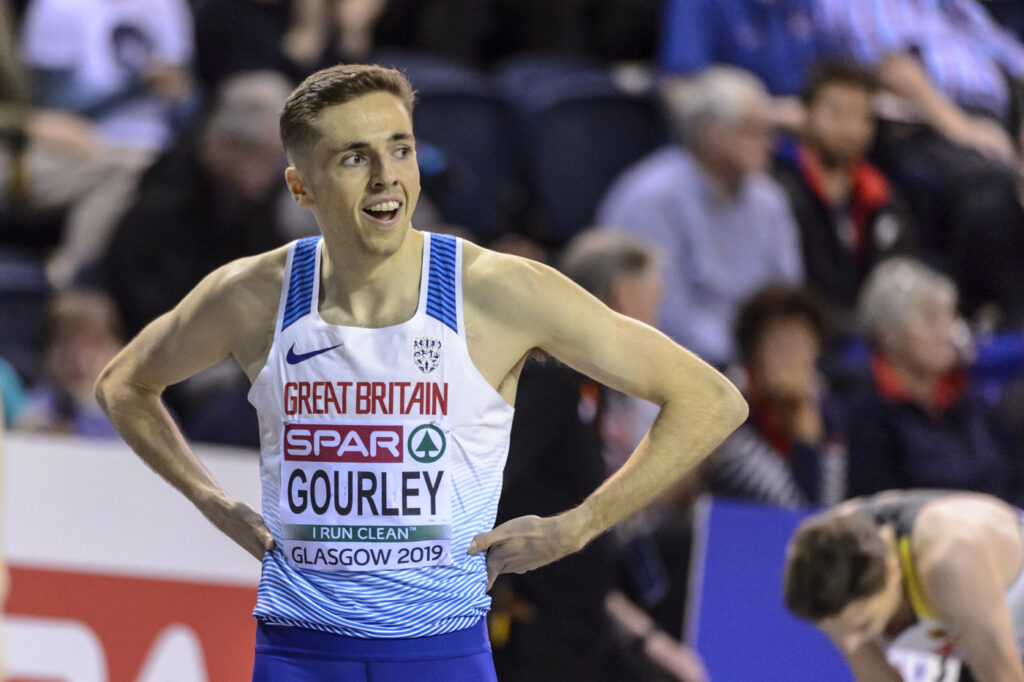 Neil at the European Indoors in Glasgow early in 2019 when he came through the heats but had to pull out of the final through illness (photo by Bobby Gavin)
Gourley won the British Indoors the following winter to confirm his place for the European Indoors at Glasgow 2019 – in his own 'backyard' of the Emirates Arena. But Neil fell ill between cruising through the heats and hat to scratch from the final.
'The Glasgow 2019 disappointment was different . . . and a lot harder to take,' he said.
'It was because it was in Glasgow and I just don't know if that opportunity will ever be there again to race in championships like that in front of family and friends.
'It lingered for a couple of weeks, certainly, and motivation was difficult. It felt personal because it was Glasgow.
'But eventually I had to start looking ahead and thinking about World Champs later that year.
'I went to the British trials for Doha in August 2019 and won it.  As I crossed the line, I looked up and saw my mum, dad and brother in the celebrating wildly in the stand. There and then that made up for Glasgow 2019 in many ways.'
Wightman duly won the Scottish battle to take fifth in that Doha final, posting a National Record. Kerr was sixth and Gourley came home in 11th place.
Rest assured, the 'hostilities' in this particular rivalry, doubtless with the addition of Chris O'Hare, will resume just as soon as athletics returns to the track on either side of the Atlantic . . .
Tags: Ben Thomas, Clare Stevenson, Coaching Conversations, Doha, Gordon lockie, Jake Wightman, Josh Kerr, Neil Gourley