'It's devastating – but we can't just write off 2020' – Mark Munro
Our road map back to group athletics
Mark Munro believes athletics in Scotland can't just 'write off' 2020 – because the effort being put in by our volunteers proves it means so much to so many.
Our chief executive didn't duck issues in a special video interview conducted with former BBC Scotland sport presenter, Rhona McLeod.
Mark candidly admitted staging a track and field season is now very much 50-50 and that contingency plans are being made for cross country next autumn and winter with some restrictions.
But he firmly and passionately believes that with creativity, energy and goodwill the sport in Scotland will come through the coronavirus crisis.
'I would not go that far,' said Mark, when asked if athletics should write off 2020.
'We can't let that happen for the sake of the sport. I think we take some encouragement when you see the work going on at our clubs, coaches engaging with their athletes and advising them, Virtual Challenge competition, education going on – it is good to see all of that.
'As the governing body, we have a responsibility to the whole sport.
'Yes, it is devastating that we can't deliver a Scottish Road Relays at the end of March; a Scottish Road Race series through the summer with thousands of people running; possibly no 'Track and Field Championships; and potentially have cross country affected for the 2020-21 winter.
'In a traditional, normal sense for athletics in Scotland, that is terrible.
Scottish Championships on the road, and other events for spring and summer, have been severely hit – like the National Relays at Livingston (2018 photo by Bobby Gavin)
'But we have to look at it all differently now and accept the whole world is troubled and affected. We have to make the best of the place we are in and let's be creative and innovative. What can we do as a sport as we move beyond the lockdown phases?
'I can see Virtual Events continuing – they've been so popular.
'We are working every day on the 'Exit Plan' and refining it. We can look at what's happening in England, over in Ireland, and we're guided of course by the Scottish Government advice. From there, we can keep adapting our own framework to emerge from this.'
A feel-good factor has been generated in recent years across various areas and the hope is that, somehow, that momentum helps maintain athletics.
Record-breakers! Scottish athletes involved in 27 new marks
'Before Covid-19 things were going fantastically well for athletics in Scotland,' said Mark.
'It's not just high level performances by athletes on the global stage – we had seen consistent growth over a five or six-year period. That growth was evident in clubs, in events and in our own membership.
'There were 27 Scottish Records in the Indoor season at the start of 2020 and, heading towards the Olympics, there was a terrific buzz around the sport.
'So to have the situation we now have is devastating. But you must contextualise it. We have to be pragmatic. The world is facing this not just sport overall or our sport itself.
'Undoubtedly a drop-off at grassroots level is a concern for us.
'Again, on the plus side, you just need to go out of the door and you will see more folk walking, jogging and running. We will try, when the time is right, to introduce more people to athletics – or reintroduce them to athletics, as the case may be.
'And there's a lot of good work happening at our clubs. They are staying connected with their members whether that is via virtual events, quizzes, coach seminars and tips.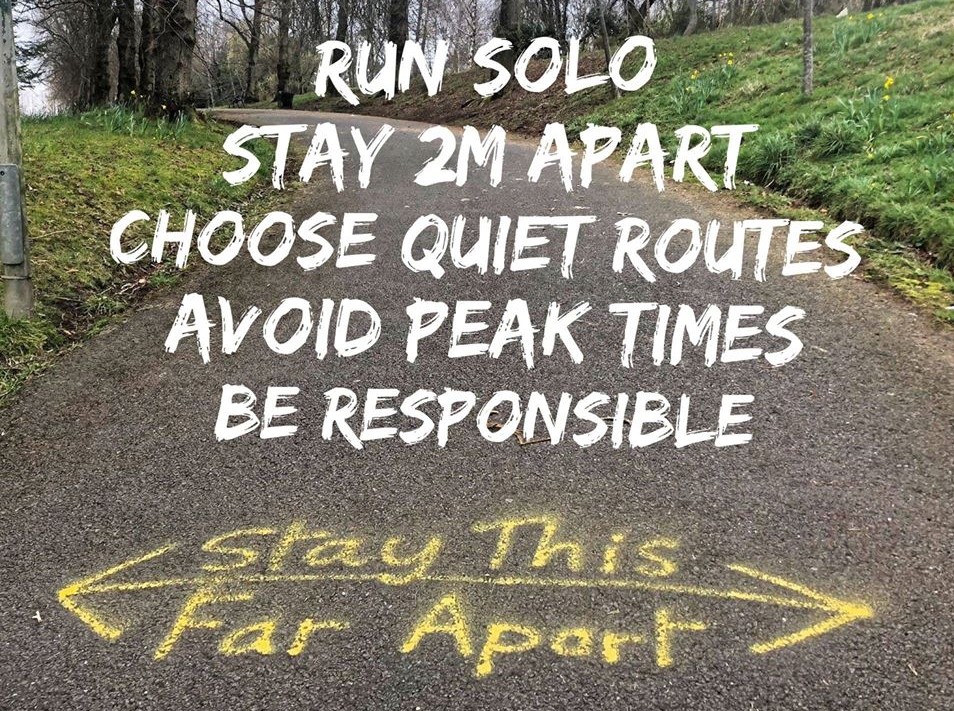 This image originally came from Garscube Harriers and worked for scottishathletics Virtual Challenge events, too
'It is really pleasing to see that effort from our volunteer club leaders and coaches.
'We are being innovative, too. We've had very successful Virtual Challenges – with 2000 people signed up for a Virtual Mile – and our development team are contracting external experts to give clubs the advice and support the help they need on issues like finance and governance. We've a lot of distance learning going on, too.'
Our Exit Plan Framework document was published on here a week ago and the most recent announcements from the Scottish Government give further sign-posts.
Exit Plan Framework- 14 May 2020
'As lockdown eases, I think we will see small groups being able to train together and work with their coach,' added Mark.
'It could depend on facilities opening, of course. That is outdoors – I think indoor athletics will be more of a challenge.
'Performance athletes might get back training before community access is allowed. We have to remember that for our Scottish elite athletes: this is their job.
'We've pushed back our 4J Studios Scottish Championships events to mid-September and right now I would say they are 50-50.
'We're already looking at cross country from October and trying to assess how some scenarios might develop. We have to do scenario-planning at the moment.'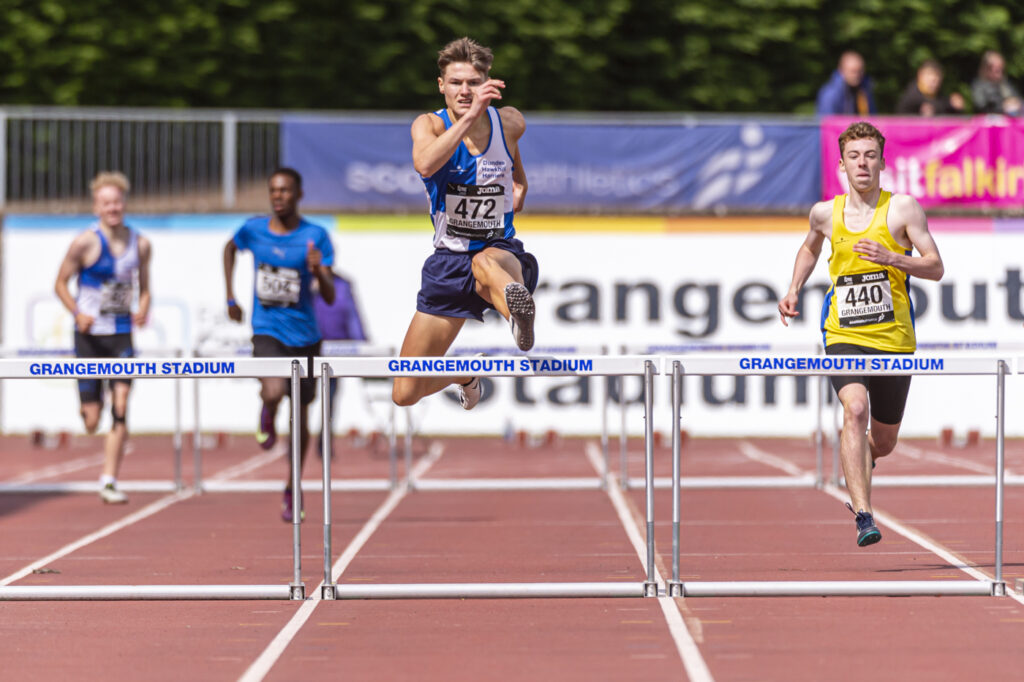 Championship action from Grangemouth from the 2019 track and field season (photo by Bobby Gavin)
'For all our events, we need big teams of Officials, too.
'We could have some kind competition 'together apart' as our Events Manager, Ally Love, calls it. That would be small groups competing at different venues and scores, distances or heights etc being fed back to us. It would be a bit of fun but stimulate competition among athletes.
'Clubs could do these competitions themselves in younger age groups.
'We've a duty not to rush athletes back into championship competition. It might not be appropriate.
'If we can't do a Scottish Championships because athletes and coaches haven't really had time to prepare – facilities, events affected – then we'll make it a 'Scottish Open' or a 'Scottish Challenge' or something like that. And just try and get some folk together to compete.
'We may need to do some event groups at different venues and try it that way.'
*The Mark Munro video interview was produced by McLeod Media with photos by Bobby Gavin.

Tags: 4J Studios Virtual Challenges, Coronavirus, Mark Munro