Edinburgh venue for BUCS XC; Masters XC will be in Johnstone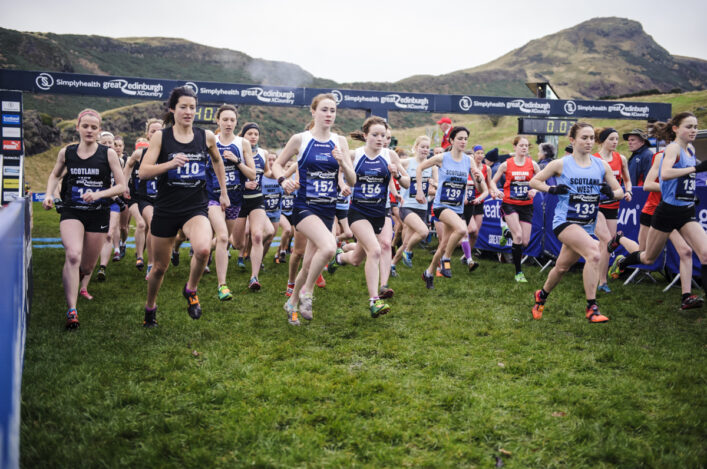 Scottish Unis competed at the Great Edinburgh XC a few years ago and now the venue will host the British Unis and College Sports (BUCS) XC event in February (photo by Bobby Gavin)
The British Universities Cross Country Champs is coming to Scotland early in 2020.
Holyrood Park will be the venue on Saturday 1 February for the BUCS XC Champs which features races for men and women.
It also carries the potential for selection for the World Universities XC which is being held in Morocco on March 2020 – with the top three in each race automatically selected.
However, athletes who believe they should be under consideration for the World Universities XC are asked to register a note of interest with the BUCS selectors by Wednesday 15 January.
As a guide, part of the criteria for those athletes are the following PB standards:
*5k: Men – 14.40; Women – 16.40
*10k: Men – 30.30; Women – 34.30
*10 Miles: Men – 50.15; Women – 56.50
Follow the link above for the full selection policy.
+++
Photo by Pete Bracegirdle
(Entries open online on January 3 and close on January 23)
The Lindsays Masters XC Champs are coming up early in February 2020 and will be staged in the west of Scotland.
Johnstone will be the venue for the championships on Saturday 8 February and the entry process is open online.
The Masters XC Champs are now part of our Lindsays Cross Country season after being added to the schedule of Lindsays events when we renewed the  sponsorship at the start of the current season.
Big fields have been a feature of this event over the past few years which was staged in Dundee in 2017, Kilmarnock in 2018 and then in Hawick back in February of this year.
It is hoped that the 2020 version at Johnstone in Renfrewshire will be equally well-supported with the Masters XC one of the events which are 'rotated' in terms of geographical location each year.
Tags: BUCS XC, Holyrood Park, Johnstone, Lindsays Masters XC Champs