4J Studios back our 2020 Annual Awards – but no Dinner this year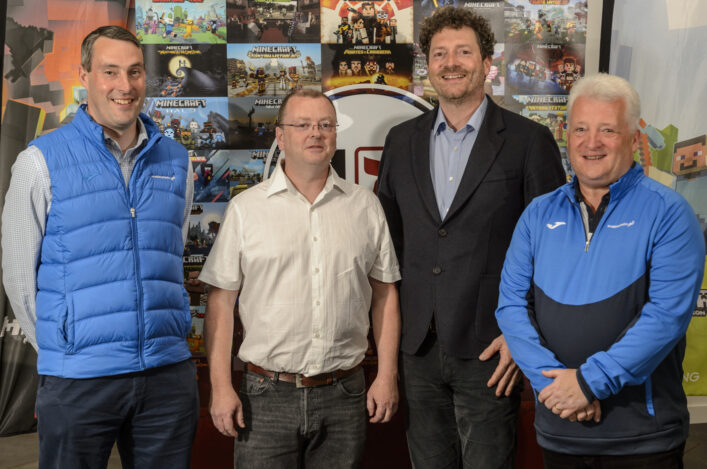 Mark Munro and Stephen Maguire with Paddy Burns and Chris van der Kuyl of 4J Studios (photo by Bobby Gavin)
WATCH: Interviews from last year's Awards
scottishathletics are pleased to confirm that we plan to stage the 4J Studios Annual Awards later in 2020.
However, following a meeting with the Hilton hotel in Glasgow, we have reluctantly decided that a physical Dinner event will not be possible with Covid-19 restrictions and physical distancing for indoor events mitigating against such a plan.
Instead we intend to create an online 4J Studios Annual Awards ceremony for scottishathletics and jogscotland to be broadcast 'as live' on our YouTube channel.
The plan at the moment is for that broadcast to take place at 7pm on Saturday 10 October (which was our original date for the Dinner).
Join us on scottishathletics YouTube (it's FREE to subscribe)
We're absolutely delighted that 4J Studios have kindly agreed to continue to support the Annual Awards in addition to their track and field plus National Academy sponsorships.
The coronavirus crisis has affected to many aspect of sport in Scotland, so to have continued loyalty and support of sponsors is very important to us.
Plans are at an early stage at the moment but we expect to ask for nominations for various award categories for Club, Coach, Volunteer and Official of the Year in the usual way.
There are one or two categories which might not apply, or may be tweaked to reflect the special circumstances of 2020.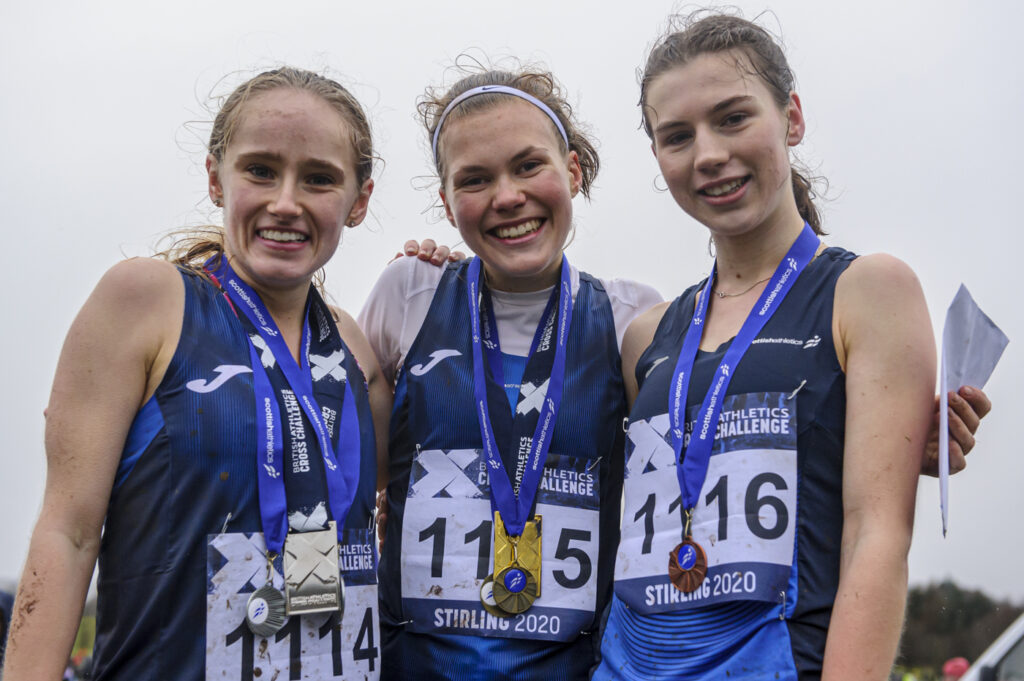 Let's celebrate . . . despite lockdown, there have been moments to savour in 2020 including this very fine Home Countries XC win by Scotland U20 Women at Stirling in January (photo by Bobby Gavin)
'I'm really pleased that we will be able to stage the 4J Studios Annual Awards for 2020,' said chief executive Mark Munro.
'It's very a strange year, of course, but there's still been some great work going on across the spectrum of athletics in Scotland and we really do feel we want to recognise and acknowledge that.
'We're discussing exactly how that will work and one area we want to celebrate is the innovation and impact of clubs who have worked very hard to stay connected and relevant during lockdown.
'I'd imagine this would veer into the Volunteer of the Year award, too, although we are always keen to be guided by the sport. Please nominate!
'In terms of our athlete awards, we felt that some very fine performances indoors in track and field and in cross country early in 2020 should not be dismissed and we'd still hope for a few more before the time to conclude deliberations. In that respect we will certainly try and performances where due credit should be given.
'I really want to thank Paddy Burns and Chris van der Kuyl for their backing for the Awards. It's great for the sport to have such strong supporters – and especially under all the circumstances in 2020.
'I have it in mind that the athletics community should be able to sit down on Saturday 10 October and enjoy our online celebration of the year on YouTube and then maybe also get involved across our other social media channels.'
*Nominations for scottishathletics 4J Studios Annual Awards will open in categories for Clubs, Coaches, Volunteer and Official on August 1.
*Athlete award short-lists are decided by a panel.

Tags: 4J Studios Annual Awards, 4J Studios National Athletics Academy