Zoey helps GB to fourth as Steph finishes 15th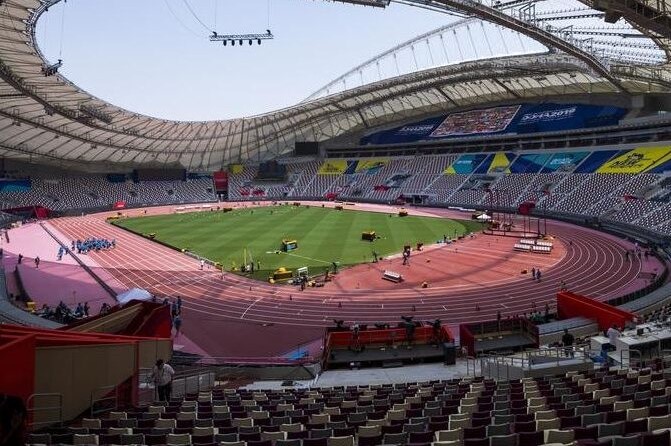 #SALdohadozen – schedule for 12 Scottish athletes
Scotland's Zoey Clark featured in the final of the Mixed Relay 4x400m at the IAAF World Champs in Doha.
GB and NI took fourth place on the track as America landed the golds with Jamaica second and Bahrain in third.
It was a 'European best' performance from the British quartet with Rabah Yousif leading off to Zoey who handed over to Emily Diamond and then Martyn Rooney – as the clocked 3.12.27 (to improve on the heat time of 3.12.80).
Poland's experiment with their two men first and then two women certainly added to the excitement and almost landed them a medal.
'Obviously it is pretty devastating to be that close to a medal,' said Zoey.
'We were really buzzing coming into this and wanted to do our best. We can take positives from the fact that we have improved our time from yesterday, European record again.
'We are still learning the event so we are pretty happy with how we are doing. Poland did really well [changing their order] and it is almost paid off for them.
'It's interesting for us to watch, I have never lined up on the start line against a guy before so that was a new experience for me.'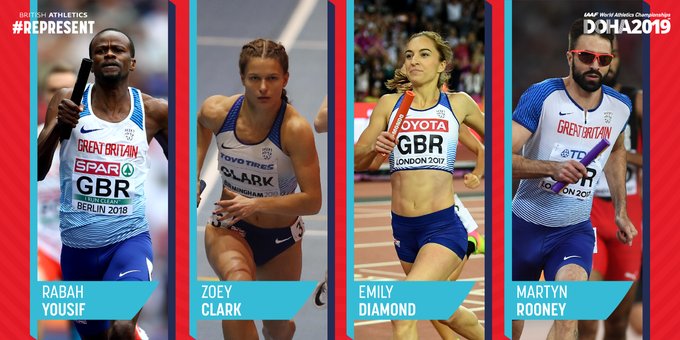 +++
Steph Twell raced in the Women's 10,000m final on Saturday evening and came up with a 15th place finish in a time of 31:44.79.
That was actually Steph's second best time for the distance on the track, with her PB coming in the Trials at Highgate back in July. As Dutch athlete Sifan Hassan took the race in imperious fashion, Steph was the third European athlete home.
'I am pleased if I am honest,' said Steph,
'It is my second fastest 10k on the track. I would have liked to have gone quicker and with the group but I stuck to my task and I was really happy with that.
'A 10k at a championships is very different to a paced race. For me, working on the front of the field was more even paced and I was pleased that I stuck to my race plan.
'It picked up after 5k and I knew it was going to be a fast second half. I didn't quite have the sharper legs that I used to have for the 1500m and 5k to be able to hold onto a pace and in four weeks time I have a marathon so I am in a very different champs preparation.'
+++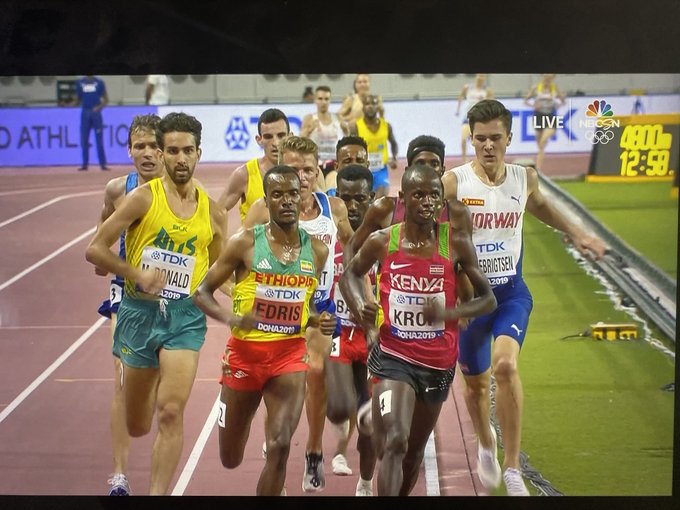 Photo via letsrun.com
The opening night of the championships had seen disappointment for the two Scots involved – as Lynsey Sharp and Andrew Butchart both missed out on reaching finals.
Lynsey went out of the 800m in the opening heats as she competed in the last of the six heats as she clocked 2.03.57. A fourth place finish was not enough for the Scot, who had arrived in Doha in good heart after strong performances earlier in the summer.
'With hindsight, I should have have planned the race differently,' said Lynsey.
'But I thought I had the tools to run it that way and finish in the top three. You can't do anything if you can't get out of the heats and I need to work out how to run those races and win those races.  It has been a little bit of a pattern.'
It was even more frustrating for Butchart, arguably. The Central AC athlete finished seventh in a strong opening heat with a run of 13:26.45 but then had to wait and see what unfolded in the second race.
Quicker times left him as the first athlete on the wrong side of the top 15 and missing out on the final. That situation then changed when a DQ was issued against Norway's Jakob Ingebrigsten for stepping off the track in the same race as Butchart.
For a couple of hours, then, on Friday evening the Scot was contemplating redemption and a place in Monday's final before an appeal by the Norwegian federation proved successful and Jakob was duly reinstated to join his two brothers in the final.
Tags: Andy Butchart, Doha, IAAF World Champs, Lynsey Sharp, Steph Twell, Zoey Clark