Still time for late entries . . . Kyle, Craig relish debut medals
WATCH – our video playlist from FPSG Seniors and U17s
Heard the one about the former footballer who took up athletics and within a few months earned a Scotland vest and a silver medal at his first Scottish Senior Champs? At the age of 25.
Kyle Alexander has.
Heard the one about the RAF man who missed making his debut at the Scottish Senior Champs after being posted to the Middle East? And then won his first gold at the age of 33?
Craig Charlton has.
Alexander and Charlton both made visits to the podium at Grangemouth during the FPSG Seniors on Sunday – as Kyle collected 400m silver and Craig won the men's shot put title.
Their stories are inspirational in many ways – for those both already in the sport and, we would hope, those on the outside looking in.
Falkirk Victoria's Grant Plenderleith won the Scottish 400m title on his home track with the man in second having handed him a baton in Manchester last Wednesday night. Giffnock North athlete Kyle clocked a PB of 48.16 for his silver medal run.
Kyle Alexander (yellow vest) follows Grant Plenderleith home in the FPSG Seniors
'I did athletics when I was 11 or 12 and then was into football and fell away from the sport,' he told us.
'I've only taken up running again a few months back and one thing has led on from another – I had a Scotland relay selection in Manchester and then took the silver with a PB in my first Scottish Senior Champs. I'm 25 and it is my first medal since I was 11!
'My cousin (Rachel Alexander) is a long jumper and my brother sprints too, so I decided to give it a go. I will rest up now and then work hard in the winter and try and run 47s come the indoor season. It is exciting and I never expected it to go quite as well as it has.
'I really started it to get general fitness and then I had an email from scottishathletics asking me to get involved in the relay for Manchester and that gave me a huge boost.
What would I say to folk in their mid-20s? I'd say give it a bash! I'm not that quick over 100m but I think for 400m and 800m there are opportunities there for folk if they commit to bit of hard work and decent training.
'I got beat in the school sports at 100m but I'm developing a bit of endurance now.
'You really have nothing to lose and it is fun and it is healthy.'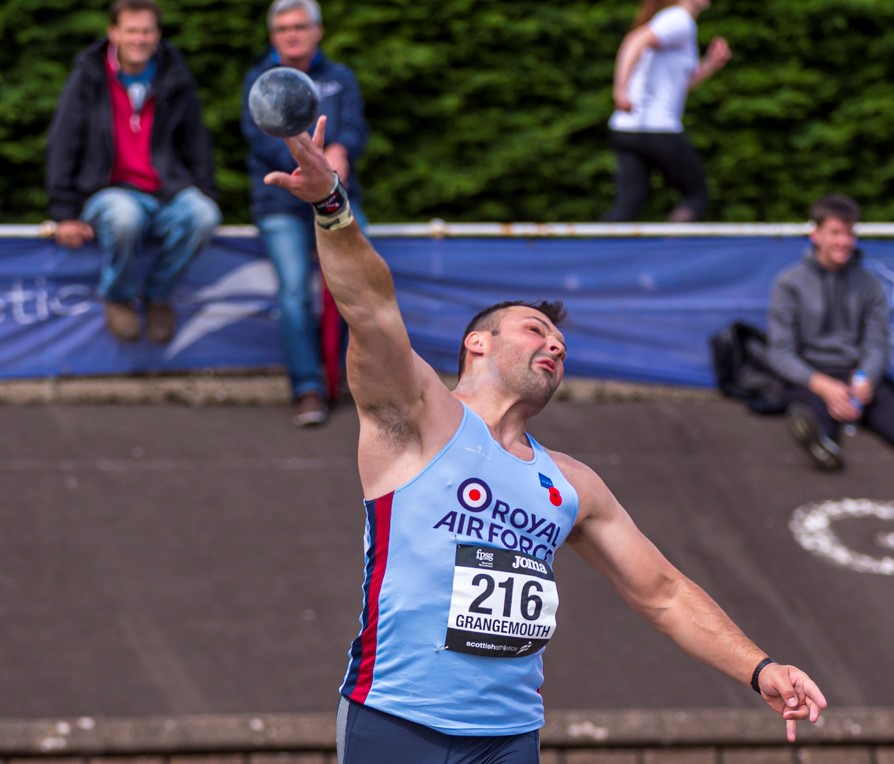 Craig Charlton throws at Grangemouth on Sunday as he took shot put gold
RAF man Charlton is based near Newcastle but is originally from Dunfermline.
A selection for a British Armed Forces team for the Manchester International a couple of years rekindled his interest in the throws and he's now the Scotland pick in the shot. And our new Senior champion.
'It was my first ever Scottish title win,' grinned Craig.
'I wasn't around last year because I am in the RAF and I was deployed out near Dubai at the time of the championships.
I've only come into the sport a couple of years ago – I'm 33. I did throw when I was younger and then, after doing a bit of lifting, it seemed worth having a go at throwing.
'I did the shot and was picked for an Armed Forces team for the Manchester international a couple of years ago. Competing that night opened my eyes quite a bit about what was needed to be an athlete and the levels the guys were at.
'I've a 'real' coach now for my throwing and next winter will be interesting – I am excited to work hard and see if I can improve.
'I'm from Dunfermline and have family in Cupar and Glenrothes so I was able to tie in competing with some family visits.
'scottishathletics put on a good event and I'm delighted to feel part of things and am excited about next season.'

Tags: Craig Charlton, FPSG Seniors and U17s, Grangemouth, Kyle Alexander