Loughborough International 2019 . . . our diary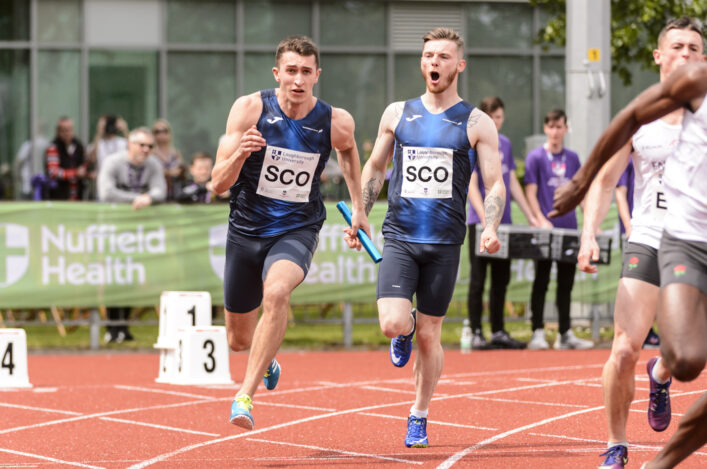 Cameron Tindle hands over to Greg Kelly at Loughborough (all photos by Bobby Gavin)
Loughborough International – our round-up Report
By Peter Jardine, Head of Communications
Two years ago, not long after the 2017 Loughborough International, the front cover of PB magazine featured Alisha Rees and Beth Dobbin as a main photo with a second image inset with Cameron Tindle and Grant Plenderleith.
Inside the edition, we speculated on green shoots of recovery for Scottish sprinting after some barren years in that particular strand of track and field.
The coverage came to mind at the 2019 version of the event on Sunday as six men went under 11 seconds for the 100, led by a run of 10.38 by Adam Thomas, representing Loughborough, for third place in the Match race.
Nobody is suggesting these times are, as yet, spectacular and especially as the British competition intensifies as standards rise elsewhere in the UK.
But, studying Power of 10 annual rankings for the period around 2012-2017, there have usually been around five or six Scottish men around the 10.5 to 10.85 mark for the whole season.
So it really must be taken as an encouragement that Thomas was followed by Michael Olsen at 10.56, Greg Kelly at 10.66 and Adam Clayton and Fraser Angus at 10.76 on a day when Tindle clocked 21.72 in the 200m.
ENTER now for GAA Sprints Gala
'I am pleased with that even though I am so close to a PB (10.65),' said East Kilbride AC's Kelly.
'scottishathletics have put in place a Relay programme and what is happening is that although we're all mates and of a similar age, the competitive edge comes out.
We're all looking at times and splits and making comparisons and that is where the improvement comes from and the competition develops.
'I was a legal 10.88 last summer so to now get 10.65 at the Scottish Unis and a 10.66 here feels like another step forward. I am seeing guys like Michael, Fraser and Adam Clayton run quick times and because we've grown up together in the age groups and so on it feels more achievable.
'Adam Thomas is bit older and bit ahead of us but, again, that helps because he is leading the way for us and showing what is possible. We went under 41 in the Relay and that was without Adam Thomas and Michael so it is promising. We're looking get under 40 later in the season.'
Well done to the athletes and coaches working hard to bring about this improvement.
+++
Still on the sprints theme, and arguably one of the best Scotland performances on the day came from 400m runner Stacey Downie.
The Edinburgh AC athlete won her slot for the individual event and the 4x400m Relay after racing at the FPSG East Districts at Grangemouth a week earlier.
Stacey first took fourth place in the Women's 400m Match race with a run of 54.41 with what was in fact the second fastest one lap run of her career.
Inspired by that, Stacey then came up with a quick – and brave – anchor leg in the 4x400m relay.
Her split was 54.1 and she made up a significant gap but that doesn't tell the full story as she tumbled to the line via the momentum generated in an effort to catch Loughborough and claim third for Scotland, sustaining a couple of cuts and bruises in the process.
In the end, Scotland missed out by just two hundredths of a second.
We hope Stacey is well on the way to recovery . . .
+++
Eloise Walker took a significant step towards a GB and NI track and field selection in the Women's 3000m race at Loughborough.
The Edinburgh AC athlete finished fourth in the Match race in a time of 9.29.74 – which was just inside the 9.30 qualifying standard for the European U20 champs in Sweden this summer.
'I didn't think I could get as high as fourth as it was a strange race which broke up really early when Jess Judd went off with the pace-maker,' said Eloise, who won GB honours in cross country in 2018.
'To come away with the qualifying time, even by 24 hundredths, is so pleasing at this stage. Now I need to look and try and improve my PB (9.28).
It won't have done Eloise's chances any harm that the GB Juniors pick for the same race was a DNF on Sunday. The Women's 3000m Trial for the Euros is at Watford at the end of June.
+++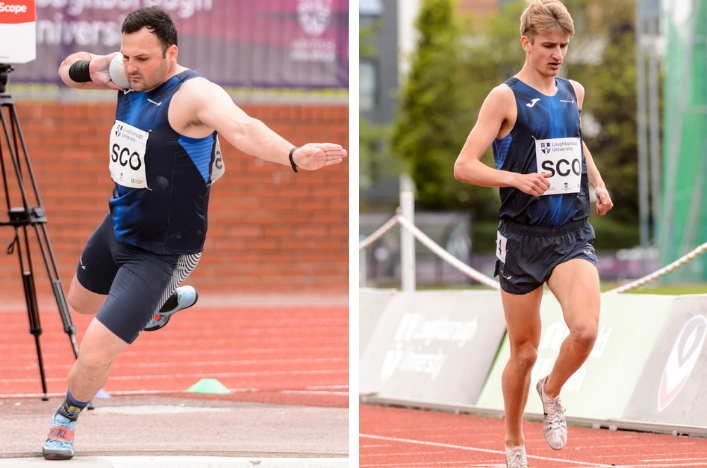 Six athletes made their Senior Scotland bows at the Loughborough International and two of the names were most probably new to the vast majority of our audience.
Patrick Taylor is an 800m runner based at Birmingham Uni and qualifies for Scotland via his Edinburgh-born father, Mark.
Craig Charlton is originally from Dunfermline but has been based down south since entering the RAF – he is a shot putter with Morpeth Harriers.
'I went through the eligibility process a while ago and won the Scottish Senior title in 2017 but had a couple of injuries last year,' said Patrick.
'It was brilliant to get picked this time and I will be working through the season with the Senior Champs at Grangemouth in August as a big target.'
Craig said: 'I was delighted to be selected but, as it happened, I've had a promotion training course with the RAF the past few weeks which didn't help my training.
'I was throwing in a car park at an army base that was high security! Armed soldiers were walking past me wondering what was happening.'

Tags: Adam Clayton, Adam Thomas, Cameron Tindle, Craig Charlton, Eloise Walker, Fraser Angus, Greg Kelly, Michael Olsen, Patrick Taylor, Stacey Downie