Loughborough International 2019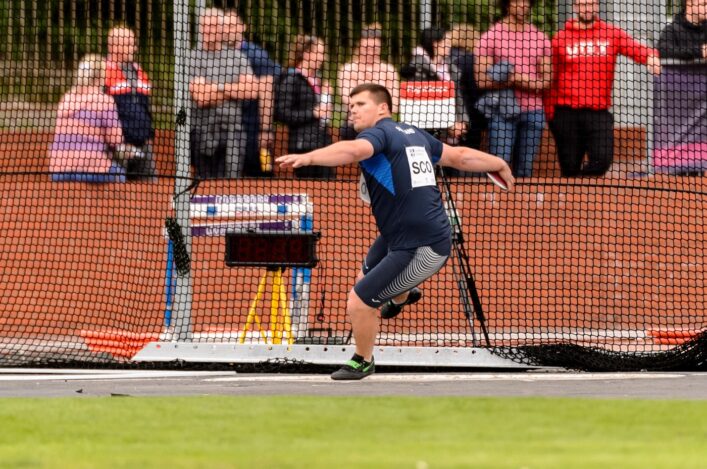 Nick Percy on his way to the win at Loughborough
Scotland's throwers led the way at the Loughborough International 2019 with discus event wins for team captain Nick Percy and Kirsty Law.
Rachel Hunter made a solid return to the international stage in the hammer at the Paula Radcliffe Stadium with a second place on a day when the competition of the track made it tough to achieve 'podium' places.
It was a decent day for our Men's sprinters – arguably one of the best in recent years in collective terms, in fact, as six athletes went under the 11-second mark on what is very much an early-season event as they went close to PBs.
Adam Thomas took third place for Loughborough with a 10.38 and Greg Kelly was fifth in that match race in 10.65. In the guest races, Michael Olsen was at 10.56 and Adam Clayton and Fraser Angus both clocked 10.76 in separate races. Stephen Dunlop was at 10.99.
The 4 x 100m relay team also broke 41 seconds with 40.83 for fourth thanks to Clayton, Angus, Cameron Tindle and Kelly.
Six Scots made their Senior international bows in the person of Stephen Mackenzie, Patrick Taylor, Craig Charlton, Billy Doyle, Ellie O'Hara and Eloise Walker and Doyle joined the GB Juniors team which included Alessandro Schenini and Miraji Ahmed.
Schenini took third in the Match long jump with 7.37m – an outdoor PB – as Scotland's Mackenzie was fifth (7.05m) and Calum Henderson sixth (7.01m).
Eloise Walker clocked 9.29.74 in the Women's 3000m to get inside the European U20 qualifying standard and finish fourth in the Match race.
O'Hara did well to take fourth place at the age of 16 in the Triple Jumpe – beating the GB Juniors athlete – and pole vaulter Courtney McGuire was chuffed with a second place thanks to a PB clearance of 4.05m.
Sprinter Alisha Rees was another with a second place in the match, with 23.96 seconds in the 200m.
Photos by Bobby Gavin on Facebook: Scotland Track
Photos by Bobby Gavin on Facebook: Scotland Field

+++
Percy had been named captain by head coach Stephen Maguire on the eve of the match.
'I am pleased to get the win and I think it is expected of you when you are Scotland captain,' grinned Nick.
'It's a nice honour and I'm happy enough to win the event even though I should be throwing better than that. I was chuffed when Stephen told me to captain the team and the night before I said to athletes that it is important they savour representing Scotland on these occasions.'
Law repeated her win of last year with 55.72m in the third round to take full points in the discus – on her 12th appearance at the Loughborough Match for Scotland.
'I'm pleased to get the victory and take the points for Scotland but just a little frustrated with the distance,' said Kirsty.
'I know there is a bigger throw in there and it is just a matter of when. I didn't 'feel' that one today but last year the ones I didn't 'feel' were at 51m and 52m so I can definitely so the progress I've made.
'So it is already a good season with a 57m one in the States a couple of weeks ago. I decided against retiring – again – and in fact I've gone the other way again: I've cut my hours at work to put more of a focus on my athletics.
'I still love it and I'm always very proud to throw for Scotland.'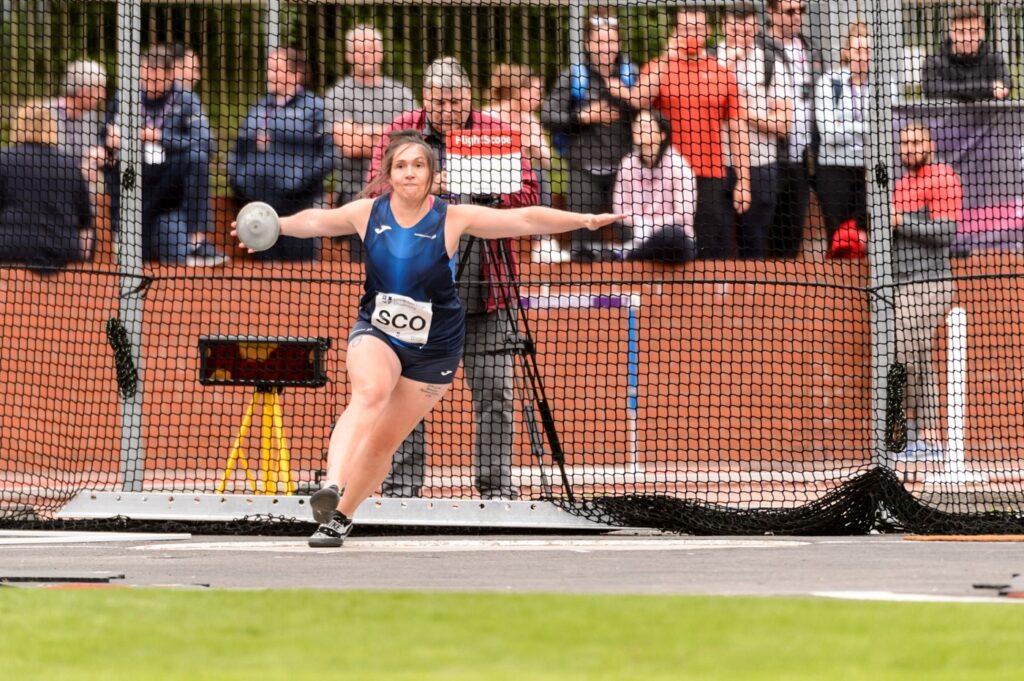 +++
Hunter made a very solid return to international competition with second place in the hammer.
The Scotland athlete, coached by her dad Henry, threw a Season's Best 62.84m as Jessica Mayho of England took the win in 63.79m.
'It was good to be back at this kind of competition,' said Rachel.
'This time last year I was in hospital with anxiety – so to get out there today and throw solidly feels good.
'I know I can throw bigger than that and have been doing it in training, but it was a Season's Best and moves the distance on a bit from last week at Kilmarnock.
"It felt strange being in the Call Room again for this kind of level of comp. But I just enjoy throwing and I love competing for Scotland. When the kit came through in the week I just sat and looked it at all laid out and felt a lot of pride – anyone who says otherwise is lying.'
+++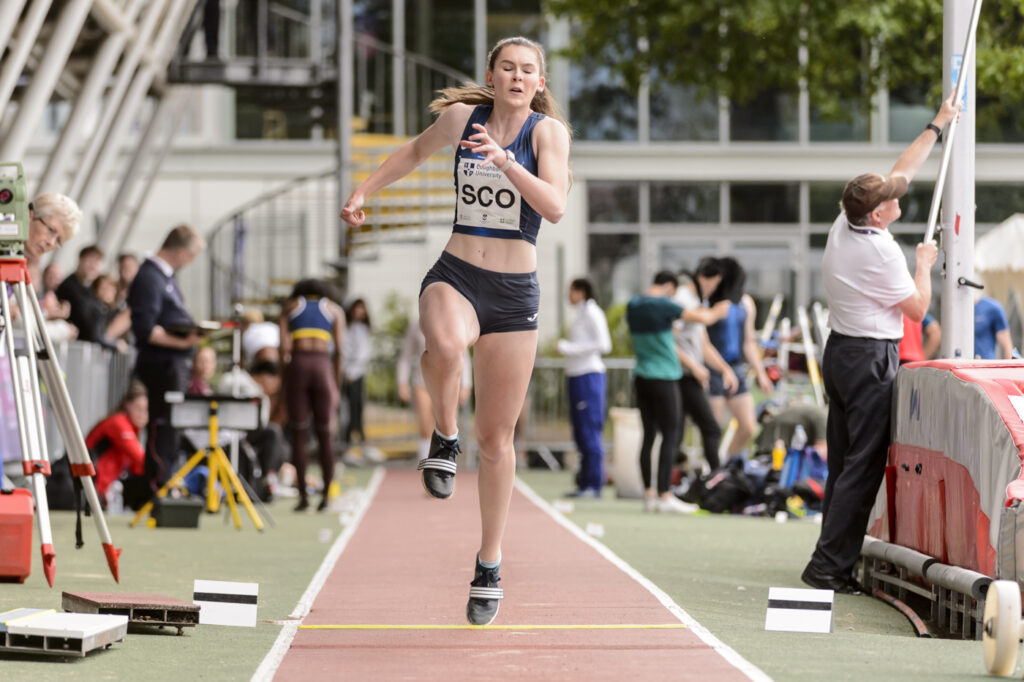 O'Hara is still 16 and has the BIG Champs next weekend and the Scottish Schools coming up.
'I was very nervous for this but I have to be quite happy with fourth place,' said Ellie. 'It was a whole new experience but once I got out to warm-up that helped. The 12.04m was in the second round and my last three were very close fouls on the board so that is a wee bit frustration.
'It happens and I've enjoyed representing Scotland at this level for the first time.'
MacGuire was understandably pleased with her pole vault PB.
'I jumped 4.03m indoors in the winter but last year wasn't good at all so to come out and get a PB felt great,' said Courtney.
'I am based in Loughborough now so it is my home track and I guess that helps a wee bit.'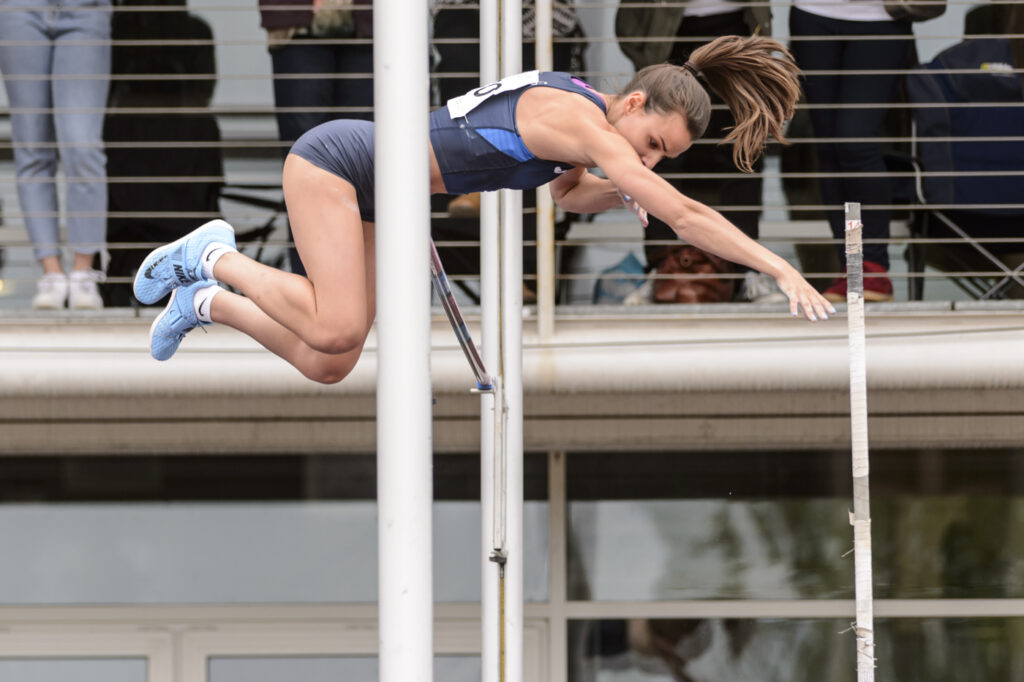 +++
In the Men's triple jump there were three Scots, as Ahmed made his bow for GB Juniors. It was Loughborough's Henry Clarkson who won that particular battle (15.40m) from Scotland's Chuxx Onyia (15.29) for fifth place, with Ahmed at 14.25m). That was an excellent PB for Clarkson.
In the 400m races, Stacey Downie took fourth with a fine SB run of 54.41 while Billy Doyle was fourth with his 48.12 within a couple of hundredths of the PB he set last week.
Emma Nuttall was third in the High Jump with 1.76m and there was a PB for Para athlete, Amy Carr, in the 100m with 14.62. Sarah Warnock took fourth place in the Women's long jump with 6.18m.
In the 100m Match races, Katy Wyper was sixth with 12.05 and Greg Kelly was fifth in 10.66 in a race where Loughborough's Adam Thomas, the Scottish athlete, was third in 10.38.
Jack Lawrie and Heather Paton both took third places in hurdles races in 51.23 and 13.70 respectively with Anna Nelson, the Scotland pick in the Women's 400m Hurdles, placing fifth in 61.58.
Alastair Hay has represented Scotland at Loughborough a couple of times in the past and he returned with a fifth place run in the Men's 3000m in 8.16.53. Behind Hay, Freddie Carcas and Joe Arthur were at 8.23.01 and 8.23.84 respectively.
Philippa Millage was third in the Women's 800m with 2.07.84 and Andrew Murphy sixth in the 110m Hurdles in 15.23.
In endurance races late in the programme, Edinburgh AC's Eloise Walker ran well to take fourth in the Women's 3000m match with 9.29.74 close to her PB, as Steph Pennycook (BUCS) claimed fifth.
Mike Deason was fifth in the Men's 3000m steeplechase, as he went close to within a second of his PB with a run of 9.11.79.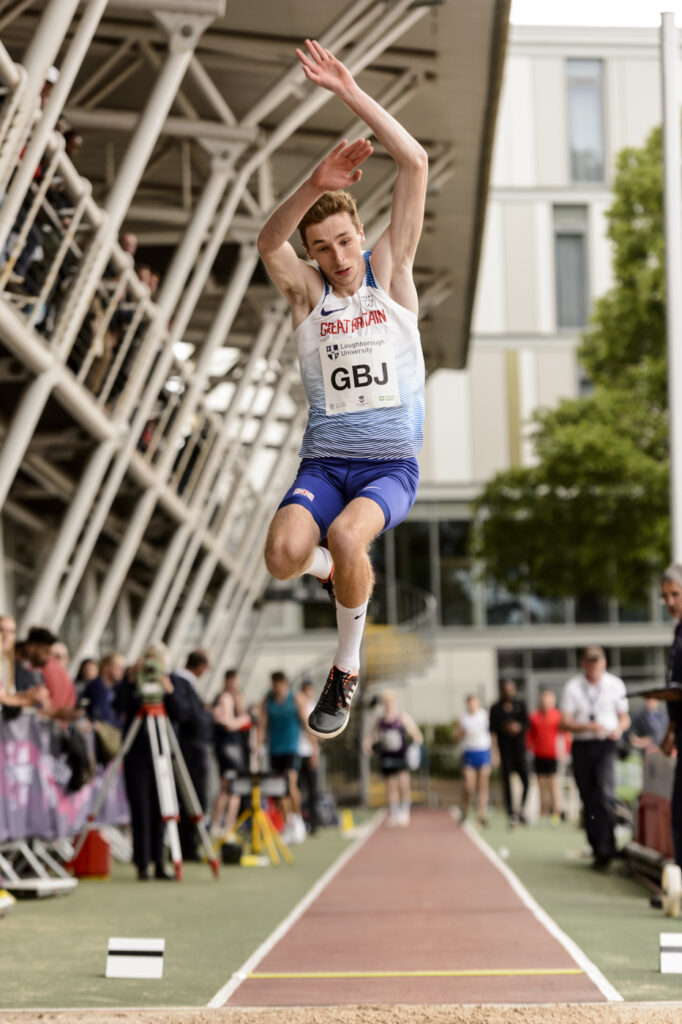 All photos by Bobby Gavin 
Tags: Loughborough, Loughborough International 2019, Scotland, Stephen Maguire