Hectic weekend for our clubs, coaches and Officials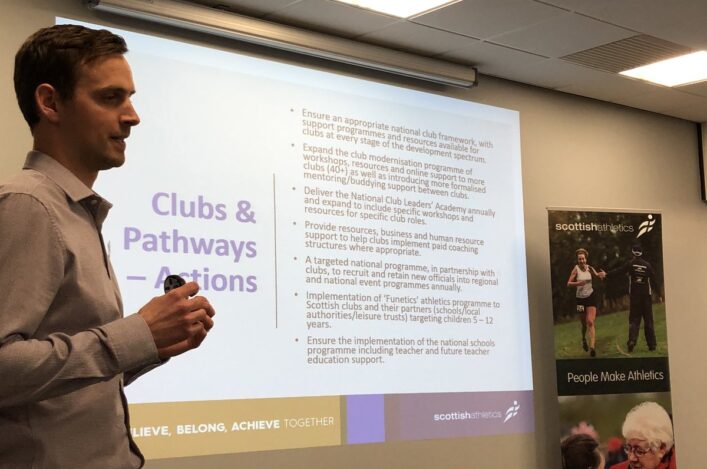 Head of Development Colin Hutchison chats at our Club Together gathering over the weekend (photo via Twitter)
Why we are Building a Culture of Success
It was another hectic weekend for many on the scottishathletics staff and indeed a cross section of dedicated volunteers from within the sport in Scotland.
The Scottish 10-Mile Champs were staged at the Tom Scott Road Races and the IAAF World Cross in Denmark, but for once our focus here in our Weekend Round-up is not events-related.
Instead, we want to highlight a number of key areas of work where scottishathletics are seeking to lead and direct our clubs, coaches and Officials in order to help drive forward development – call it #SALtogether.
The weekend timetable featured a Club Together Officers gathering; our first Welfare Seminar (see separate story); Coaching Clinics and an Officials Training Day. All these areas make a huge contribution to the health of our sport.
'As we highlighted within our new strategy, Building a Culture of Success, athletics in Scotland is very much built on the foundations of good people and working together,' said our chief executive Mark Munro.
'It is therefore critical that the governing body invests its time in good people who want to continually develop their knowledge to implement within their own setting.
'This weekend has been an extremely busy one across various areas but it has been brilliant to see some many club leaders, coaches, welfare officers and officials working together to take the sport forward. Thanks for your help and support.'
CLUB TOGETHER GATHERING
For the first time in around four years, scottishathletics gathered Club Together staff and their line managers from 12 different clubs involved in the Club Together project.
With the significant evolution of the project in recent years the traditional role of Club Together Officer in clubs is now complemented by roles such as Club Manager, Pathways Development Officer, Business Development Officer and Community Development & Engagement Manager.
With an average membership growth of 65% and average membership retention of 83% for clubs involved in Club Together, the project continues to be an integral part of our development.
'For the project's continued evolution and success, it is important that the roles employed are shaped by the needs and vision of each club in Club Together,' said Colin Hutchison, our Head of Development.
'The gathering of staff and their line managers presented a great opportunity to update on the wider work of the organisation but most importantly for the clubs to share practice, ideas and establish new partnerships. This gathering will help clubs to continue getting the best out of the Club Together project and is something we will once again make part of our annual calendar.
'I'd like to thank not only to those that attended on Friday but to all the clubs, volunteers and staff that continue to support Club Together. We look forward to continuing to work with you through 2019 and seeing what the next 12 months bring.'
*For any clubs interested in finding out more about Club Together please use our staff pages to contact your National Club Manager 
COACHING CLINICS
At the weekend, four coaching clinics (long jump, high jump, sprints and hurdles) took place across the country (Pitreavie, Grangemouth and Scotstoun).
The aim of the coaching clinics are designed to help coaches develop a sound understanding of how to coach the event, building on the technical content presented on the Coaching Assistant and Athletics Coach Award.
'I would like to thank the coaches in their continued commitment to their on-going development in attending these coach development opportunities,' said Darren Ritchie, scottishathletics Head of Coach Development.
"That's not just at the weekend, but to those who attended the clinics over the past 12 months. Coaches are absolutely vital to our sport. Without their commitment to to choose to guide and train athletes of all ages, abilities and disciplines, athletics simply would not exist.'
Coach Qualification
Also over the past weekend, coaches progressing through the new Athletics Coach Award attended the day three electives in Endurance and Speed at the Emirates Arena and Jumps and Throws at Grangemouth. We wish them well as they progress towards becoming fully qualified coaches.
+++
OFFICIALS TRAINING DAY
Thanks to all those who attended our scottishathletics Officials Training at Grangemouth.
It counts as another sure sign that the track and field season is imminent!
We're always hugely grateful to the commitment and dedicated of these volunteers who help make the sport happen. Remember, quite simply, without an Official present, there is no performance recorded . . .
To find out more about becoming an Official, please contact Shona Malcolm, our Officials Development Officer
Tags: Club Together, Coach Development, Colin Hutchison, Darren Ritchie, Mark Munro, Officials, Officials Training Day