Our Best Ever – and Zoey senses Scottish momentum
Scottish athletes at the European Indoors (scotstats.net)
Scottish athletes are celebrating a best-ever overall performance at the European Indoor championships.
The five medals achieved at Glasgow 2019 in four events surpasses the tally from Belgrade two years ago when Laura Muir did her first 1500m/3000m double and Eilish McColgan (3000m bronze) and Eilidh Doyle (4 x 400m silver) also won medals.
This time, four athletes were involved rather than three in 2017 as Chris O'Hare collected silver in the 3000m while Zoey Clark and Doyle formed half of the GB and NI Women's 4 x 400m team who also won silver.
There were also two Native Records for indoors – with Andy Butchart's 7.51.28 in the 3000m heats and Muir's 8.30.61 in the 3000m final
It comes after nine athletes were selected for the 49-strong GB and NI team with that being the largest representation ever for Scots at this particular championships.
Aberdeen AAC athlete Clark, who is putting together a formidable CV now in terms of relay medals, is convinced the future is bright.
'I think athletics in Scotland is really on the up and up,' said Zoey.
'Yes, we had nine athletes in the GB team for Glasgow 2019 but there were quite a few others who were very close to selection or were out injured. There were people in the mix and who can get in the mix for championships coming up in the next couple of years.
'And we've youngsters coming through at the lower levels who are doing well and making progress.
'It is great to see and nice to be part of it all. Athletes and coaches are seeing hard work pay off. I honestly believe we keep it all going upwards.'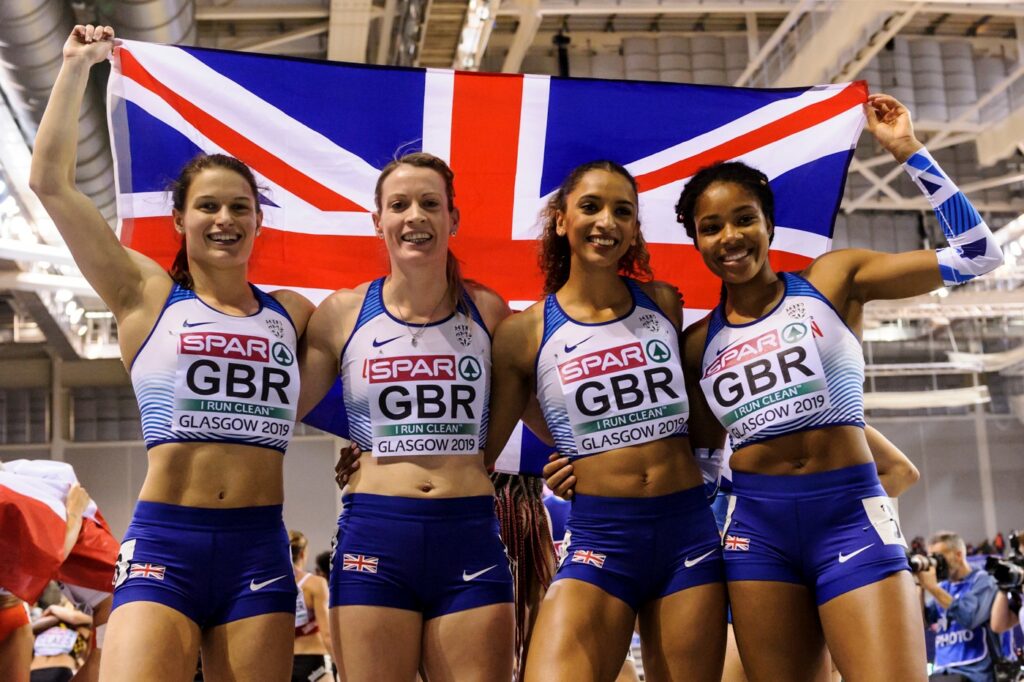 GB and NI celebrate silver medals in the 4 x 400m at Glasgow 2019 as Zoey Clark and Eilidh Doyle are joined by Laviai Nielsen and Amber Anning (photo by Bobby Gavin)
Clark was absolutely thrilled to deliver another medal after, by her own admission, a very poor run in the 400m individual heats.
'My individual was a real let-down for me and it was a new experience for me in a sense that you don't have long to pick yourself up for the relay,' said Zoey.
'Hampden in 2014 was quite intimidating for me as it was my first major competition.
So, this time in Glasgow, I was really determined to kind of redeem myself. The atmosphere was very special out there and I made the most of it and really enjoyed it.
'The other teams were so strong and we all knew that – we knew it was going to be tight fighting for any medal so the crowd was inspiration.'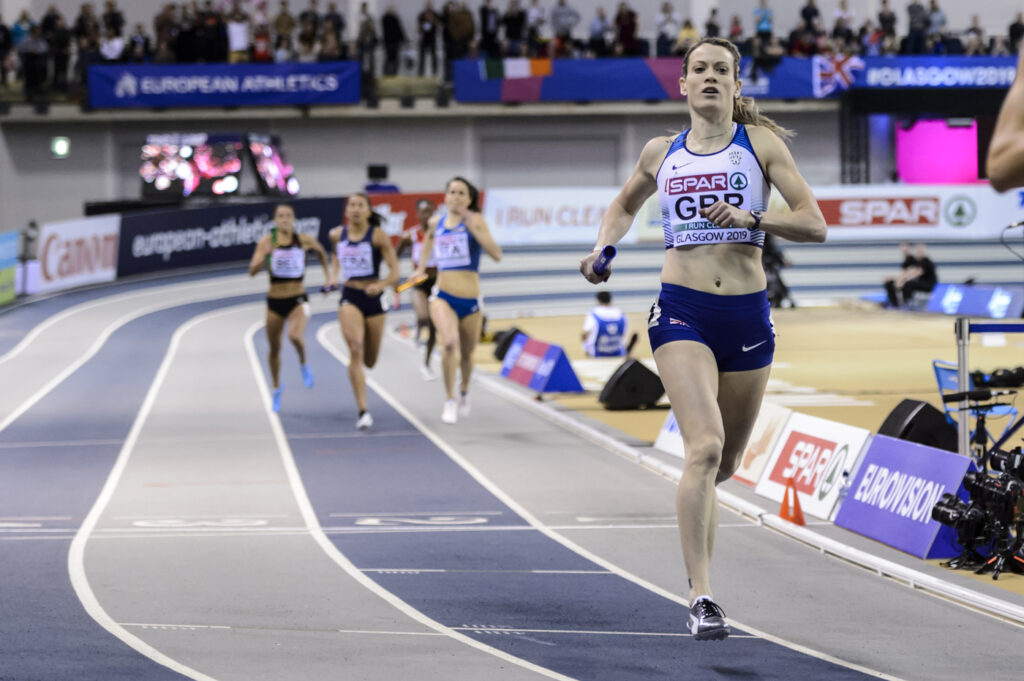 For Eilidh Doyle it was yet another medal on the big stage and, again, it felt like redemption after bowing out of the 400m on Friday evening at the semi-final stage.
'I was disappointed after Friday night but that's what happens when you are in the relay team – you have that chance to go again quite soon. You don't actually have any time to sit and feel sorry for yourself.
'We were together as a team and we all wanted to do well for each other as a team. So we were absolutely determined to come away with something and we all ran really well – we had different jobs to do on each leg.
'There was a wee moment when I wondered if I could catch the Polish athlete. I didn't want to do anything silly and go very hard at it straight away.
'I had to run my own race and I wasn't at all sure about what was going on behind me. I could hear the crowd roaring and I honestly didn't know if that was for me closing on the Pole or someone getting closer to me.
'You have to try and keep concentrating. Listen, it would have been lovely to catch her and us to win gold but we knew OPoland had a really strong team and it is a good silver medal in the end.
'I will look back on all those medals at some stage in my life and try and really savour it and appreciate it. I am coming to major champs now and not wanting to leave without one. So, when the individual 400m went away from me on Friday, I just had to keep telling myself 'it has to be the 4 x 400m now'.
'I know how strong GB and NI women are at this event. I think I am right in saying we've won a medal at every major champs since 2013. It's been quite a sequence and something lovely to be part of a number of times.
'We are used to but we particularly wanted to do it here in Scotland.'
Tags: Andy Butchart, Chris O'Hare, Eilidh Doyle, Emirates Arena, European Indoors, Glasgow 2019, Laura Muir, Zoey Clark