Athletes head for Italy – and Bedford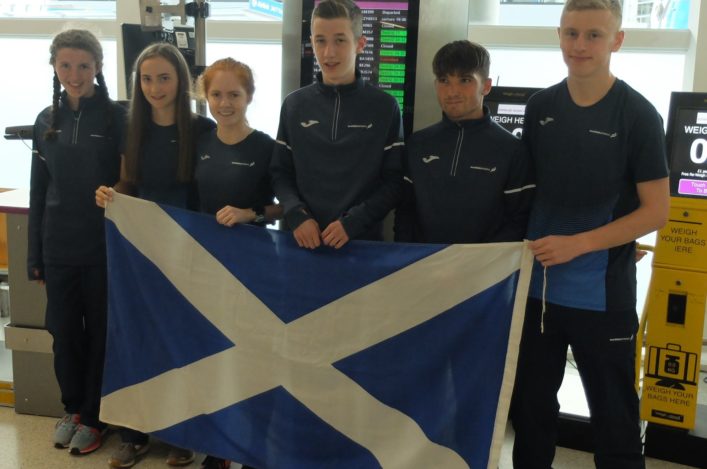 Our junior hill runners gather at Glasgow Airport this morning before heading for Italy
Six junior athletes are headed for Italy to represent Scotland in mountain running at the International Youth Cup – which takes place  on Saturday (16 June)
The Scotland teams were picked after the trial race, which was held on the slopes of Ben Lomond on 12 May.
Five clubs are in the male and female teams, with the event taking place in the village of Lanzada, which is in the Valmalenco valley in northern Italy. The boys and girls race over the exact same course, which is 4.3K in distance with 290m climb over two laps.
The Scotland girls team is made up of two athletes gaining selection for a second time – Lyn McKenna (Giffnock North) and Zoe Nicholson (Pitreavie) – with Rhona Mowat of Giffnock North completing the team.
In the Scotland boys team, Fife AC''s Robert Sparks earned selection for the second year in succession, and is joined by trial race winner Sunny McGrath of Deveron Harriers along with Jack Trainer of Garscube Harriers.
Good luck to the athletes for the International Youth Cup and all those from Scotland travelling to Italy – with the teams led by Jane Robertson and Mike Pearson – for the event, which is expected to feature 15 nations.
With thanks to Malcolm Patterson
Competition info on England Athletics website
It's a big weekend in track and field for some of our best young athletes with Bedford the centre of attention.
The England Athletics U23 and U20 Championships are effectively British Championships in those age groups and, this year, there's a trials element for those looking to be in the frame for selection for the World Juniors.
Finland hosts the World Juniors in July and Scottish athletes very much in contention at the moment would include Erin Wallace of Giffnock North AC, Alisha Rees of Edinburgh AC and Michael Olsen of Edinburgh.
For others from Scotland there is the prospect of chasing PB performances, final places or medals and indeed this was an event which proved a happy hunting ground in terms of the podium last year.
In fact, no fewer than 19 medals were won on a remarkable 'team effort' by Scots last year but a number of those involved are not competing this year as either have moved out of the age group or have other plans (like a focus on the main British champs).
With almost 1000 athletes entered in a full range of track and field events, it's set to be a packed weekend of action.
There will also be a number of U18 events to give those athletes an additiional opportunity to qualify or to strengthen their case for selection for the European Youth Championships in Hungary or IAAF World Junior Championships in Finland; click here to read UKA selection policy.
There will be live events coverage on social media and live streaming from Vinco
Click here to view the timetable
Tags: Bedford, England Athletics U23 and U20 Champs, hill running, International Youth Cup, Italy