Young Scots land Bedford medal glory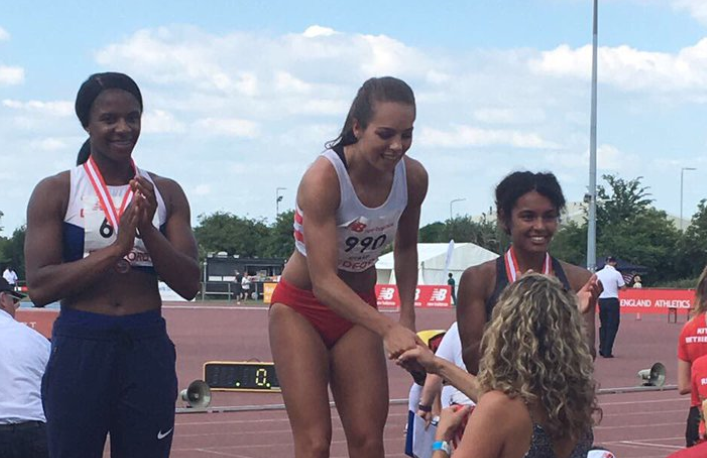 Kelsey Stewart collects U23 400m gold from Sally Gunnell (photo via Twitter)
Coverage on England Athletics website
Scotland's new generation of athletes once again proved their emerging quality at the England Athletics U23 and U20 Championships.
No fewer than 19 medals were landed on a superb weekend for Scots, and their coaches and clubs, as years of hard work came to fruition.
That tally included no fewer than eight golds – with thrower George Evans and endurance athlete Jemma Reekie each achieving an U20 double.
The Scottish success will be underlined in selections by British athletics for the Euro U20 and Euro U23 Champs over the next couple of days and the good performances were not restricted to the gold medallists by any means.
Jack Lawrie took silver in the U23 400m Hurdles and his new PB of 50.25 was just a single hundredth outside the Scottish national Record for that event.
And young sprinter, Adam Clayton, claimed a Scottish National U17 record in the 100m as he broke a mark set fully 40 years before with 10.71 on Saturday afternoon amid fine conditions in Bedford.
Kelsey Stewart's U23 400m win was another big highlight as she ripped apart her PB, and a strong field, to win in 53.63 and then receive her gold medal from Sally Gunnell.
These performances came on a weekend when conditions were ideal for almost everyone other than endurance athletes and the over-riding impressions was of a strong sense of #SALBelieve #SALTogether coursing through the Scottish contingent – with great support and encouragement across our social media channels.
George Evans – won two golds in the throws at Bedford (photo via Twitter)
Here's the list of the Day Two medals from Sunday's action:
GOLD:
Alisha Rees U20 200m; Mhairi Hendry U23 800m; Neil Gourley U23 1500m; Jemma Reekie U20 3000m; George Evans U20 Discus; Kelsey Stewart U23 400m
SILVER:
Ben Greenwood U20 800m; Jack Lawrie U23 400m Hurdles
BRONZE:
Carolyn Harvey U23 Triple Jump; Mhairi Maclennan U23 5000m; Lewis Brown U20 400m; Mhairi Patience U23 400m Hurdles; Kirstin Oakley U20 3000m steeplechase; Stacie Taylor U23 3000m steeplechase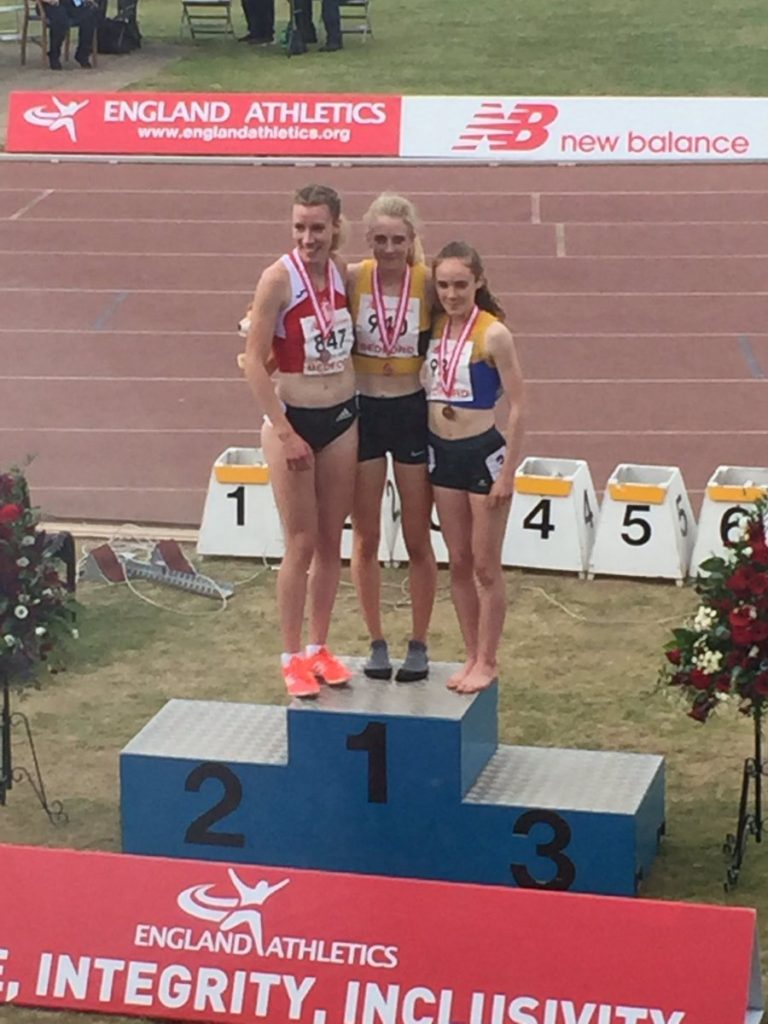 Jemma Reekie – won U20 1500m and 3000m golds at Bedford
Here is the list of Day One medals from Saturday's action:
GOLD:
Jemma Reekie U20 1500m; George Evans U20 shot
SILVER:
Sol Sweeney U20 3000m
BRONZE:
Adam Boyle U20 Javelin; Megan Davies U23 1500m
Away from the medallists, there were of course other good performances and a scan of the Results reveals more than half-a-dozen athletes who took fourth places: Aidan Thompson, Cameron Tindle, Jill Cherry, Andrew Peck, Lewis McGuire, Ellie McGinty and Steph Pennycook.
What's clear is the National Academy structure over the past three or so years is helping athletes, coaches and parents get a handle on what is required and that is backed up by recent medal success at this particular England Athletics U23, U20 event: 19 this year, 19 last year and 24 in 2015.
All at scottishathletics forward our congratulations to the athletes, families and coaches involved and the clubs working hard to develop talent in their formative years.
Tags: Alisha Rees, Bedford, Ben Greenwood, England Athletics U23/U20 Champs, George Evans, Jack Lawrie, Jemma Reekie, Kelsey Stewart, Mhairi Hendry, Neil Gourley