Inverness Half; Scottish 10-Mile Champs; Sad news; Luke interview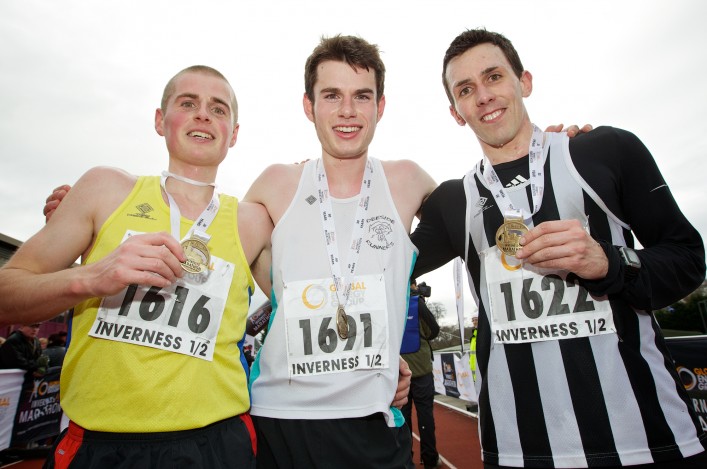 Robbie Simpson, Andy Douglas and John Newsom on the Inverness Half podium a few years ago – and all will race again on Sunday
Inverness Half Marathon website
Australia-bound Robbie Simpson will run in Sunday's Inverness Half Marathon after returning from Barcelona where he had taken a few days refuge from the wintry Scottish weather.
The Banchory-based runner, who is to represent Scotland in the marathon at Gold Coast next month, took flight for Spain after his training was disrupted by the drifting snow which engulfed his favourite Deeside running routes.
'I was managing to do most of my training sessions but I didn't fancy spending a week running on snow or dodging cars on the main roads,' said Robbie.
'So, I found a last minute deal, flying from Aberdeen for a five-day break in Barcelona, and decided to go for it. It makes such a difference to be able to train in warm conditions, even if only for a few days.'
Simpson, whose best half marathon time is 64.39, won the Inverness race in 2014 and knows he'll have to work hard to earn a second victory on Sunday as the field includes some good class opposition, led by GB mountain running international Andy Douglas and National XC winner Kris Jones as well as the likes of Cameron Milne, Mike Crawley and John Newsom.
Paralympic athlete Derek Rae (Fife AC) will be looking to improve on his best time of 70.06 set at last year's Great Scottish Run in Glasgow. The Kirkcaldy runner is preparing for next month's London marathon in which he'll represent Great Britain in the World Para Athletics Cup.
Katie White appears to be favourite to win the women's race. The Garscube Harriers runner has a best time of 76.52 which she set when winning the Alloa half marathon last year. Two-time previous champion Shona McIntosh could challenge.
With thanks to Fraser Clyne
+++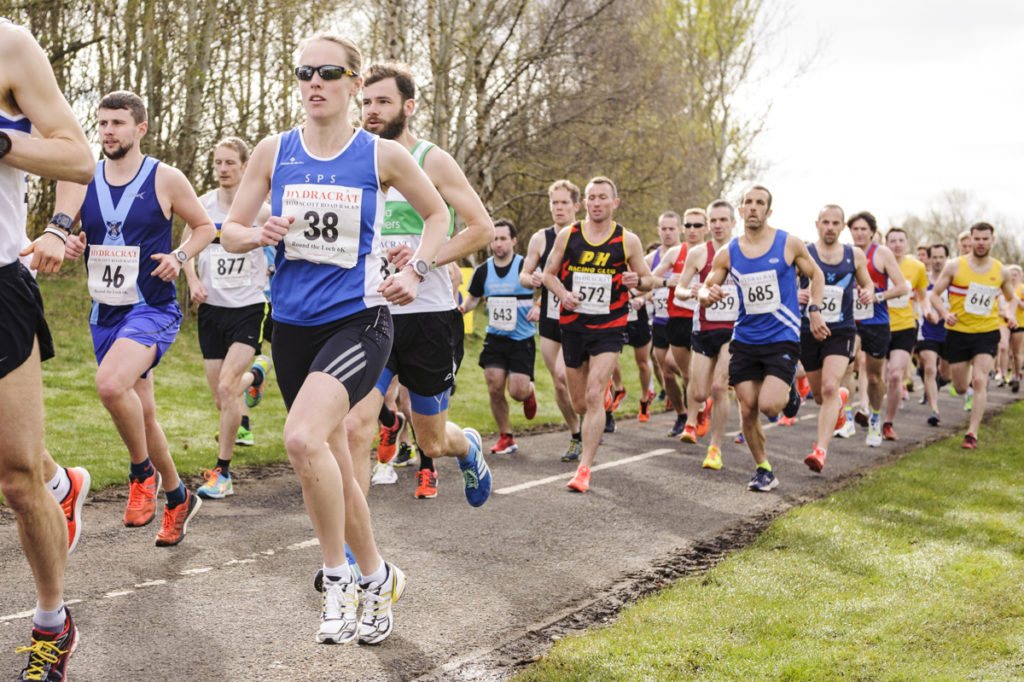 Action from the 2017 Tom Scott Races (photo by Bobby Gavin)
The 56th Tom Scott Memorial Road Races will once again see hundreds of athletes travel to Strathclyde Park in Motherwell on Sunday 1 April for the Scottish 10-Mile Champs.
There are two races taking place that day, the 10-Mile Championship race and the Round the Loch 6k. The longer race plays host to the Scottish 10 Mile Championships and West District 10 Mile Championships , as has been the case in recent years.
The Round the Loch 6k attracts athletes of all abilities – a great run for those who prefer shorter distances! Race start for both is at 10am on Sunday 1 April and we understand there are already a number of entries received for the 10-Mile Champs.
Declarations open from 8:45 to 9:30 on the day. Pre-entry only – online and by post (via website), no entry on the day
Scottish 10-Mile Champs:  Sunday 1 April
+++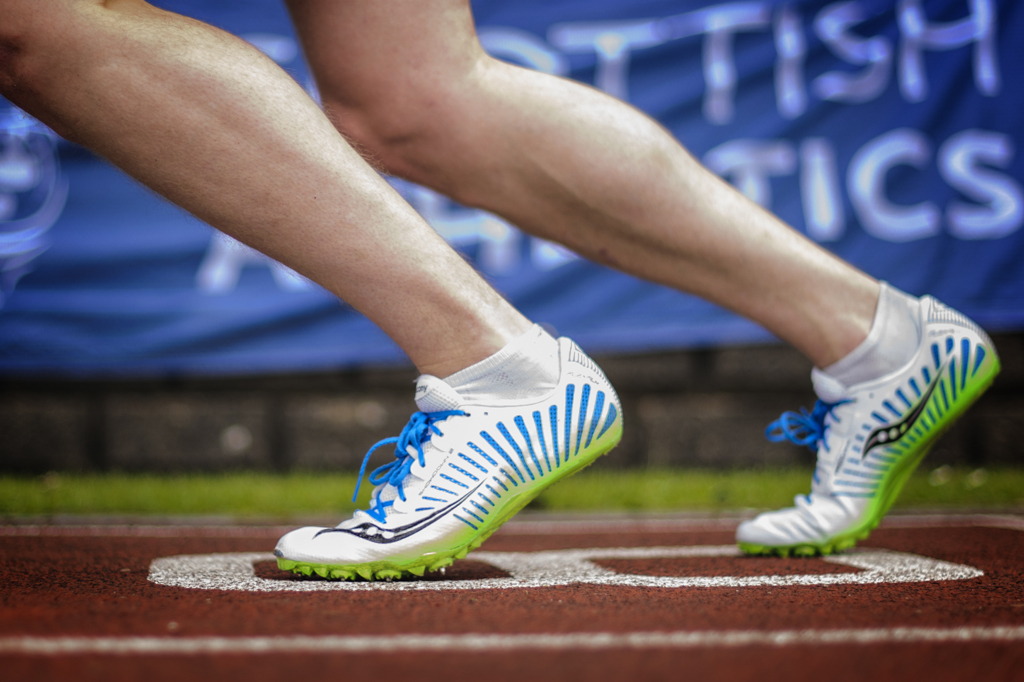 Inverclyde AC and scottishathletics are sad to report that Rita Docherty, wife of Hugh Docherty, passed away recently.
Rita will be well-known to many of the older scottishathletics members due to her being heavily involved in Scottish Women's Cross Country running during the days of the Scottish Womens Cross Country Union of which she was a Honorary Life Member, also being a Honorary Life Member of scottishathletics
Locally, Rita (like Hugh) was a stalwart (and Life Member) of Greenock Wellpark Harriers (which together with Spango Valley AC formed Inverclyde AC), of which she was also a Life Member. She was also a founding member of (Greenock) Rankin Park Lady Harriers.
Rita Docherty funeral service:
Tuesday 13 March at 3.00pm.
Greenock Crematorium, 1 South Street, Greenock. PA16 8UG
**
scottishathletics are also sad to report that Honorary Life Member, Hilda McGillivray, passed away earlier this week at the age of 95.
Hilda was very much involved in athletics in the Lanark and Lesmahagow area and had a significant role in Scottish Women's track and field a number of years ago.
All at scottishathletics send our sympathy to family and friends of both Rita Docherty and Hilda McGillivray – two women who gave so much to help develop the sport in this country.
+++
Luke Traynor is grabbing attention this week with a well-deserved return to the GB and NI scene with selection for the World Half Marathon champs in Valencia later this month.
It has been the culmination of a lot of hard work in the past couple of years by the Giffnock North AC athlete, who now splits his time between Glasgow and a training base in America.
Luke's Giffnock North team-mate, David Sawyer, has a running blog on his company website and not so long ago he did an in-depth interview with the man who clocked 61.57 in Barcelona last month in only his second half marathon run. Read the interview via the link above.
World Half selection for Traynor and Tewelde
Tags: Andy Douglas, Derek Rae, Giffnock North AC, Inverclyde AC, Inverness Half Marathon, Kris Jones, Luke Traynor, Robbie Simpson, Scottish 10-Mile Champs, Tom Scott Road Races