WR for Sammi and gold for Stef, too!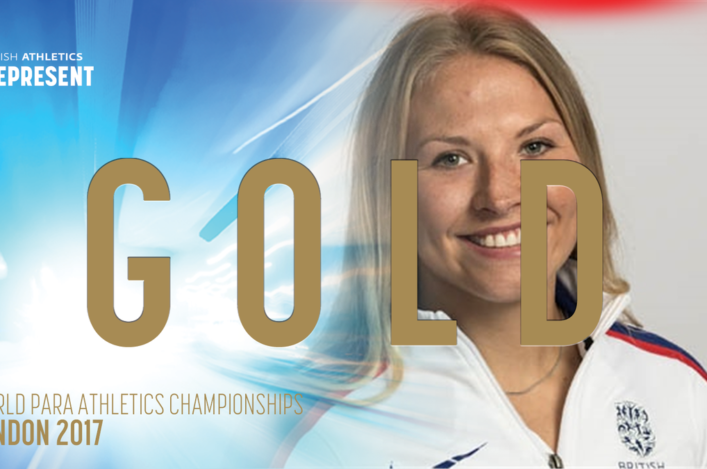 World Paras Preview with schedule for Scots
Scottish duo Sammi Kinghorn and Stef Reid both claimed golds on a 'Super Saturday' at the World Para Champs in London.
And Borders athlete Kinghorn did so in the T53 200m with a new World Record as she clocked 28.61 to eclipse her own mark from earlier in the season.
For Stef there was gold in the T44 long jump as she won her first World title only hours after Jo Butterfield had been edged out of the medals in the Club Throw.
For Sammi it was the culmination of years of hard work with coach Ian Mirfin and her family by her side.
'I had the two fastest girls outside of me and I thought if I can catch them before the bend then I have a chance of getting a medal,' she reflected on the race itself.
'Gold.' I still can't say it. I can't believe it. I am so thankful to that crowd they were incredible.
'I've a new chair and that's made a huge difference and my starts. In Rio as soon as the gun went, I lost everyone off the start. So I knew that to be a winner it had to be about "starts, starts, starts". Now I can say that the gun goes and I am a little bit ahead of them.
'In Britain I think we have the best support, I'm not going to lie. We have the doctors, we have the physios, we have the the coaches. We have everyone and everything we need.
'I can't believe that I went through that line and it was a world record. It flashed up and I had no idea.'
It was a golden moment for Stef Reid, too, as she secured her first ever world title in the T44 long jump in front of the adoring home crowd at the London Stadium.
The Paralympic silver medallist leaped her furthest distance in round three, a 5.40m jump which laid down the marker for the rest of the field.
Reid used all her experience to hold on for the gold medal having led from her very first jump of the competition. The Scot never looked in danger of losing her lead, and added to her bronze medal from the 2011 edition of these championships.
After injury ruled her out of the championships in Doha back in 2015, this was the perfect form of redemption as she sealed a joyous gold medal, beating Marlene van Gansewinkel, her Dutch rival who won bronze in Rio.
'I'm so overwhelmed – I have been doing this for 11 years now,' said Stef.
'It has taken a long time to get there so it is so satisfying to win this gold medal. A lot of athletes never get to do this so I am ever so grateful that I get the chance to do this.
'I am so thankful to my coach (Aston Moore) who has worked so hard for this and to my training partners who have come down to watch me today.
'It is really satisfying to get the gold medal. It does go to show that if you work hard at something time after again, it will pay off.
'I was well-prepared and I like to think I put the pressure on early in the competition – I just really enjoyed it out there. I've been competing against these girls for a number of years and I think that just made it a lot of fun.'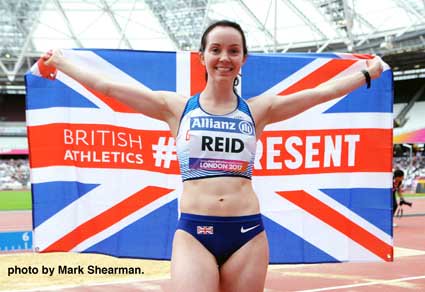 On Friday evening, there was a heart-breaking finish to the F51 Club Throw as Jo Butterfield was edged into fourth place. A last round throw by World Record holder Rachael Morrison put paid to Jo's hopes of a medal as she sought to defend her title from two years ago.
'I came to defend my title and that's what I wanted to do but I'm happy with how I threw,' ssaid Jo, who reached 22.54m with her best effort.
'I had a good series out there; I felt that they were good throws, and I was beaten on the day by better people.
'Honestly, they felt good. The first three throws I felt stoning the second three I was in a bit of pain, but that isn't an excuse.
'When I knew that Rachael was the last one up I knew that she could easily throw a lot further and could have taken the gold medal.
'She is the world record holder. So it was a case of all or nothing really. I must admit, when I saw her fourth and fifth throw I thought I'd got it, that I'd got the bronze and then the last throw took it off me. These things happen.'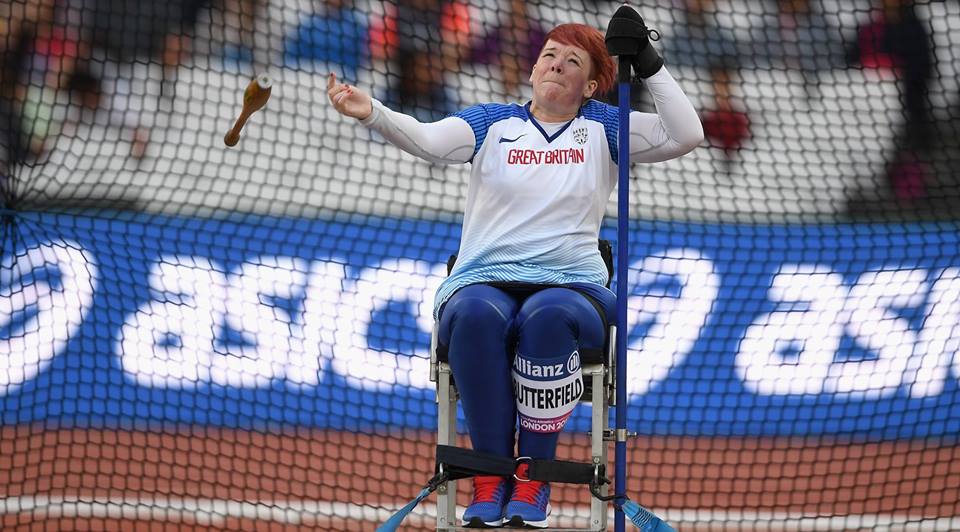 Tags: Jo Butterfield, London, Sammi Kinghorn, Stef Reid, World Para Champs