Laura seventh as Eilish, Eilidh make finals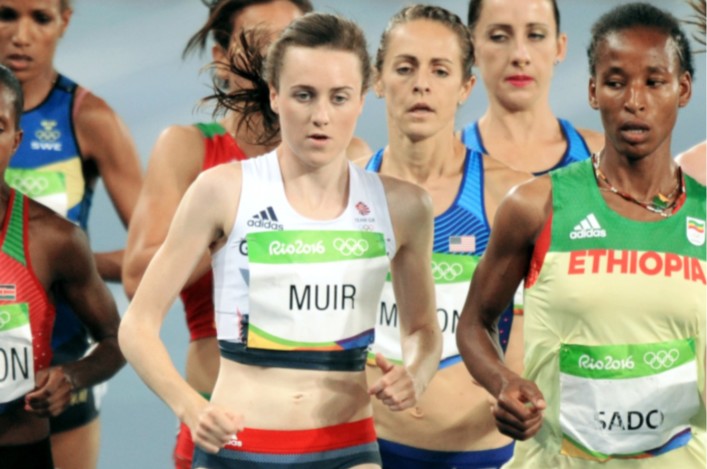 Photo by Mark Shearman in Rio
Laura Muir laid it all out on the track as she finished seventh in the final in her first Olympics in Rio.
The Women's 1500m final was stacked with quality and, in the end, Kenyan Faith Kipyegon took gold from Genzebe Dibaba with American Jenny Simpson making a late run for bronze.
Muir had held third until almost midway into the final lap after making a bold bid to stay and challenge Kipyegon and Dibaba but ultimately the British Record Holder had to settle for seventh place. Fellow Team GB and NI athlete, Laura Weightman, was 11th.
It was a dramatic, and rapid, final two laps after a pedestrian opening 400m which saw the pack through in 76 seconds. Muir's finishing time was 4.12.88 with the race won in 4.08.92.
'I'm really proud of how I ran but the other girls had more on the day come the finish,' said Laura, who was watched by her parents, Crawford and Alison, in Rio as well as her brother Rory and her grandmother.
'I gave it everything I could, I couldn't have done any more on the day. it just so happened that the legs weren't in it. I'm really proud of how I ran it and executed the race. First Olympics, seventh – it's not quite what I wanted but it'll do.
'I expected it to be slow at the start – so I stayed at the back at the start and worked my way through. Then I was in the perfect position when Dibaba went for it so I followed her and that was exactly as I thought it would go and I prepared for it.
'I was feeling really, really good and it just happened that last 200m wasn't quite in the legs but I couldn't have done any more.'
'Thanks to my coach Andy Young because he's been with me from start to finish'
Well done to Laura, coach Andy and the Muir family on a fine Olympic bid in Brazil.
+++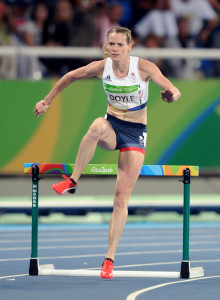 It was a nervous few moments for Eilidh Doyle – but third place in the second semi of the Women's 400m Hurdles was enough to qualify for her first Olympic final!
Eilidh clocked 54.99 just behind Ahsley Spencer and Janieve Russell and then had to watch the last semi-final to see her time prove enough to make the eight-women final.
'I just saw the third place come up at 54.98 in that third race and knew I'd made it and thought 'phew" grinned the Scottish Record holder.
'I apologise to my coach, my family, my husband and everyone for putting them through that but I'm in the final now and that's brilliant. Hopefully now I can run my own race there and do something.'
Many congratulations to Eilidh, coach Malcolm Arnold, her family and all involved in her development at Pitreavie AAC over a number of years.
+++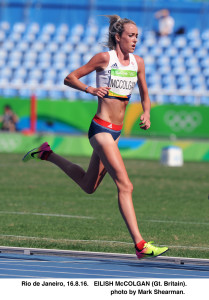 Photo by Mark Shearman in Rio
Eilish McColgan is through to her first Olympic final only a few months after her return from injury and switching event.
Eilish ran the 3000m steeplechase in London and at Glasgow 2014 but 2015 was a write-off through injury. She went through a rollercoaster of emotions in heat two of the 5000m before a late surge on the final lap saw her take the fifth automatic slot in 15.18.20.
'It was so different to anything that I've done in the past,' said Eilish.
'It was such a sort of bumpy race – people getting bumped and knocked all the time.
'I go through waves of thinking I'm going to be last here and then the next moment that I'm going to qualify.   It is quite up and down during the race so I need to start thinking mentally that even if you are tired just hang in, hang in because I know that if I am there or if I have a sniff of it with 400m to go that I have the speed to get up there.
'And that's what happened today, I just stuck in there and feel that I should be up there with these girls, and I've run the times to be up there with them, so it's just a mental thing to be up there in the pack.'
The 5000m trio in Amsterdam – when Twell took Euro Champs bronze
Unfortunately, there was agony for Steph Twell as she finished in eigth in the same heat at Eilish, but with 15.25.90 was just outside the additional 'fastest losers' slots.
'I know that I'm in the best shape of my life that I've been in but everyone can say that – but just really hurts to know that I haven't got through,' said Steph.
'In the call room I knew what time I had to roughly run seeing the athletes go through the 3km in a time I could cope with.
'I tried to keep my balance quite a few times and just about coming up to four laps to go I got clipped and I lost my momentum and dropped a gap of about three places and I think that's when the break went and I didn't have it in my legs to finish. '
Laura Whittle had run 15.31.30 for 10th place in the opening heat.
'Yes it was (tough) because obviously the Japanese runner went off quite fast and the rest of the field didn't seem to want to go with it and I was running really wide,' said Laura.
'After a while I thought 'they say you shouldn't run wide' so I thought 'OK, I'm going to have to go to the front then'.
I thought I will just run at normal pace but then I could hear other catching up and when they all went I didn't have the legs.  But I've really enjoyed it, it's my first Olympics and I've learnt a lot from it. The holding camp in Belo was fantastic – thanks to the lottery for funding that – and I was determined that whatever happened that I would enjoy the experience and I really did.'
+++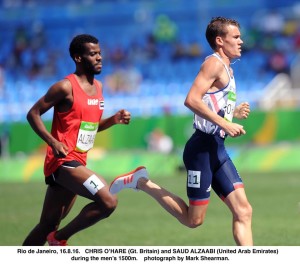 Photo by Mark Shearman in Rio
Chris O'Hare came through his 1500m heat to reach the semi-finals in his first Olympics – with fourth place in 3.39.26 with the top six assured of qualification.
'Yes it was hot but it's been dead hot in Boston too so it gave me a bit of confidence going in that I could do this, it's not that hot,' said Chris.
'Heats you can get through with 90% but semis require everything. So I am happy to give everything. Before London Anniversary Games I had and injury ten days before I raced but here we've really smashed it and I'm ready to run, ready to race. I'm going to take the next 36 hours easy.'
Tags: Chris O'Hare, Eilidh Doyle, Eilish McColgan, Laura Muir, Laura Whittle, Olympics, Rio 2016, Steph Twell