Young athletes head for Bedford, Manchester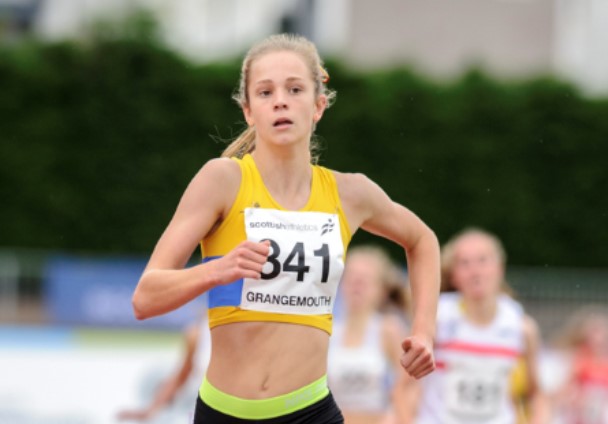 Erin Wallace – Giffnock's Scottish U17 1500m champion is among the Scottish teenagers headed for Bedford and Manchester over the next week or so (photo by Bobby Gavin)
The end of the track and field season looms but there are still a couple of big events coming up for Scottish teenagers.
England Athletics stage their U15 and U17 Championships in Bedford this weekend with a number of athletes, parents and coaches headed south seeking medals, final places and PBs.
Then, a couple of weeks later, the UK School Games takes place with a Scottish Schools team taking part within the multi-sport event in Manchester.
scottishathletics have a bus running to Bedford this weekend with 24 athletes having signed-up to join in the group travel project for the England Athletics U15 and U17 Champs.
So, among the athletes we are aware of competing this weekend are as follows: Bethany Buchanan; Catriona Cuthbert; Drew Pollock; Sarah Eunson; Kerry MacAngus; Andrew MacAngus; Jessica Christie; Olivia Vareille; Kate Gallagher; Jade Carlyle; Sarah Malone; Alex Johnston; Joe Arthur; Lewis Pentecost; Harris Pentecost; Jamie MacKinnon; Lauren Dickson; Stephen Addison; Anthony Addision; Eloise Walker; Craig Moriarity; Taylor Roy; Erin Wallace; Praise Olatoke
Good luck to them and their parents and coaches making the journey and indeed any not mentioned here.
+++

Scotland will send a track and field team to the UK School Games next week.
The competition in Manchester from September 3-6 is part of the annual multi-sports event which involves hundreds of pupils from across Britain.
There are around 200 competitors lined up for the athletics as Scotland face teams from Northern Ireland, English regions and visitors from Turks and Caicos Islands.
Para athletes are included in the event and the Scotland team features the likes of Maria Lyle and Shelby Watson.
The Commonwealth Youth Games in Samoa has had a slight impact, with Scotland's six track and field athletes picked for that event obviously not able to be in Sheffield.
Scotland track and field team:
Adam Scott; Adam Boyle; Aidan Quinn; Alana Dunsmore; Alessandro Schenini; Alex Burns; Alix Still; Amy Donaghy; Andrea Goodman; Andrew Peck; Andrew Costello; Bethany Buchanan; Bevhan Trevis; Cameron Steven; Cameron McCorgray; Charlotte Steele; Craig Moriarty; Daniel McFarlane; David Allen ; Declan Gall; Drew McIntyre; Ellie Fulton; Emma Rae; Erin Wallace;  Greg Kelly; Iain Boyd; Jade Carlyle; Jamie MacKinnon; Joe Arthur; John Maclennan; Kate Johnston; Kate Gallagher; Kyle Brotherton; Lewis Brown; Luke Deighan; Maria Lyle; Ross Paterson; Samantha Kinghorn; Sarah Malone; Sarah Eunson; Shelby Watson; Siobhan Kingham; Sophie Haldane; Taylor Roy; Zaynah Aziz
Congratulations to all those selected and Good Luck for the UK School Games.
Scottish Age Group Champs – Sunday report
Scottish Age Group Champs – Saturday report
Tags: Bedford. Manchester, England Athletics U15/U17 Champs, UK School Games