Age Group Champs – Saturday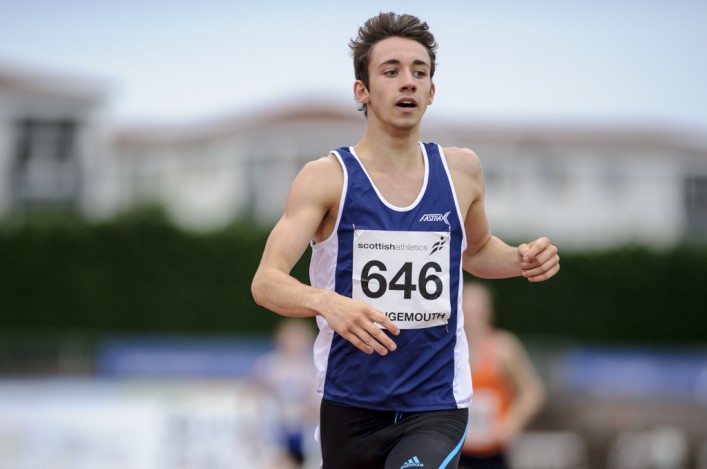 Cameron Steven – superb U17 1500m win (photo by Bobby Gavin)
It was billed as one of Grangemouth's biggest-ever days. And it did not disappoint.
There's always a gap between entry numbers and actual competitors on the day, of course, but with just over 600 athletes entered for the U13 and U17 action on Saturday it certainly felt as if many of those did indeed take to the track or the field.
One look at the results sheets will reveal the big numbers and scottishathletics have been delighted with the response by clubs to this year's Age Group Championships.
Medals, final places and PBs were up for grabs and the feedback from coaches and parents were of many good performances.  We're aware at the moment of at least three performances which count as Championship bests at U17 or U13 level.
Cameron Steven of Lasswade AC produced one of the performances of the day with an U17 1500m title win in 3.59.37 – to outstrip the previous championshop best set by Cameron Boyek at 4.00.26 some five years ago. Boyek had the not insignificant 'consolation' of running 3.39 for 1500m at a BMC meeting on Saturday, to set a great example on progression from junior to senior.
Pitreavie AAC javelin thrower, Lisa O'Neill, has been in good form this summer and she came up with a Championship best with 41.78 m to take gold.
It did not end there for Pitreavie in terms of Championship Bests. They had two in the U13 1500m races as both Lewis Dow, at 4.35.47, and Sarah Coutts, at 4.55.22, eclipsed previous marks.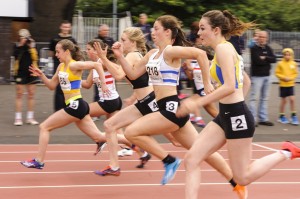 The U13 races at 800m and 1500m were run as timed finals under UKA Rules and Michael Girdler of Moorfoot came up with a superb run of 2.12.56 to win gold .
There was a Championship best in the U17 Women's steeplechase, also, from Zaynah Azziz with her 5.28.85 run.
There were a string of other terrific performances, including athletes winning more than one gold, and a number of names have been mentioned on our Facebook page over the weekend.
But, away from the medals and final places, it was above all a day when young ahtletes proved their commitment to competition.
scottishathletics used the slogan 'competition – it is what you train for' when appealing for entries for the Age Group Champs and it good to see that message being absorbed by athletes, coaches, clubs and parents.
It is fundamental to the raising of standards of the sport in this country that our young athletes get out and compete, chase PBs and improvement.
Just as encouraging was the spread of clubs represented, Shetland for example travelled overnight by boat to Aberdeen and then made the drive south direct to Declarations and Call Room at Grangemouth.
Shetland brought 17 athletes for the weekend and that kind of commitment was replicated by so many clubs. Elgin AAC had a National champion and so did Moorfoot in the Borders, as mentioned previously, so there's no disputing the Age Groups are a true National Championships in every sense.
Thanks are due, of course, to the scottishathletics officials who have worked so hard this weekend and indeed the Grangemouth staff and Falkirk Community Trust for their support and assistance in staging the Age Group Champs.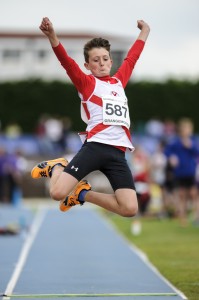 Tags: