Weekend Round-up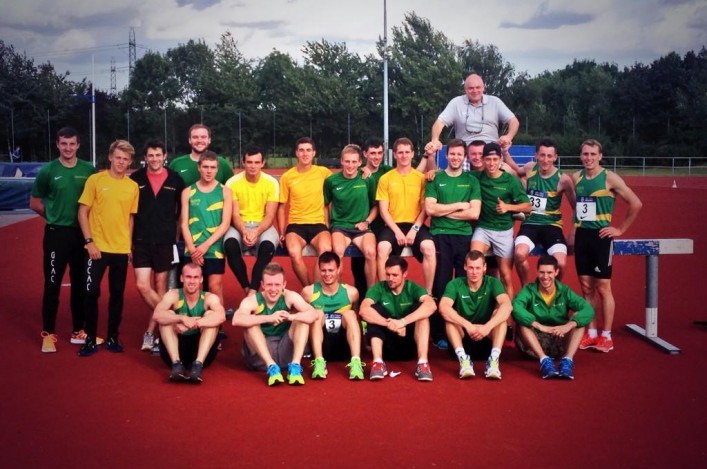 *Glasgow City AC celebrate promotion success in BAL
It has been a hectic weekend for action at various points across Britain and Ireland with Scottish athletes involved.
Teenagers were in Dublin for the Celtic Games and in Bedford for Combined Events while the Miler Meet organised by Glasgow Athletics Association over 800m and 3000m was a big success.
It was also a big weekend in terms of league action with Glasgow City AC confirming promotion to the BAL Premiership.
With the Scottish Seniors and European Championships looming, we've opted to try and cover as much as possible in one website story – so here's a return to the 'Weekend Round-up' format of earlier in the season.
Celtic Games
Ireland won the Celtic Games on home soil in Dublin over the weekend with Scotland edged out by Wales for second place.
There were 11 Scottish individual event wins plus one of the relays and two Celtic Games records set.
Dionne Milne of Moray Road Runners broke the record in the U18 discus event with a throw of 40.80 while our 4 x 400m girls did likewise in the U18 relay with 3.51.07. Well done to Dionne and the 4 x 400m team of Kelsey Stewart, Carys McAuley, Rosie Wilson and Hannah Cameron.
At U18 our winners were: Cameron Tindle (200m), Kelsey Stewart (400m), Caelidh Ross (1500m), Gillian Black (3000m), 4 x400m Women's Relay, Amy Gullen (High Jump), Anna Gordon (Pole Vault), Ross McLachlan (Long Jump), George Evans (Shot, Discus), Dionne Milne (Discus).
At U16 our winner was: Alisha Rees (100m).
Ireland won all four age group sections – U16 boys and girls and U18 boys and girls. Scotland's U18 girls were our best performers with second place in that banding.
Aberdeen AAC's Kelsey Stewart, who is involved with the scottishathletics Youth Academy, bowed out at this level with a 400m success in 55.21 and contributing to the 4 x 400m relay success.
George Evans of Inverness Harriers impressed with two event wins in the throws as he dominated U18 shot and discus.
Results are now on Power of 10 and there is an overall report on the Irish Athletics website. The final points (across the four sections were): Ireland 184; Wales 150; Scotland 136.
scottishathletics would like to thank all those involved in the competition and the coaches, clubs and parents working hard to develop our teenage athletes.
Combined Events
There were Scottish teenagers in action,too, at the England Athletics Combined Events championships at Bedford this weekend, and here's a summary of results (with thanks to Kenny Pearson and Scotstats.net)
Holly McArthur of Whitemoss won the under 15 girls hexathlon. She recovered well after falling in the opening hurdles event. Andrew McFarlane of Inverness Harriers won the under 15 boys Octathlon. Scott Connal of Whitemoss won the bronze.
Tom Chandler of Central AC took bronze in the under 17 men's decathlon with a score of 5624pts (4th Scottish all time). Caitlin Edgar (Central AC) just missed out on the medals in the under 17 women's heptathlon finishing 5th in a score of 4378 points (9th Scottish all time).
There are some photos on our Facebook page (with thanks to Karen Connal).
British Athletics League
Congratulations to all athletes and coaches involved with Glasgow City AC after winning promotion once again
The club will now feature in the Premiership of the British Athletics League next season after putting together a remarkable run of success over the past three years.
Promotion was actually achieved with a match to spare in the four-match and the lads impressed again in the final fixture at Lee Valley.
Liverpool and Cardiff are dropping down from the Premiership with Glasgow City and Woodford Green with Essex Ladies replacing them for next season.
Results from the Lee Valley fixture are on Power of 10.
GAA Miler Meet
Andrew Butchart won the 3000m A race at the Glasgow AA Miler Meet at hutchesons' Grammar on Saturday evening.
The GB cross country international recorded a PB of 8.11.13 to win it from Howell Craske (8.26.91) and U20 athlete, Jonathan Glen, who also set a PB at 8.30.97. Unfortunately, Andrew missed out by one second on the cash jackpot.
Katy Brown from Stewartry was even more unlucky not to collect the money on offer on the night for any woman who went under 2.05 for 800m with Katy timed at 2.05.01.
There were a host of PBs and SBs right through the field with athletes grateful once again to the paced race format of the meeting.
With around 150 athletes entered for three 3000m races and no fewer than 13 at 800m, it is believed this was the most successful GAA Miler Meet in the current format.
Thanks are due to all organisers as well as the Scottish endurance community with athletes, coaches, clubs and parents 'buying into' the two-hour format of these meetings. Clubs from right across Scotland were represented which is encouraging for all concerned as well as great support from the west of Scotland.
There are photos by Bobby Gavin on our Facebook page
IWAS World Juniors – Stoke
Meggan Dawson-Farrell picked up gold in the World Juniors 1500m and Nathan Blackie posted PBs in his 3 events 100/200/400 placing 4th in the final of the 200m.
Representing Scotland in racerunning events: Gavin Drysdale and Hannah Dines won all 4 events from 100m-800m all in world record times.
Over the weekend, Meggan competed in the BWAA Grand Prix where she set a new T54 Scottish 100m record in 18.53 (previously 19.08).