Weekend Round-up: Feb 28/March 1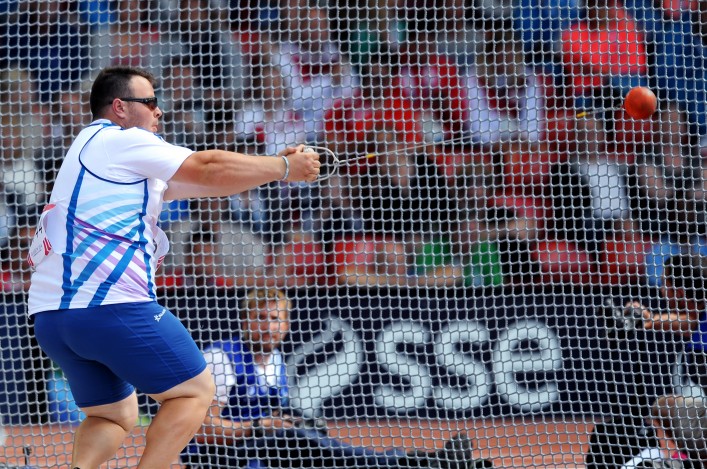 Senior Men results 28 February
Chris Bennett has staked a powerful claim for a British vest at the European Winter Throws in Portugal later this month.
The Team Scotland hammer thrower delivered a PB performance of 73.00m at a special competition at Livingston on Saturday. His previous best was 72.58m and the Livingston throw takes Chris third on the Scottish all-time list.
It was an impressive show of form by Chris, with three other throws on the day beyond 70m mark.
The European Winter Throws selection policy issued by Britihs Athletics does not have a set qualifying distance and there has been a tendency to include U23 and U25 athletes for this event.
But the policy leaves the door open for the likes of Chris, who is 25, and it is good to see him hitting form so early in the year after failing to reach 70m at the Commonwealth Games.
Later Chris tweeted: 'Nice to start the season off with a 73.00m PB. More to come in the summer #justkickingoff.'
British Athletics are expected to announce their selection decisions over the next few day.
***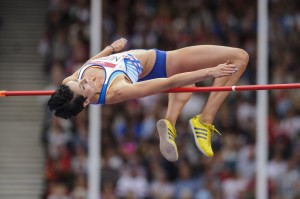 Emma Nuttall

Scottish athleties based in Canada were in fine form at the Canada West Championships in Winnipeg.
Sprint hurdler Calum Innes picked his fourth successive gold at the event with 8.00 while Sarah Inglis took silver with 2.45.55 in the 1000m. That was a slight improvement on a recent PB for Sarah, and she is now second on the Scottish all-time indoor list.
Hazel Ross, who raced for Scotland in the Sainsbury's Glasgow International, won bronze in the 60m hurdles with 8.61 and also took bronze in the long jump with 5.92m.
Inglis followed up her first day performance with two golds on the second day. She won the 1500m in a PB of 4.16.84 and then was involved in the 4 x 400m team representing Trinity Western University.
And Emma Nuttall won the high jump (1.73m) with Jamie Sinclair taking a bronze in the pole vault. The Results are online.
***
IPC Grand Prix Sharjah
The weather conditions were very much against the athletes as there was an illegal tail wind for the whole meet and subsequently a bit on the cold side. But the Scottish quartet again performed well with Maria Lyle and Jo Butterfield having set World Records in the Dubai meet.
This time, Maria competed against T36/37/38/44 athletes in her 100m and 200m winning the 100m and finishing third in the 200m
Jo again recorded wins in discus and club, her discus throw only 3 cm short of her own world record in what she later described as 'freezing conditions'.
Lewis Clow won over 100m and was just pipped in the 200m finishing second, both times were huge PBs but the wind speed was illegal. Meggan Dawson Farrell recorded third places in the 100m/200m and was fourth in the 800m
***
Kilbarchan's Derek Hawkins won the Lasswade 10-Mile race on Sunday in a time of 51.08. His Commonwealth Games marathon team-mate, Central AC's Ross Houston, followed him home in 52.47.
Irvine's David Millar was third with Rachel Haines of HBT the first woman home. Results are on the Lasswade website.
***
Stuart Gibson of Ronhill Cambuslang Harriers won the club's Down By The River 10k race in Glasgow on Sunday in a time of 31.31, with wet and windy conditions affecting times.
Edinburgh Uni's Ben Stevenson was second in 32.16 with Robert Gilroy (Cambuslang) third in 32.18. First woman home was Sarah Douglas of Edinburgh Uni in 37.54 with Jo Williams (Lothian Running Club) second in 38.08 and Melissa Wyllie (Dumbarton) third in 38.53.
Aidan Gilbride of East Kilbride AC won the 3k race. Results are online on the Ronhill Cambuslang Harriers website.
John Newsom of Inverness Harriers won the Nairn 10k on Sunday as the North Cross Country champion completed his preparations for the Loch Ness Marathon.
Windy conditions here affected times, too, with Newsom declaring himself unhappy with 32.59 while admitting conditions had played a part. Gordon Lennox (Forres) was second in 33.37 and Kenny Wilson (Moray Road Runners) third in 33.47.
Jenny Bannerman (Inverness Harriers) won the Women's race with her 36.29 quicker than last year; second was Mary Macintosh (Nairn) in 39.47 and third went to Catriona Fraser (Inverness Harriers) in 41.00.
Tags: Callum Innes, Chris Bennett, Emma Nuttall, Hazel Ross, Jamie Sinclair, Jo Butterfield, Lewis Clow, Maria Lyle, Meggan Dawson-Farrell, Sarah Inglis