Weekend Champs review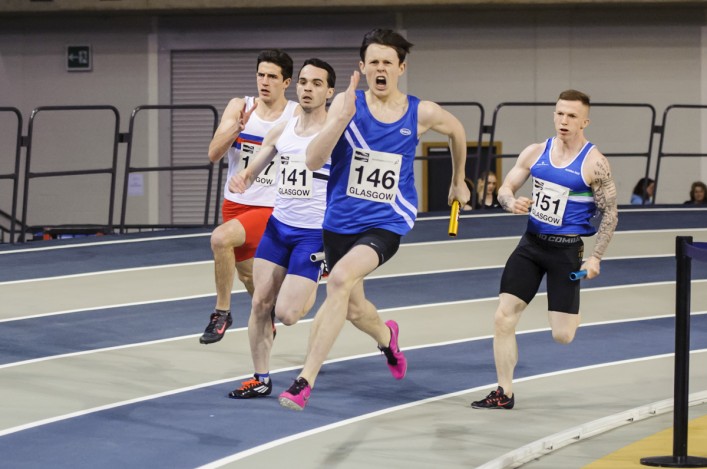 Action from the Men's relays – with Edinburgh AC later to take gold (photo by Bobby Gavin)
It was a hectic weekend at the Emirates Arena with championship events taking place on Saturday and Sunday.
Once again we would like to forward our thanks to the scottishathletics officials who made it possible to stage Relays, Combined Events and Masters Indoors track and field champs.
And of course athletes, clubs, coaches and parents put in a big shift with the Junior Relays seeing teams progress to the semis and finals – which take place around the Glasgow Grand Prix this Saturday.
In the Senior 4 x 200m relays it was a great day for two clubs with Edinburgh AC and VP-Glasgow very much to the fore
VP-Glasgow won the Women's golds in a tight race with EAC, as only four hundredths separated the anchor leg runners. The two times, 1.41.28 and 1.41.32 both bettered the previous championship bests. Giffnock North AAC took the bronze medals with 1.45.96.
In the men's, it was the other way around with Edinburgh the winners this time in 1.30.76 to take gold from VP-Glasgow, who clocked 1.31.41. There were bronze medals for Kilmarnock Harriers in 1.31.84.
The Junior Relays inspired great enthusiasm from our clubs as they looked to make it through to 'finals day' this Saturday.
scottishathletics have distributed a ticket for the Glasgow Grand Prix to every Junior athlete and their team manager for the main event at the Emirates Arena on Saturday afternoon – with part of the stadium set aside from general sale for this purpose. Additional spare tickets were allocated to the clubs who have qualified.
All the Results from Junior Relays on Saturday are here:
http://events.scottishathletics.org.uk/events/18504-16844-national-junior-relays-championships-qualification-heats
All the Results from the Senior Relays on Saturday are here:
http://events.scottishathletics.org.uk/events/18439-16844-national-senior-relay-championships
+++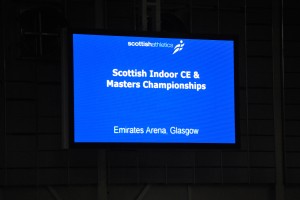 The Masters Indoor Champs attracted around 175 entries with those involved determined to once again prove that athletics is for life.
Philippa Millage has already achieved a Scottish age group record at V35 for 800 during the indoor season and believe she added to that with success with championship bests at 400m and 800m on Sunday with 57.10 and 2.08.51. Lesley Chisholm was again an impressive performer in the Women's 1500m as she came home in 4.46.65.
English athlete Guy Bracken set remarkable M50 times in both the 800m and 1500m – and in that latter race it was great to see Pete Cartwright, at 73, and Alastair Dunlop in good form.
Results from the Masters are online on the Events page
Photos from the Masters pole vault with thanks to Laurence Bissett
Photos from the Masters with thanks to Ralph Connolly
+++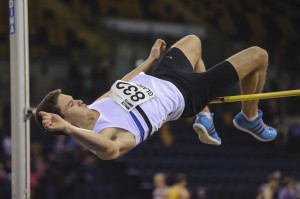 The Combined Events Champs took place over the two days ahead of week in which two of our U20 athletes, Emma Canning and Tom Chandler, will be in action for GB action in Spain.
Senior titles at the weekend went to visiting athletes, Lena Wonderlin from Switzerland, and Elliott Thomson from England. Hollie Lister (VP-Glasgow) was the top scoring Scottish female, finishing in second place with 3385 points
In the U20 Men, Howard Bell (Edinburgh AC) was a clear winner having just returned to the CE scene this winter, with a score of 4765 points which ranks him 3rd in the all-time Scottish list.
Howard trains with Whitemoss AAC CE group and training partners Emily Craig and Holly McArthur (both Whitemoss) were on form in the U20 Women and U17 Women age groups to secure gold, with scores of 3351 and 3581 respectively.
The U17 Men category looked on paper to be the most hotly contested and it didn't disappoint.  In the end, Andrew McFarlane (unattached) took the title with 4362 whilst his cousin Joel McFarlane (Arbroath & D) scored only one point less at 4361.
It was a weekend where many of the titles and medals changed place during the final event, providing a great advert for Combined Events.
Winners in the younger age groups were Lucy Davison (Central AC) and Callum Newby (Edinburgh AC) at U15 and Amy Kennedy (Cumbernauld AAC) and Cameron Forbes (Edinburgh AC) at U13.
Results from Combined Events are online on our Events section
Photos by Bobby Gavin from Saturday's action at the Emirates
Tags: Combined Events, Edinburgh AC, Emirates Arena, Junior Relays, Masters Champs, Relays, VP-Glasgow