Weekend 16/17 April: Hamilton, Kerr; Dry, O'Hare; Edinburgh 10-Miler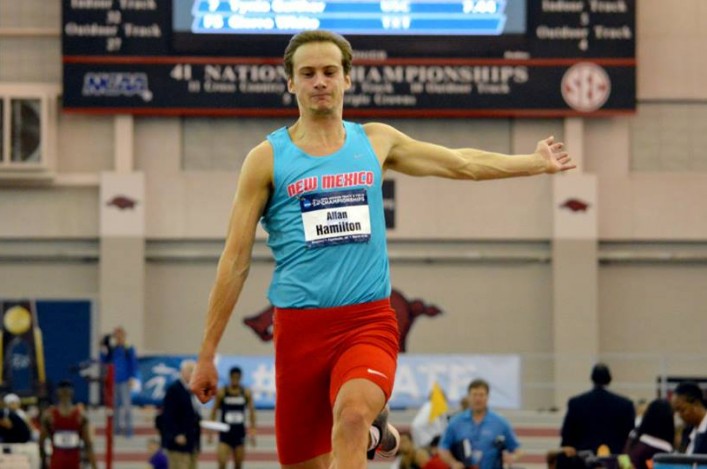 Allan Hamilton – now second on Scottish all-time list for long jump
The 2016 track and field season is only just up and running but already Scottish athletes are making a significant impact.
All-time lists will change following a weekend of impressive performances on either side of the Atlantic with those on form including the likes of Mark Dry, Josh Kerr and Allan Hamilton.
All this following a great discus display by Nick Percy the week before when the American-based athlete became the first Scot to throw beyond 60m with a 60.49m performance which is pending ratification as a Scottish record (taking that accolade away from Angus McInroy).
Let's start at the Bryan Clay Invitational event and a long jump PB for Allan Hamilton.
The Edinburgh AC athlete is at university in New Mexico and in his first competition off a full approach he reached 7.88 to move to second place on the Scottish all-time list behind record holder Darren Ritchie.
Josh Kerr is another operating in the same environment and the 2015 European Champion at U20 for 1500m made another step forward at the start of the outdoor season.
Josh clocked a superb 3.42.09 for a PB for 1500m and that will lift him to third place on the Scottish U20 all-time list – as he won the race in Azusa, California. That time was inside the World Juniors qualifying standard of 3.43 required for GB selection for Poland this summer.
There was a PB for Sean Chalmers at 5000m at the same meet with 15.11.55 while Rhona Auckland recorded 17.00.26. Stuart Ferguson was at 3.50 for 1500m, also.
Results on the scotsats.net site
+++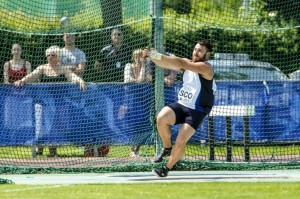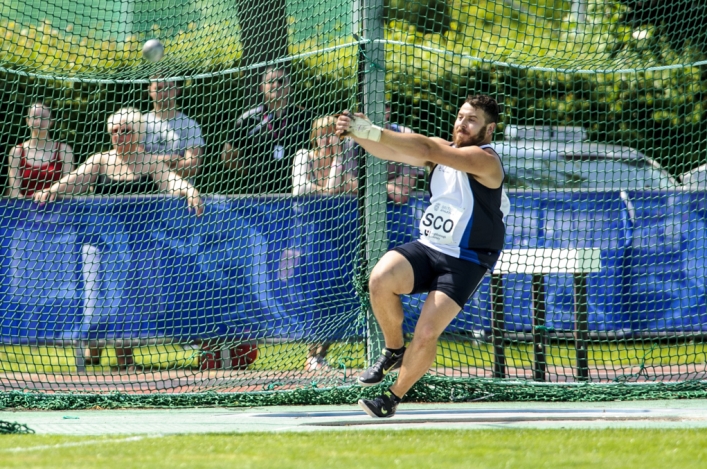 Mark Dry – over 76m at Loughborough
Throwers gathered in Loughborough for the Allan Bertram Memorial match and there was a fine performance by Mark Dry, with the hammer thrower over 76m at 76.26 for a great start to the season.
The Olympic qualifying standard requires 77m (beyond Mark's Scottish record of 76.93m) but there's no doubt the Commonwealth Games bronze medallist was encouraged.
Mark tweeted: 'Good start to the season at the Alan Bertram Memorial event. Opened with 76.26m – 74cm off Olympics . . .'
Myra Perkins took second place in the women's hammer event with a throw of 59.75 that tops the Scottish rankings for 2016.
In Boston, Chris O'Hare came home at the head of the elite field to win the One Mile race through the streets of the American city which is now home to the Edinburgh AC exile. Unofficially, Chris was timed at 4.09.
+++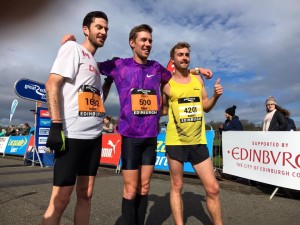 More than 5,000 runners pounded the historic streets of Scotland's capital city for the Great Edinburgh Run 10-Miler.
New for 2016 was the Family Mile and Toddler Dash, where children and their families ran alongside the main ten-mile event.
The ten-mile event kicked off at 9.30am, where New Zealand's Daniel Wallis was first over the finish line, completing the route in 51:11, with Canadian Rob Watson close behind in 52.35. Scotland's Mike Crawley (Corstorphine AAC) was 30 seconds behind, with a finishing time of 53.08.
The first female finisher was Australia's Hillory Davis who came in at 1.06.13.  She was closely followed by Janet Dunbar and Catriona MacDonald in respective times of 1.06.46 and 1.08.28.
It was a first for the Great Edinburgh Run as the male and female winners are boyfriend and girlfriend, based in Loughborough.
Wallis said: ''It was a very challenging course, but a great event and I'm really pleased to have been first over the line.   I didn't know how hilly it was to be honest. Now I know what a hill is!'
Tags: Allan Hamilton, Chris O'Hare, Great Edinburgh Run, Josh Kerr, Mark Dry, Mike Crawley