U12 athletes savour our SUPERteams experience at Scotstoun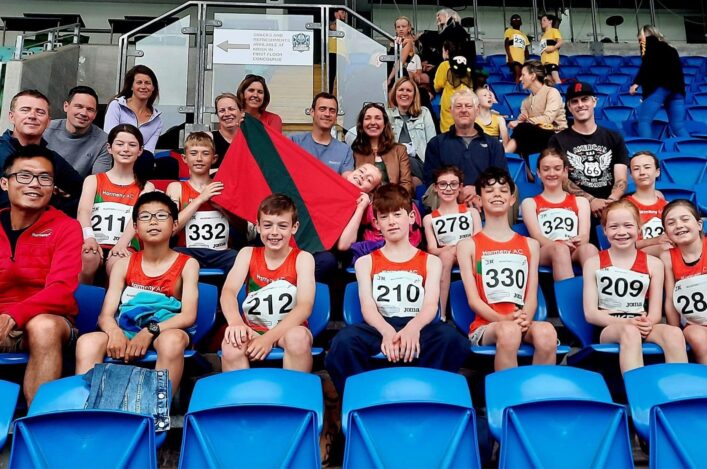 Photo via Harmeny AC Twitter – athletes and supporters gather at Scotstoun
Scotstoun was a busy place to be over the weekend as the Glasgow venue hosted not one but two national events.
The 4J SUPERteams final happened on Saturday with many of the youngest athletes at our clubs taking part.
We focus on this event in development and in learning and our Officials play a key role helping the young athletes across the events – with support from team manager and parents.
All the scores and performances are logged and these are on our Event Section page
It was Mixed teams competing at this National final with, of course, this year's event having seen a format with regional heats piloted over the past couple of months.
On Saturday, Falkirk Victoria Harriers A team emerged top of the table to win the SUPERteams title. Airdrie Harriers were silver medallists on the podium with Giffnock North AC in third.
Big thank you to the 560 young athletes who took part in the Regional Heats, and an extra well done to the 160 of them who made it to the final.
We typically see up to 400 athletes taking part in SUPERteams, so an increase of 40% in overall participation numbers is great!
Thanks in particular to all our Officials and volunteers at all the events, and to the clubs who staged those heat events.
Tags: Scotstoun, SuperTEAMS