Two years on . . . #legacyhappens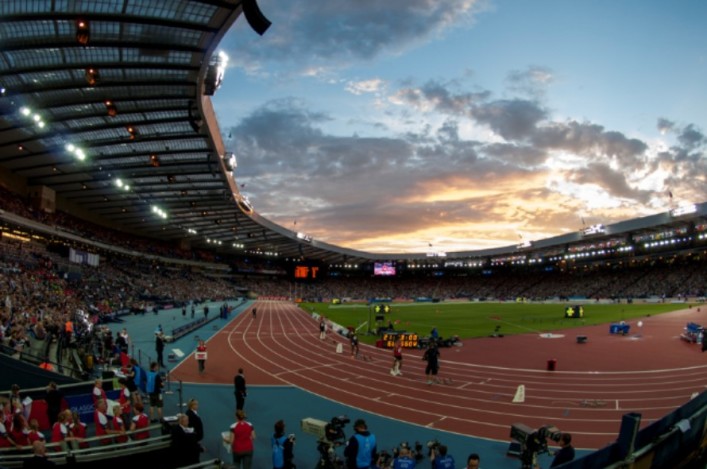 ENTER NOW for Age Group Champs (closing on Sunday)
By Peter Jardine
Two years ago this week the gun went off on the athletics action at the XX Commonwealth Games.
In many ways the track, field and marathon events at Glasgow 2014 seems like a long time ago and it is inevitable that, as time elapses, the memories of Hampden will begin to fade.
Yet, watching back the footage of Lynsey Sharp's stirring silver medal in the 800m or Eilidh Doyle's lap of honour at the National Stadium, and in other ways it feels like only yesterday since Glasgow 2014 captured attention and crackled with raw emotion.
It all came to mind once again with the Hampden track surface now of course laid at two venues very much on the scottishathletics radar this week, Crownpoint in Glasgow and Grangemouth Stadium.
The former hosts two Glasgow Athletics Association Open Graded meetings with around 500 athletes involved while Grangemouth will be very much the centre of our focus – the Olympics in Rio apart – for nine days in August as it hosts the Seniors/U17s Champs and the Age Group Champs (entries remain open).
And there is plenty of evidence that #legacyhappens if we are willing to think positively.
A year of so before the Commonwealth Games, Steve Cram warned while in conversation at a Glasgow hotel that he worried about the potential impact. Cram reasoned that 'legacy doesn't belong to anyone' and therefore there would be no agency held accountable.
It was an interesting analysis but Nigel Holl, formerly of this parish as chief executive, for his part reasoned strongly that legacy belongs to our clubs and the athletics community in Scotland and that, as a governing body, scottishathletics should not be afraid of sharing some of the burden for helping to make it happen.
Now, as we reflect two years on from Glasgow 2014, there are positive signs emerging from our clubs and other partners.
*Physical Legacy: That is very much in evidence for anyone who trains or competes at Crownpoint or Grangemouth. Via a project backed by sportscotland and local authorities, the track surfaces from Hampden and Lesser Hampden were laid at Crownpoint and Grangemouth and have significantly improved the facilities at each of those venues.
*Participation Legacy: Numbers are up at many of the scottishathletics National Championship and also at other running-related events across the length and breadth of the country. We closed entries for the Seniors/U17s event on Sunday night and the response was excellent from athletes, coaches and clubs. Thanks.
The GAA Miler Meet on Friday night is at full capacity with 300 or so athletes lined up to run two distances – 11 races at 1500 and four at 5000m with around 25 in each of those races! The National XC back in February was at a 20-year high.
*Performance Legacy: When 15 Scots were selected for the Olympics, it was the country's largest representation on Team GB and NI for the Games for 108 years. (And effectively a record, given that in 1908 it was more than three athletes per event).
Of those 15, only Andrew Butchart and Tsegai Tewelde were not with Team Scotland at Glasgow 2014. Sharp, Doyle and Eilish McColgan were all at the London 2012 Olympics and have come through qualification again, but that still means that 10 athletes who competed at the Commonwealth Games have 'stepped up' to reach Olympic level.
Arguably, that's a clear 'Performance Legacy' and others from Hampden like Jake Wightman, Jax Thoirs, Rachel Hunter, Nick Percy, Allan Smith and David Smith are 'knocking on the door'.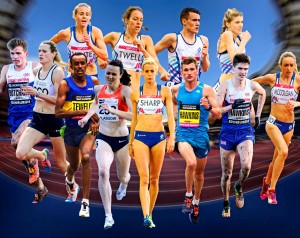 #SALfab15 for Olympics in Rio
So that's three pretty good reasons to be cheerful and here's what Eilidh Doyle says now about the Commonwealth Games.
'Glasgow 2014 has been a huge catalyst. It has been incredible to see the knock-on effect and see young athletes believing in themselves.
'When I was first on GB teams for World or Europeans, I was one of only two or three Scots selected. Now we have 15 headed for Rio. '
Check out this short video post from Eilidh with Team Scotland.
Now August promises so much with #SALfab15 in Rio while the Senior Champs and U17s takes place at Grangemouth with the U20/U15/U13 Age Groups the following week (August 20/21).
Furthermore, there does appear to be a growing audience for athletics news. On our social media, we've pushed through the 12,000 barrier on Facebook and 9000 followers on Twitter – back in 2011/2012 each of these tallies was around 1200.
Our first post on Facebook about Laura Muir's British and Scottish Record in the 1500m at the Anniversary Games has had 2500 likes and a 'reach' of 115,000. If we can prove there is a viral audience, it helps in conversations with the likes of BBC Scotland. Those conversations are always taking place.
We'd certainly like to think social media helps draw together the community and only the other day we'd a call to the office from a young athlete saying she had not planned to enter the Age Groups but would do so after watching a video message from Chris O'Hare on Twitter. She signed up there and then as a member and to compete.
That really was good to hear – thanks, Chris – and Butchart and Muir also helped us with video posts in this regard. Above all, seeing athletes galvanised to compete  is hugely positive for the sport and can only help improve Personal Bests and, thus, overall standards.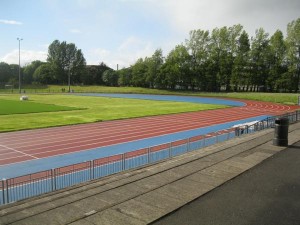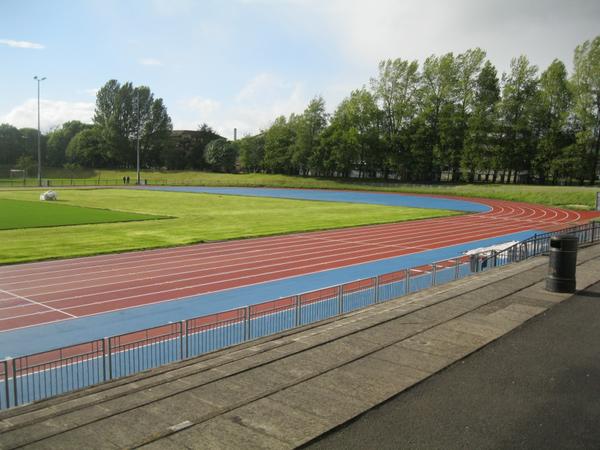 *The GAA Miler Meet at Crownpoint on Friday night will see athletes chase PBs and District Championship medals at 5000m as well as Men's Masters medals over that distance.
Olympian Freya Ross is lined up for her first track race for four years and the Men's A Race at 5000m features the likes of Dermot Cummins, Neil Renault, Michael Ferguson, Jack Walker and Ryan Thomson. The 1500m start-lists include Jonny Glen, shortly before he heads off to University of new Mexico.
The first race is at 6.30pm at Crownpoint and admission on the night is £3 for adults, U16s free.
Check out start-lists and timetable online (scroll to bottom of the posts).
Amended timetable here
GAA Miler Meet July 29 TIMETABLE
Tags: Age Group champs, Chris O'Hare, Commonwealth Games, Crownpoint, Eilidh Doyle, Glasgow 2014, Grangemouth, Lynsey Sharp