#Throwback… The 1986 Commonwealth Games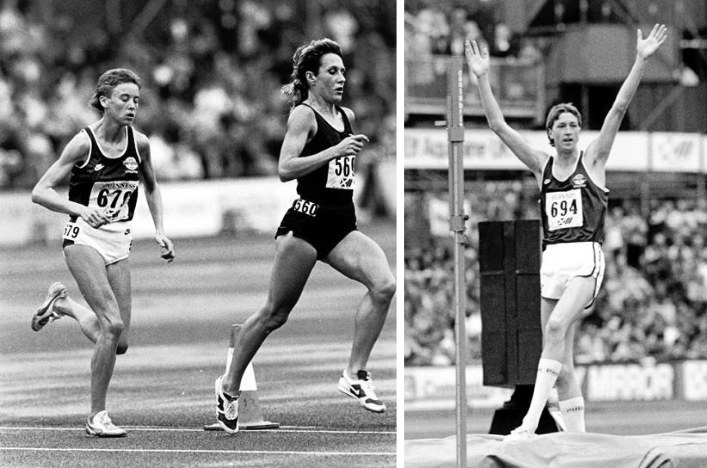 Photos: Liz Lynch on her way to 10,000m victory over Anne Audain, and Geoff Parsons, who took silver in the high jump – with thanks to John Scott
When Edinburgh was selected to host the 1986 Commonwealth Games, nobody could have predicted – after the success of the 1970 games – what at trial it was to become off the field of play.
There was no shortage of athletics action for the home audience, most notably as Liz Lynch (later McColgan) made memories on the track with her 10,000m victory. Tom McKean set a Scottish record of 1:44.80 to take silver in the 800m, while high jumper Geoff Parsons equalled his British record of 2.28 for silver.
There were bronzes for Sandra Whittaker, Yvonne Murray and the men's 4x100m relay team of Jamie Henderson, George McCallum, Cameron Sharp and Elliot Bunney.
But as they strove for glory at Meadowbank, financial crises and the sporting boycott of South Africa due to  Apartheid rumbled in the background, casting a long shadow over a troubled Games.
Read more in the latest edition of Arnold's Archive, by our official historian, Arnold Black –
Liz triumphs amid off-track drama – Edinburgh 1986
Watch – Liz McColgan relives her 10,000m gold
Tags: Arnold Black, Arnold's Archive, Cameron Sharp, Commonwealth Games, Commonwealth Games 1986, Elliot Bunney, Geoff Parsons, George McCallum, History, Jamie Henderson, Sandra Whittaker, Tom McKean, Yvonne Murray