Thrills and Records at the Emirates Arena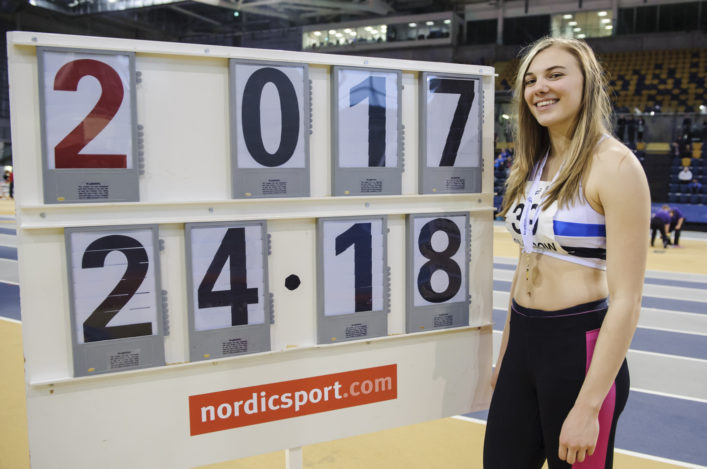 Alisha Rees broke the Scottish U20 Indoor Record – set way back in 1982 by Olympian Lynsey Macdonald (photo by Bobby Gavin)
RESULTS from the Seniors and U17s
BBC Scotland coverage – interviews with Paton, Rees, Greenwood
One of the recurring challenges for track and field athletics in Scotland is a question of depth in the upper echelon.
It could be argued it is never more of an issues than now for Scottish domestic championship events, when a number of our very top athletes are looking to perform in events in either the United States and Europe.
But, even with that divided (diluted) cast list, we do feel it is safe to say the Scottish Senior Champs didn't disappoint in terms of excitement nor indeed good performances.
The Emirates Arena audience duly witnessed all the championship drama we've come to expect from a Seniors and there were a handful of performances which definitely caught the eye – with a clutch of those from teenager who exemplified a bright future by achieving various qualifying marks.
(We will report on the U17 Champs separately).
In Senior terms, David Smith and Heather Paton were probably the standout performers with the high jump champion clearing 2.21m to meet the Gold Coast qualification standard while the English-based hurdler raced to a Native Record with a PB of 8.37 for the Women's 60M Hurdles.
Just below that, Alisha Rees had a gold medal double to celebrate with her 200m winning time of 24.18 breaking a 35-year-old Scottish Indoor U20 record held by Olympian Linsey Macdonald. Good company to be keeping.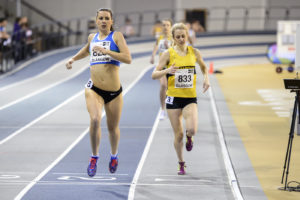 Mhairi Hendry wins from Jemma Reekie in 800m thriller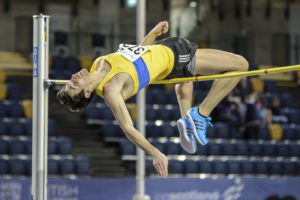 David Smith – cleared 2.21m to win high jump title 
Then, in an exciting Women's 800m final, Mhairi Hendry grabbed the gold in 2.05.27 and in doing so dragged silver medallist Jemma Reekie to a Scottish U20 Indoor Record and European U20 qualifying standard with 2.05.52 (beating Hendry's existing Record).
For bronze medallist Erin Wallace, there was the significant consolation of a Commonwealth Youth Games qualifying standard with 2.06.84 to add to one already posted at 3000m.
Allan Hamilton edged out Cameron Tindle in the Men's 60m final, where they both clocked PBs, while Ben Greenwood impressed in the 800m with a big indoor PB.
Mhairi Patience won the 400m final in 55.85 with Irish athlete, Emma Mitchell, taking the Women's 1500m title. In the field there were Women's golds for the likes of Gillian Cooke (long jump), Carolyn Harvey (triple jump), Anna Gordon (pole vault) Rachel Hunter (shot).
'It was great to win both golds and I'm really pleased with taking that U20 indoor record,' said Alisha. 'I am aware that Linsey Macdonald is a special name in athletics in Scotland so I think that makes it mean a bit more. Hopefully I can make the Euro U20s with GB and NI at the 200m.'
Rees took the Senior Women's 60m title in a PB of 7.50 – just one hundredth of a second outside the U20 Women's Indoor record held by Jenna Wrisberg.
Alisha, coached by Willy Russell, also has half an eye on the Gold Coast qualifying time of 23.30 outdoors while Paton is starting to look like having Commonwealth Games potential, too.
'That's three Scottish titles in a row and the Native Record so I am absolutely delighted with that – and the PB,' said Worcester-based Paton, who qualifies for Scotland via her Scottish father, who played rugby league for Scotland.
'I knew the Native Record was at 8.50 and that was definitely a target for this indoor season. I ran 8.40 a couple of weeks ago and it felt quite comfortable so I was hopeful for the race here in Glasgow that I could improve on that.
'But the bit thing is to do it in a championship final. I won here last year and then in the Seniors at Grangemouth but there's that little bit more pressure when you are standing on the start-list – in fact, we had to wait quite a while for our final because of a few false starts.
'I was pleased to run for Scotland at Loughborough last year and wear the vest today. I'm looking toward the European U23 Champs in Poland this summer and hopefully I can make the GB and NI team for that.'
Hamilton took the 60m in a new PB of 6.73 with Tindle's 6.81 taking him to third on the Scottish all-time list at U20. Allan was third in the long jump.
'It's not quite what I was hoping for but I will take it,' said Allan. 'The PB in the 60m tells me I will jump much further this season. I am running faster than ever before, that's the bottom line.
'My blocks slipped a little bit so maybe I could have run even faster in the 60m. But it is a PB and Cammy did as well, so it was decent race. I am racing in Iceland next weekend and then I will head for the British Champs and only do the long jump there – that's my main focus.'
Kilbarchan athlete Andrew Murphy saw off Francis Smith (with a Scottish V35 best performance) to win the 60m Hurdles and Alec Thomas headed his twin, Kade, to the 200m title with 22.01. Chuxx Onyia won the Triple Jump with 15.54 as Antony Daffurn took second.
*There was a W55 World Record in the 500m from the redoubtable Fiona Matheson. The Falkirk Vics athlete had been torn between racing in the Masters XC and at the Emirates but 4.56 broke the existing World Indoor 1500m mark at W55. Congratulations, Fiona!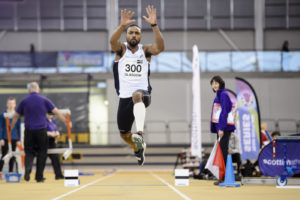 Triple jump win for Chuxx Onyia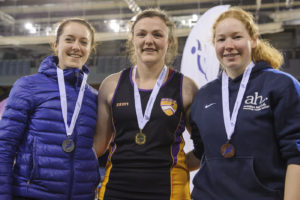 Rachel Hunter and Jade Nimmo were on the podium in the shot putt

Tags: Alisha Rees, David Smith, Emirates Arena, Fiona Matheson, Gold Coast 2018, Heather Paton, Scottish Senior and U17 Champs