Three land Road Race GP shares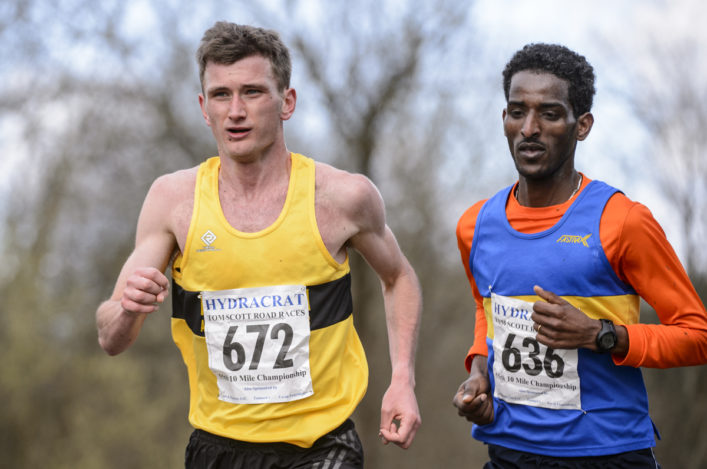 Wayney Ghebresilassie and Derek Hawkins landed A standards at Scottish 10-Mile Champs (photo by Bobby Gavin)
The Scottish Road Race Grand Prix for 2017 is up and running with the Tom Scott Road Race having staged the 10-Mile Champs.
That was the start of the five-race series with this weekend's London Marathon hosting the Scottish Marathon Championships for the second successive year.
scottishathletics operates a shares system to allocate £4000 of prize-money, with certain time standards being asked for in each race.
And three male athletes went under the times required at the Scottish 10-Mile Champs to land the first shares of the 2017 season.
Wayney Ghebresilassie of Shettleston Harriers lifted the Tom Scott Memorial Trophy for the first time, stretching away from Kilbarchan's Derek Hawkins in the final three miles to win by 17 seconds in a time of 47:40 mins. Both of those performances landed A standards.
Completing the top three in the men's race was Craig Ruddy of Inverclyde, the champion from two years ago, with 50.52 – to land a B standard.
For this weekend, at the London Marathon, the standards being sought are performances by men and women inside the following times:
Men: A Standard 2.20; B Standard 2.24.
Women: A Standard 2.44; B Standard 2.48.
Full details on the 2017 Road Race Grand Prix are on the specific page for the series on this website, on our Events section.
25 Athletes benefit from 2016 GP
Tags: Craig Ruddy, Derek Hawkins, London Marathon, Road Race Grand Prix 2017, Wayney Ghebresilassie