Three golds as Scots revel in Birmingham sunshine . . .
Scottish athletes claimed three gold medals and a silver on the opening day of the Muller British Champs at the sun-baked Alexander Stadium in Birmingham.
It was a day of powerful performances with golds for Allan Smith in the high jump, Kirsty Law in the discus and Andy Butchart in the 5000m.
And pole vaulter Jax Thoirs, who took a silver medal, had the consolation of setting a new Scottish Record outdoors (subject to ratification) as he cleared 5.56m.
Congratulations to these athletes and their families and coaches on excellent performances in Birmingham.
Butchart for his part is now assured of his place with the GB and NI team for the World Champs in Doha after winning the 5000m title for the third time in his career.
Field duo Smith and Law could take a lot of satisfaction with their victories, too, with Allan emerging victorious among four men in contention while for Kirsty this Senior title complete the set of British golds after earlier age group success.
Scottish sprinters were represented by final places for Adam Thomas and Alisha Rees in the 100m showdowns.
Rees was seventh in the Women's final with 11.71 while Thomas took eighth  place in the Men's final in 10.52. Both had run slightly quicker in the semis – 11.67 and 10.39.
Heather Paton was sixth in the Women's 100m Hurdles and Zara Asante took fifth place in the women's Triple Jump with 12.92m.
Zoey Clark, Lynsey Sharp and Jack Lawrie also made progress from tough qualifying heats to make finals which will take place on Sunday.
Guy Learmonth did likewise in the Men's 800 and, into the early evening on Saturday, and there was serene progress in the 1500m for Jemma Reekie. Joining Jemma in the final are Fife AC duo Jenny Selman (4.22.52) and Steph Pennycook (4.33.10)
Neil Gourley, Josh Kerr, Chris O'Hare and Jake Wightman duly made the Men's 1500m final, too. Stephen Mackay of Inverness made it, too, with 3.47.75.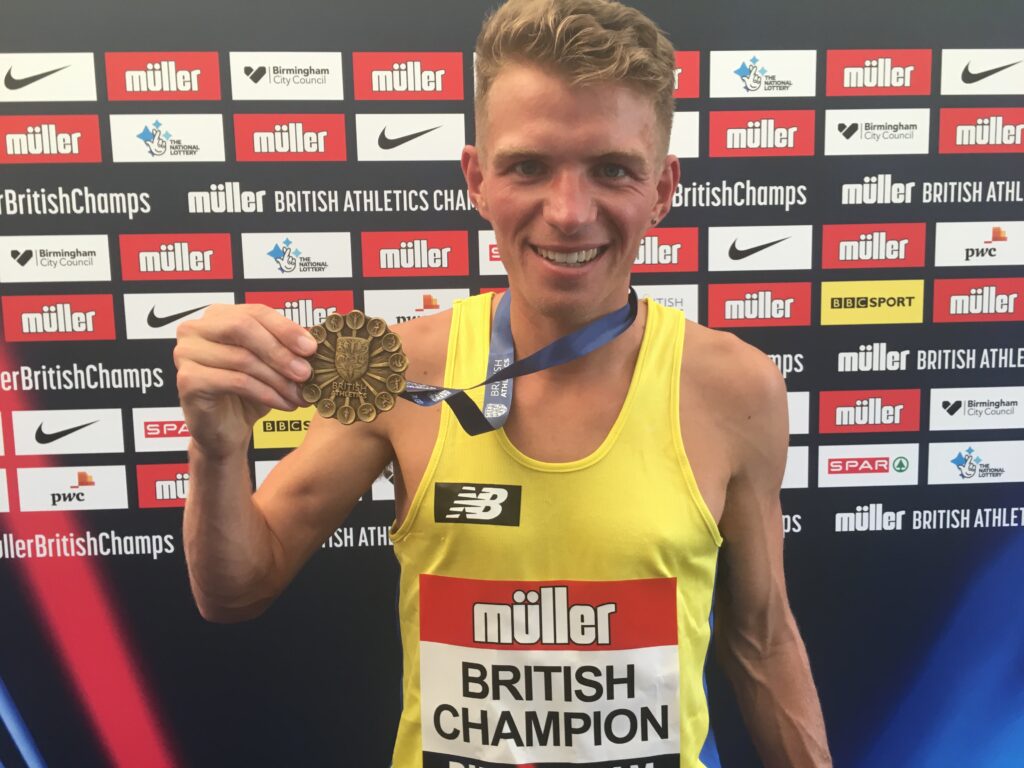 Andy Butchart is British Champion again at 5000m 
Butchart was hot favourite for gold and duly took his third British title in 13:54.29 after missing out through injury last year. It rubberstamps his place for the World Champs in Doha.
'When everyone's looking at you, I guess there is a bit more pressure,' he said.
'Nothing really happened in the race, it just played into my hands so it was quite nice to get the win and come away with what I was expecting.
'A confident mindset in the past few races I've had has definitely helped me. I've had good races all year this year but I'll be trying to get even fitter and hopefully will go into Doha even more confident. Medals are always up for grabs.'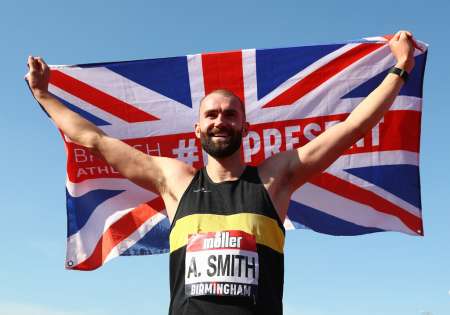 Allan Smith with his gold at the Alexander Stadium (photo by British Athletics/Getty Images)
Smith was delighted with his fourth British title (two outdoors and two indoors) as he cleared 2.16, 2.19 and 2.22 and then 2.25 on the third attempt to win.
'I came into this ranked fourth which is pretty unheard of for myself coming into the British Champs,' said Allan.
'I've turned my season around slightly to having a season's best of 2.19m coming into this, and coming away with 2.25 and coming first so I'm really happy about that.
'I controlled my run-up today and was trying something new which was to come in a bit faster and it just wasn't working. I wasn't able to transfer it at take off, the knee drive wasn't able to continue with the speed of the run up. I needed to go back to the drawing board. I slowed it down today and it paid off.'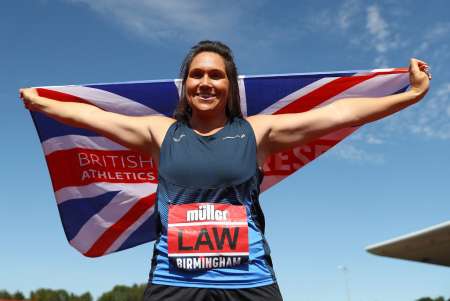 Photo via British Athletics/Getty Images
Law took the win in the Women's discus to start off the Scottish medal haul for the weekend.
A 54.23 early in the competition proved enough to win the Sale Harriers athlete her first-ever Senior British title – after winning at U17, U20 and U23 some years ago.
'I'm happy – finally after so many years I've won this title!,' smiled the thrower who started out at Inverness Harriers.
'I won those age group titles and then there has been a long gap but I still love throwing. It has been the most consistent year of my career – I have not quite managed a PB but I've thrown further more often than in other seasons.
'Today I just was trying to execute the throw and it wasn't happening for me at one point. I think I was trying too hard and not letting my technique come through but I'm happy that I got the win in the end.'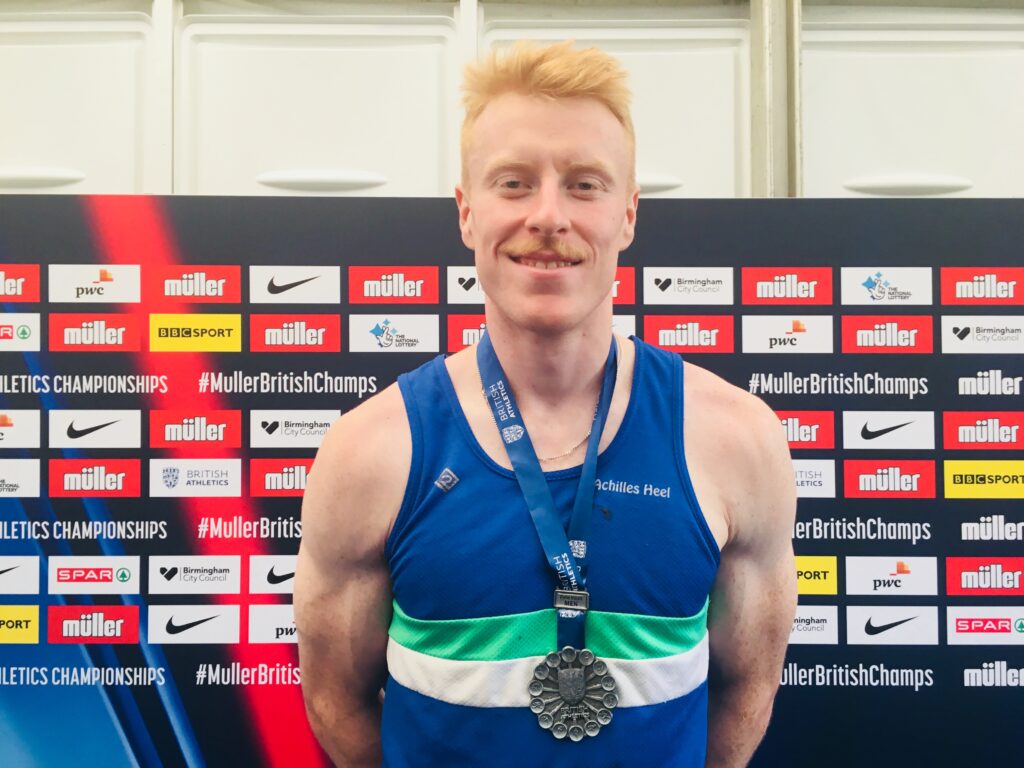 Jax Thoirs took silver in this event for the third time and was a little frustrated at missing the Dohad qualifying height, despite the consolation of a Scottish outdoor Record at 5.56m. Winner Harry Coppell did clear 5.71m.
'It's mixed emotions because it's a season's best but I had some good attempts at 5.71m and I'm a little sad I didn't make that height,' said Jax.
'Anyone could win it today. If I jumped my best then I thought I could have won. I'll compete next week and try jump 5.71m.
Paul Ogun was seventh in the long jump with 7.45 as Stephen Mackenzie had a best of 7.21m and Greg Millar was at 56.57m in the javelin.
In the Women's 100m, four Scots had made the semi-finals with Katie Purves, Katy Wyper, Sarah Malone and Chloe Lambert all progressing from the heats. Purves had a busy dad, racing in the 100m Hurdles heat, too, but unable to progress with 13.98 for fourth in the final heat.
In the 800m heats, there were heat runs by Philippa Millage, Hannah Cameron, Sarah Calvert, Mhairi Hendry and Cara Anderson. Kerry MacAngus and Cameron Wright featured in the 1500m heats
Connor Henderson and Daniel Rees in the 400m Hurdles and Grant Plenderleith and Stacey Downie in the 400m were others in action.
Tags: Alexander Stadium, Allan Smith, Andy Butchart, Birmingham, Jax Thoirs, Kirsty Law