Three more golds as Scots sweep to 15 medals in Birmingham
The power of Scotland grabbed the headlines once again on a remarkable conclusion to the Muller British Champs in Birmingham.
Neil Gourley, Eilish McColgan and Nick Percy added gold medals to three the previous day on a weekend when Scottish athletes claimed no fewer than 15 medals as they beat a path to the podium.
Gourley led home a sensational Scottish 1-2-3 in the men's 1500m – an all-Scottish podium for the third year in a row – with Josh Kerr landing silver and Jake Wightman the bronze.
It means McColgan, Gourley, Kerr and three other silver medallists – Jemma Reekie, Lynsey Sharp and Beth Dobbin – are assured of automatic selection places from British Athletics for the World Champs in Doha.
Here's the Scottish medal summary at the Muller British Champs:
Golds: Kirsty Law (discus), Andy Butchart (5000m), Allan Smith (High Jump), Nick Percy (discus), Eilish McColgan (5000m), Neil Gourley (1500m)
Silvers: Jax Thoirs (pole vault), Jemma Reekie (1500m), Beth Dobbin (200m), Josh Kerr (1500m), Lynsey Sharp (800m), Guy Learmonth (800m)
Bronzes: Nikki Manson (high jump), Zoey Clark (400m), Jake Wightman (1500m)
Gourley's grin was glorious when he realised he'd taken the win as four men finished the 1500m final in the 3.48 ballpark – with just less than half a second between them as Neil clocked 3:48.36, Josh 3:48.51 and Jake 3:48.69. Charlie Da'Val Grice was fourth.
'It's been quite a tough few months since the European Indoors and that disappointment,' said Neil.
'It's been tough psychologically but it's also been motivating as well because every day nothing is taken for granted. These championships only come around so often. It means such a lot to come from the lows of the sport to the highs.'
Kerr had led the race for much of the latter stages as he sought to make sure of that top two finish.
'It's a big weight off the shoulders,' said Josh. 'With six guys all having the standard or all very good, making the top two is difficult and it's difficult to get the balance between peaking for now and wanting to go to the World Championships.'
Chris O'Hare was sixth in that race, while Inverness Harriers athlete Stephen Mackay came home in 12th to complete the lineup of five Scots in the final.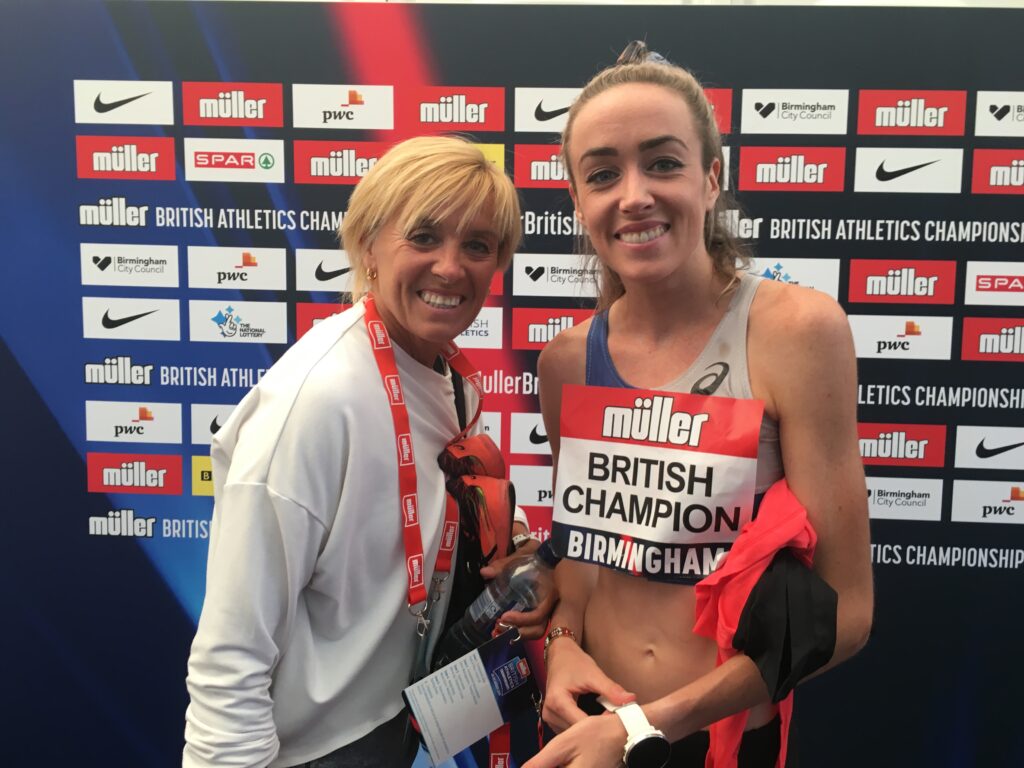 McColgan had earlier delivered one of the performances of the weekend as she went out solo in the Women's 5000m to win despite high temperatures trackside in the stadium.
'It was such a hard way to run it from the gun,' said Eilish, after 15:21.38.
'There were five girls in that race that had the qualifying time and I'm over the moon to secure my spot. Every 5000m I'm in good shape but I pick up an injury or an illness and it's knocked me and I let everyone else dictate the pace and I get out-kicked and I always come second or third every year.
This year I wanted to make everyone in the race hurt and see how the girls coped. If I exploded and came last, so be it I could say I'd given it a go. I was a little disappointed with the time but I was on my own. It was windy and hot but I have to respect the conditions.
'I have a good six-weeks of training and the Diamond League finals over 1500m to come before Doha which is exciting and gives me some more speed work to go for. By Doha, I'll be more confident of running at my own pace. I need to move to the 14:40 territory and feel capable of a PB out there. 
There were four Scots in that final with Steph Davis at 10th with a PB, Sarah Inglis finishing 12th and Morag Millar in 14th.
Jemma Reekie took silver in the Women's 1500m to book her slot for Doha with a run of 4:23.41.
'I'm pleased to book my ticket to Doha,' she said, with Jenny Selman fifth in that race.
'I've learned you can't win every race. I had a sinus infection last week so I was worried that I wouldn't be going to Doha but glad that I'm over that and I can get happy and get fit.
'It's my first World Champs and I'm heading in the right direction and I'm going in steps and steps.'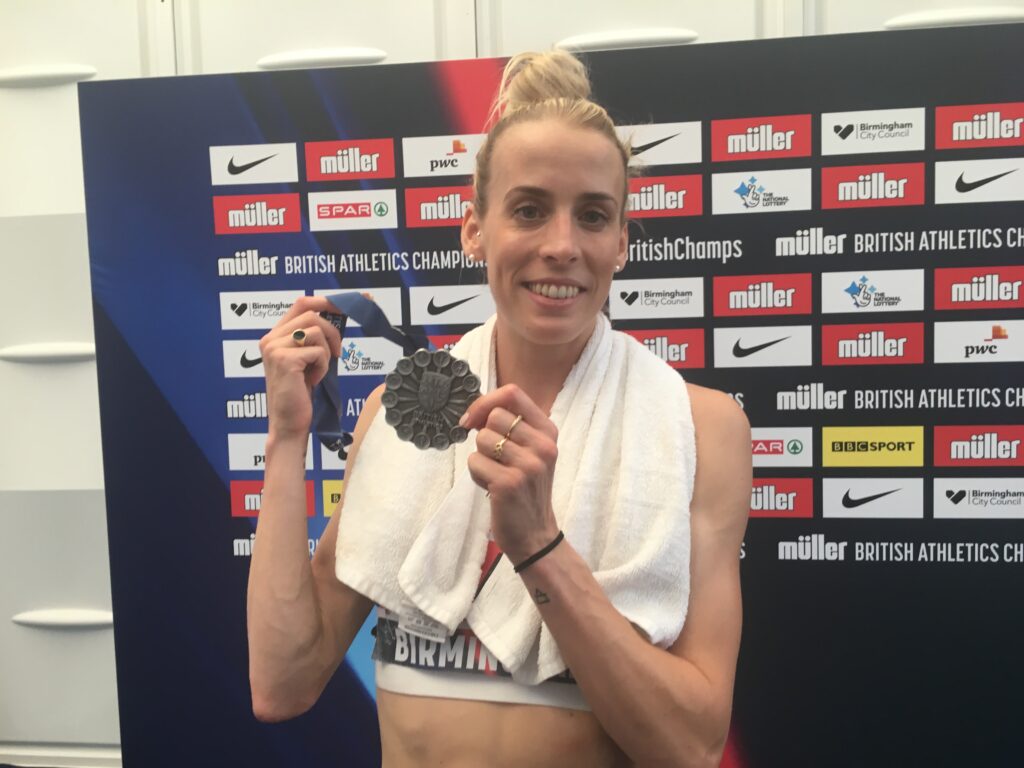 It was similar for Lynsey Sharp, second in the 800m final and assured of selection.
'It was good but gutting not to win, but the spot is secured for worlds most important thing but that level of race is not what it's going to be like at the World Championships so it plays into other people's hands when it's a bit slower.
'The season has gone really well and I've made so much progress since March and we're on the right track'
Beth Dobbin made it a trio of second-placed Scottish women who clinched their places for the Worlds.
I really wanted to retain my title but the aim this year was just book your place on the plane to Doha and it was such a close race that I feel really grateful to have done that,' said Beth.
'That wind was a minus 4.3 and normally I'm strong on the straight but I felt like I was swimming in custard and I thought I was unfit before I saw the wind reading and it made sense.'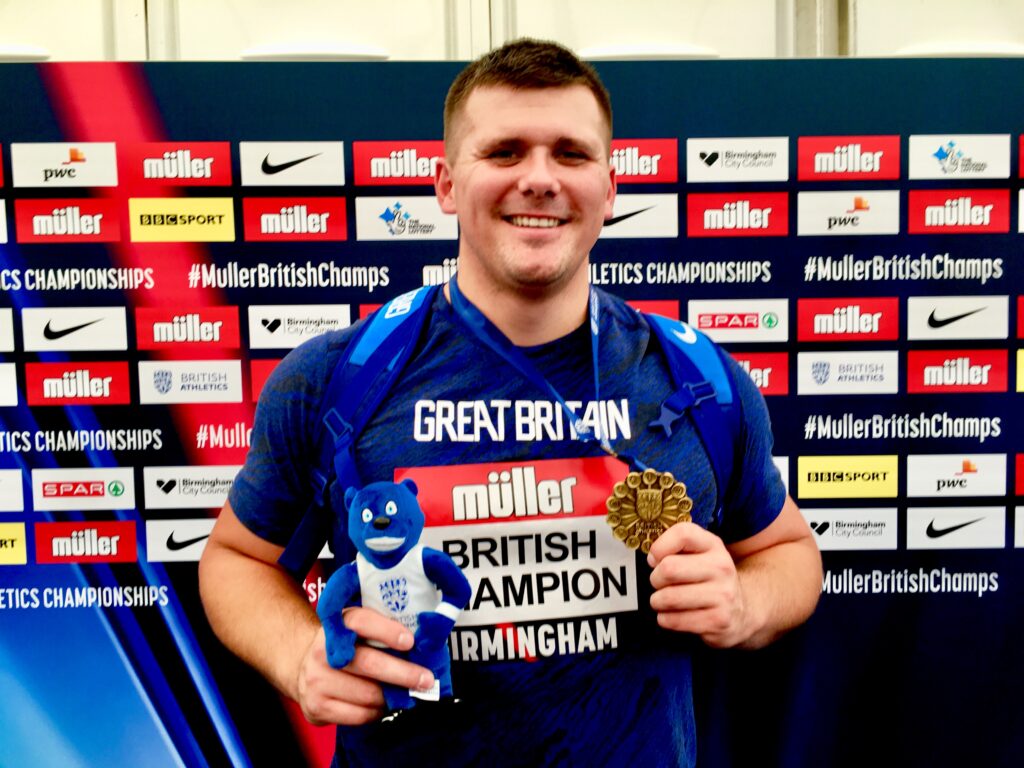 Nick Percy picked up where he left off at Grangemouth and added the British title to his Scottish success with 60.57 in baking Birmingham.
In fact, Nick has won gold at the England Athletics Champs, the Manchester International and the Scottish and British Champs in the past few weeks.
'After last year being ill coming into it and not doing my best, to make up for it has been great and finishes off a good season that's seen me win the English and Scottish Championships and take victory in Manchester as well,' he said.
'Domestically, that's four of the biggest wins we can take in a season and it's another throw over 60.50m.'
Guy Learmonth was another silver medallist – but he now has to chase the qualifying standard in the Men's 800m. He clocked 1:46.79 but lost out on a photo finish to Spencer Thomas.
 'I know me and Spencer got the same time and he worked seriously hard to get that and deserves that. He's fallen short a few times and he thoroughly deserves his title. It's going to be a quick turnaround for me so I need to get back and maybe fly out to get a race to get the time.
Nikki Manson followed up her Scottish title win in the High Jump last week with a bronze medal in Birmingham. Nikki cleared 1.84m to take third in this competition for the fourth time in her career. Emma Nuttall finished fifth.
'I'm chuffed to come third and it's always a great competition with Kat and Morgan I was a bit disappointed with my performance,' said Nikki.
'I feel I had more in me. I jumped really well last week. I'm disappointed with the height – I struggled with the heat a bit today. Being Scottish I'm not used to warmth!'
Zoey Clark took third in the Women's 400m final with a run of 52.52.
Courtney MacGuire has had a fine season in pole vault and she wasn't far away from the medals at the Alexander Stadium. Clearances at 3.75m, 3.95m and 4.10m had her in the hunt but couldn't get over 4.25m (in what would have been a new PB).
Jack Lawrie had recorded a 50.45 SB in the 400m Hurdles semis and finished seventh in the final with a run of 51.18. Henry Clarkson competed in the Triple Jump as he finished ninth with a best leap of 15.70m – an outdoor PB.
Chris Bennett was fifth in the Men's hammer with Ciaran Wright in seventh and Joe Bloomfield eighth.Craig Charlton was 10th in the shot.
And Sarah Warnock was sixth in the long jump with an excellent 6.42 windy jump. Sarah had a legal 6.39m in that series, too.

Tags: Alexander Stadium, Beth Dobbin, Birmingham, Eilish McColgan, Guy Learmonth, Jake Wightman, Jemma Reekie, Josh Kerr, Lynsey Sharp, Neil Gourley, Nick Percy, Nikki Manson, Zoey Clark