Scottish Marathon Champs; Highland Fling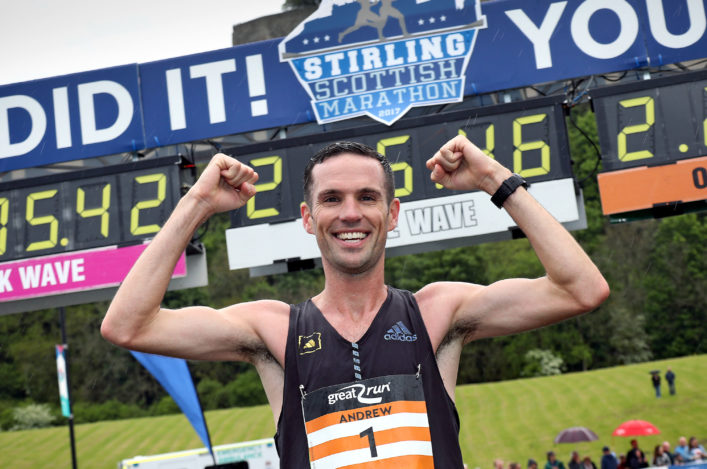 Andrew Lemoncello won the first Stirling marathon last year
The Stirling Scottish Marathon is coming up on Sunday and will stage the Scottish Marathon Champs with medals on offer for individuals and teams.
It's the first time this event has been used for championship purposes after a couple of years when Scottish medals were allocated from performances at the London Marathon.
Stirling staged the marathon for the first time last year and this Sunday's event features a new course following changes to that initial route in 2017.
Start-lists are now online on our Events Section
With around 3500 expected to race the marathon distance, there is also a half marathon race taking place. In the Scottish Marathon Champs we expect around 500 members to compete.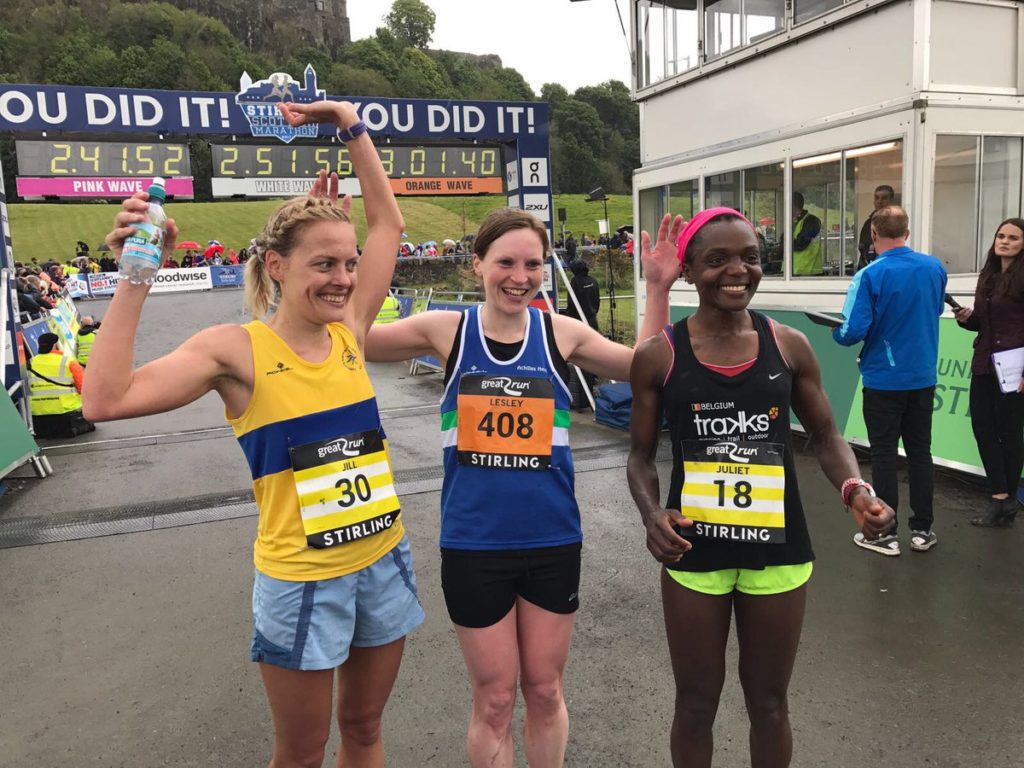 The women's podium at Stirling last year
+++

Highland Fling
As host to the 2018 Scottish Ultra Trail Championships, this year's starting list of over 800 will once again include some of the UK's finest ultrarunners. The 53-mile race along the West Highland Way is arguably the UK's biggest and most competitive ultra-distance event.
The women's race is going to be one of the hottest contested we've ever seen. Last year's women's podium finishers will all return to battle along the Bonnie Banks of Loch Lomond to the finish in Tyndrum.
Last year's winner, Nicola Adams-Hendry will return to defend her title. The Garscube Harriers' athlete has been a force to be reckoned in the Scottish Ultra-distance scene over the past few years, winning the Scottish Championships twice. This will be her 5th Highland Fling.  She has also won our sister race, the Devil o' the Highlands, three times.
We're excited to see what Nicola Duncan can bring to the race. The Irish athlete who resides in Edinburgh and runs for Carnethy has a marathon PB of 2:33. Winning every ultra she competed in last year, she may have a crack at Beth Pascall's 7:52 course record.
Morgan Windram-Geddes and Rachel Normand (nee Newstead) who finished 2nd and 3rd last year will be looking for podium places and championship medals again. We also expect 100km internationalists Charlotte Black, Sophie Mullins (both Scotland) and Gemma Carter (England) to mix it up at the front end. Carter is fresh from a win at Country to Capital and a sub three marathon in Manchester. Local runner and resident Californian, Jamie Aarons has a wealth of ultra-experience and wins to her name and is sure to make her presence known.
Other ones to look out for Sara Al-Khadhimi, Aisling Allum, Gemma Bragg, Rosie Doull, Charlotte Finch, Georgina Hinton-Lewis, Claire McArthur, Carla Molinaro, Jo Newens, Louise Smart and Christine Waller.
In the men's race, there will be an equal depth of talent. We welcome GB trail team's Kyle Greig to the Highland Fling for his debut race on the West Highland Way.  The Metro Aberdeen athlete has shown his current form by finishing 5th in top international field at the Tarawera 100km in New Zealand. He was also the first GB athlete at the World Trail Championships in 2017.  No slouch in shorter distances, his 10K personal best is 30 minutes.  An incredible rise for an athlete who only ran his first marathon in 2016, clocking 2:25 in his debut at the distance.
Two athletes, Neil Kirby and Jon Ellis, both multiple winners at Centurion Running events will be making the journey north with their eyes on the podium. Kirby has won both the SDW and NDW 50 and 100 mile races and shows current fitness with a win at the recent the Coast Trail Series in Sussex. Ellis can almost be viewed as a 50-mile specialist, with wins at SDW50, NDW50, Chiltern Wonderland 50, Wendover Woods 50 with his most impressive performance being 4th at the Swiss Alpine Marathon last year. The Highland Fling course will certainly play to his strengths.
We also expect John Connolly, local runner and previous winner of the Devil o' the Highlands, to be in contention for a podium position. His best Highland Fling time is 7:59 in 2016. But following a CR at Glen Ogle 33, a win at the Stour Valley 100km win and a fine performance at Transgrancanaria 125km, we're sure to see him hit the red carpet much quicker this weekend.
Other ones to watch out for include David Gow, Gary House, Richard Bannister, Dwayne Batt, Andy Bryce, Simon Green, John Hammond, Yoann Lecauchois, Justin Maxwell, Hugh McInnes, Rob Payne, Rob Ross, Steven Timoney and Nicholas Wolverson.
The 53 mile distance is long enough to challenge the most experienced of runners, but it's short enough to unearth some raw new talent. It's especially popular for ultra-newbies and speedy marathon and hill runners moving up to ultras. So, as always, we may miss some contenders for the podium in this race preview.
Just remember it's 53 miles. The race to Drymen isn't real! By Debbie Martin
Tags: Highland Fling, Scottish Marathon Champs, Stirling Scottish Marathon