Scots star again at London Marathon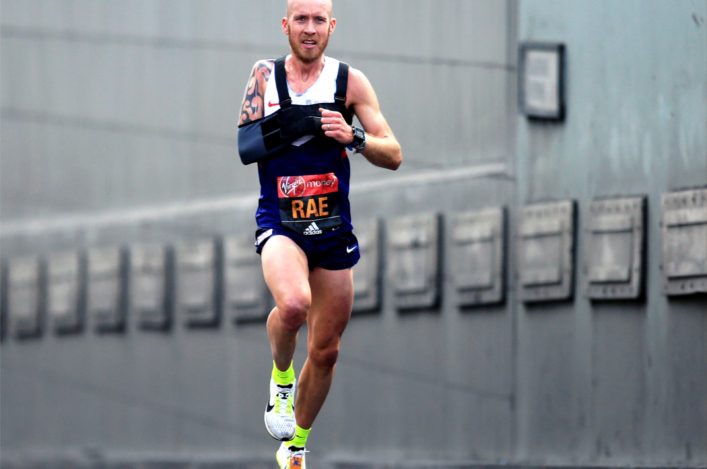 Derek Rae on his way to a big marathon PB in London (photo by Mark Shearman)
Robbie relaxed for London return – BBC Scotland
Susan has no regrets – The National
Robbie Simpson joined the growing list of Scottish endurance athletes making a name for themselves – with a superb performance at the London Marathon.
The Deeside Runners athlete from Banchory, world class at hill running, will now head back to London for the World Champs in 2017 after claiming the second of two automatic slots available on Sunday.
Simpson is now set to join Callum Hawkins in a three-man GB team for the Worlds, with Welsh surprise Josh Griffiths having edged out Robbie with 2.14.59 to the Scot's 2.15.04.
Twelve months ago, Scottish athletes stunned British athletics with their performances in the London Marathon. It led to all three men in the GB team for the Olympics in Rio being British athletes.
But April 23, 2017, didn't disappoint, either, as Derek Rae landed third place in the IPC World Marathon Cup with a superb run to third place as he smashed his PB by just over four minutes.
And even in the London Mini Marathon, where individual medals are hard to come by for Scots, there was a gold for Erin Wallace at U17 level and silver for Lily-Jane Evans-Haggerty in the U15 Girls.
In terms of the Scottish Championship medals, Susan Partridge and Simpson took the golds and the times for the athletes in the 1-2-3 were once again of a high standard. The top three men were under 2.25 and the top three women were inside 2.43.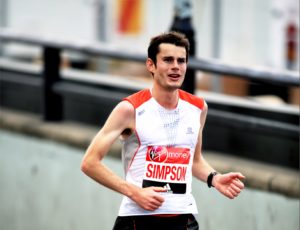 Photo by Mark Shearman
In the British men's field, a manic final couple of miles saw Swansea Harriers athlete Griffiths come through strongly to claim the title of British marathon champion and claim a spot for the marathon at August's home World Champs.
After being in the mix of the Brits for much of the race, at the 35km point Griffiths and Simpson ate up the substantial gap that Jonny Mellor had built for himself shortly after previous British leader Tsegai Tewelde withdrew from the race shortly after going through half-way in a swift 65:04.
Simpson's late surge alongside Griffiths saw him post 2:15:04, a best of 34 seconds, as he too booked his spot on the British Athletics team for the championships at The London Stadium in August.
'It has been a goal of mine [to qualify for the World Championships] so I am really happy to have made the team,' said a delighted Robbie.
'It hasn't really sunk in yet that I am second Brit in the London Marathon. I don't think a lot of people expected me to make the team, and maybe I didn't think I could but I knew if I ran a good tactical race, I would have a chance.
'I ran a lot of the time with Josh (Griffiths) today – I've actually known him for a while from mountain running [backgrounds] – we were together from about halfway and he was running very strongly. I know it is his first marathon and he is pretty young so I was not sure how he would do over the second half.
'He went past me in the last few miles and I was thinking, 'woah, he's flying'. I couldn't quite hold on to him but I'm happy to be the second Briton home.'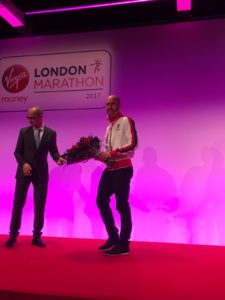 Rae came up with a fine performance in the T45/46 classification race, beating his previous best by four minutes, lowering his mark from last year's 2:37.28 to 2:33.24.
After disappointment in rio last year, the Scottish athlete earned redemption with a special performance across the streets of London. He was on for a PB from early on and he held it through to closing stages as he took third place in the category in the World Para Athletics Marathon Cup.
'Seven years ago lying in hospital, I never thought I would be in this position,' said Derek.
'Every day, I'm blessed to be here and it is a privilege to be able to run at this event and compete for my nation. I wouldn't have contemplated finishing a marathon seven years ago when I was in my hospital bed, so to be running these sorts of times is something which makes me very proud.'
Susan Partridge was the first Scottish woman to finish, as she took 21st in the elite Women's race with 2.37.51. Unfortunately, that was outside the qualifying standard for Gold Coast 2018 and the World Champs, which had been Susan's targets as she nonetheless claimed the Scottish marathon gold medal.
Subject to confirmation, there will be silver for Central AC athlete Fanni Gyurko 2.41.20 and bronze for Katie White of Garscube Harriers 2.42.37.
In the Men's side of things, a fine run by Craig Ruddy of Inverclyde AAC in 2.22.22 saw him finish as second Scot to Simpson and take the silver with Andrew Lemoncello of Fife AC in 2.24.11 taking the bronze.
+++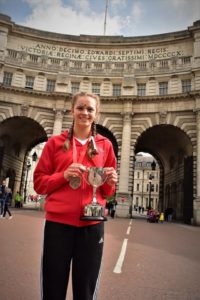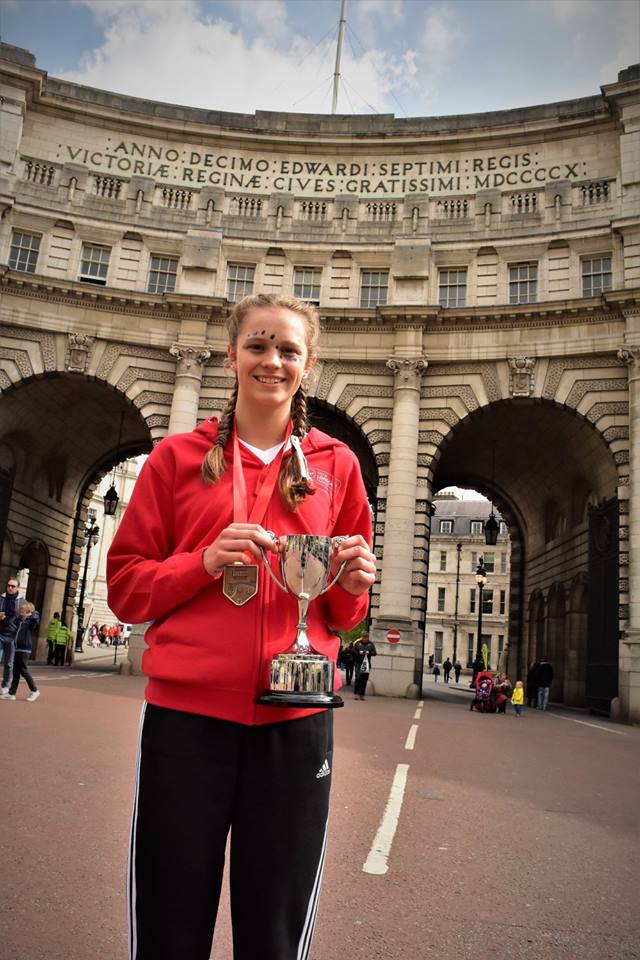 RESULTS (use Mini Marathon icon on left)
It was a superb day for some of the young Scottish athletes competing in London in the British Athletics Road championships.
Individual medals are hard to come by in this event for Scots but Erin Wallace proved her class once again by taking gold in the U17 Women's race.
The Giffnock North AAC athlete was a team winner, too, as the Scottish selection claimed the golds with Wallace backed up by Kate Gallagher in 12th, Lauren Dickson in 21st and Clare Stewart in 27th.
Lily-Jane Evans Haggerty of VP-Glasgow took second place in the U15 Girls race and that led to silver medals for the Scotland team. Lily-Jane was supported by Heather Barnes in 5th, Cera Gemmell at 7th and Isla Calvert in 23rd.
The Scotland males found it much tougher, however. Freddie Carcas in 18th place was best-placed at U17 Men and Chris McLew at 28th likewise in the U15 Boys.
PHOTOS by Neil Renton on Facebook
Tags: Andrew Lemoncello, Craig Ruddy, Derek Rae, Erin Wallace, Fanni Gyurko, Katie White, London Marathon, Robbie Simpson, Susan Partridge