Silver lining for McAslan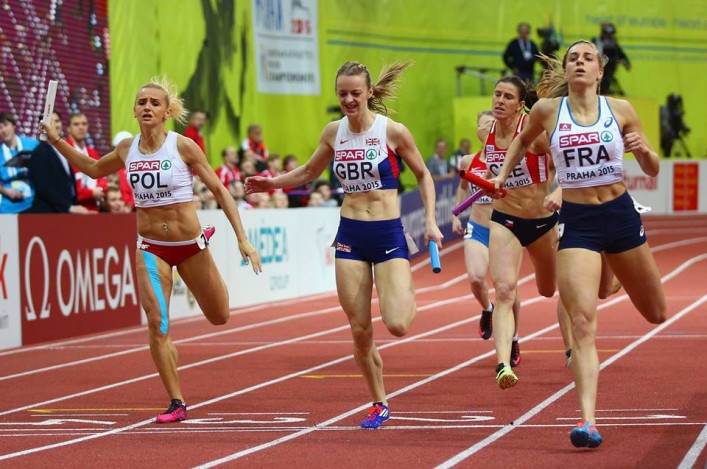 Kirsten McAslan crosses the line to claim silver for GB in 4 x 400m
BBC website report with Women's 4 x 400m footage
Kirsten McAslan carved her name into the Scottish list of European medallists with a fine anchor leg run for silver in the 4 x 400m relay final.
But it was Prague frustration for Jamie Bowie and the GB and NI men as an error of judgment by Conrad Williams left the team struggling before finally finishing in fifth place.
The Women's relay provided some of the best drama of the championships with all six teams still in hunt for some colour of the medal at the bell at the start of the eighth lap.
Kelly Massey and Seren Bundy-Davies had given GB a decent platform but anchor leg runner McAslan still had a lot to do when taking over from Laura Maddox in third place.
Kirsten came up with a superb run, however, with her leg timed at 51.83 as the best of the quartet, and she made sure GB finished behind France and ahead of bronze medallists Poland.
'I loved that! I love relays; the excitement and the atmosphere, ' said the Bath-based Scot who ran at Hampden last summer.
'It's a different kind of nervousness as you are running for the team and not just for yourself.
'I have shown I can run a good relay leg and I can be counted upon to perform when it counts. Hopefully the British selectors will see that. I want to be chosen in the relay all the time now and have a regular place.'
McAslan, whose mother and father both ran for Scotland, is coached by Trevor Painter – who is married to Jenny Meadows – and in fact that 51.83 split time is being reported as the best of all the 24 athletes involved in the 4 x 400m European final!
Kirsten progressed through her opening heat in the individual 400m on Friday but lost out at the semi-final stage later that day. We've covered the five Scottish performances in the individual events – including a fine bronze medal for Chris O'Hare – in a separate story. In the video here, Kirsten reflects on her individual event performance.
In the men's 4 x 400m final, the British team struggled following their first leg changeover with opening runner Conrad Williams at fault as he failed to move into the right lane for the handover to Jamie Bowie.
'It was a school boy error on my part, not checking where Jamie was,' said Willaims.
'As I looked up I realised he was in lane six rather than lane two. It's indoors and you can't really dwell on indoors. It's a lesson.'
Bowie, who is now a Team East Lothian athlete, said: 'We are naturally disappointed. We are the British team, we saw the girls win a medal and we were hungry for it. Unfortunately the race unfolded in a way we couldn't get to those teams.'
Tags: Euro Indoors, Jamie Bowie, Kirsten McAslan, Prague