Chris lands another Euro bronze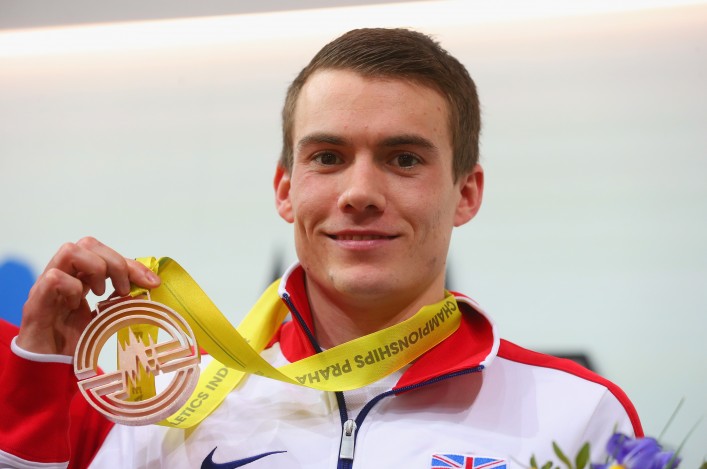 Chris O'Hare delivered a medal on the big stage for the second time in seven months in Prague.
The 1500m runner who grew up with Edinburgh AC clinched bronze  at the Euro indoors to repeat his feat from the European Champs outdoors in Switzerland last August.
Just like Zurich, O'Hare had to scrap hard for his podium place as he came home in 3.38.96 in a race won by local favourite Jakub Holusa right on the line to a racous reception.
It was the culmination of a decent competiton in an individual sense for the five Scots selected for those events – with three of them making finals. Laura Muir finished fourth in the 3000m final and Guy Learmonth sixth in the 800m final, Kirsten McAslan made it through one round in the 400m and Allan Smith won his first Senior GB vest in the high jump.
Chris had been spiked in the opening metres of the final but he settled in well and ran a controlled race – after a highly mature heat win on Saturday morning.
'I'm a bit of skin lighter,' grinned the Scot, who ended a 13-year wait for Britain for a medal in the event at the Euro Indoors competition.
'In the first five metres I got stood on. During the first couple of laps it felt like more than a scratch but it wasn't going to stop me.
'I put it out my mind after the first lap really. I knew it would be a fast race and that Ozbilan would take it out like that. I was ready for it.'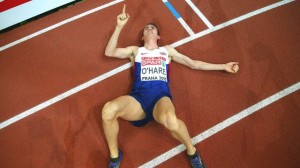 Flat out . . . after giving it everything
'So I am happy to come away with a medal. I thought I could maybe have challenged more for the win on the last lap but the two guys who took the two medals did great. Holusa was really going for it backed by the Czech home support.
'I can't be disappointed with bronze at the Europeans again. There's no point in coming to a championships and not giving it your all and that's my philosophy in life.
'I don't want to come away from it and start asking myself 'I could have done this' or 'I could have done that'. It was a good race and I'm happy with it!'
Fellow Brit Charlie Grice finished fifth in an indoor PB of 3.39.43 with Chris only a second or so adrift of his own indoor Scottish record.
'It was a tough race,' said Grice. 'I'm a bit disappointed as I was so close. I'm happy for Chris.'
***
Guy Learmonth had a good championships – his first in a Senior context with GB and NI – but finished sixth in the 800m final on Sunday afternoon.
The Lasswade AC athletes looked confident in qualification on both Friday and Saturday as he repeated his Commonwealth Games achievement of coming through the rounds.
In the end, though, he couldn't quite live with a change of pace in the final and came home in 1.47.84.
'I'm a wee bit disappointed to be fair,' said Guy.
'I've got a lot of positives from this competition but I was hoping for a medal. The Dutch boy stole a march and I just didn't have enough in my legs today. I've learnt a lot from this experience. I believe in myself and believe I can compete with these boys.
'The support I have had has been surreal and I felt coming into these champs I had to step-up; I did but just didn't have it in the legs today.'
***
Laura Muir suffered Saturday night pain in Prague as her gutsy run in the 3000m final ended with fourth place.
Laura had looked well-placed for much of the race but all that changed in the last two laps and she couldn't quite reel in Dutch athlete,  Maureen Koster, in the closing stages as she clocked 8.52.44.
'I'm disappointed but at the end of the day I am glad that I was able to run the race I wanted to run,' she said.
'Fourth in a big championship is good but I wanted a medal of course. The field was of a very high level and it was tough out there.
'I've got to focus on the outdoors now, and my aim is to make the World Championships in Beijing. I think I'm at that level where I should be making it to the championships.'
Laura had come through Friday's heats with a comfortable second place in a time of 8.57.71.
***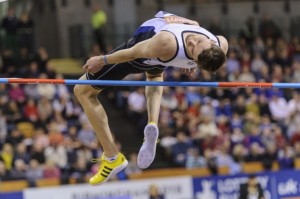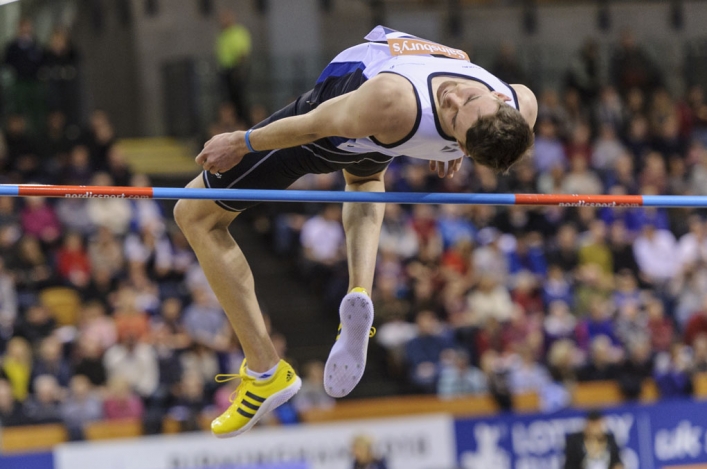 Allan Smith: out in high jump qualifying
Allan Smith bowed out in high jump qualifying on Saturday with 2.19m – and you had to feel for the Scot in a competition which stretched beyond two and a half hours.
With no fewer than 27 athletes competing for eight places, the event started at 9.30am British time and didn't conclude until just after 12 noon.
Allan cleared the opening height of 2.14 at the first attempt but three shots at 2.19m cost him later on. He failed at 2.24 and then passed on two more attempts, to have a crack at 2.28m – which would have taken him through.
Later Allan tweeted: 'Long competition out there. Disappointing to come away with the worst performance of the year. 2.28 needed to qualify for the final.  No other option but to pass 2.24m after just taking if off on my first attempt.'
***
In the individual 400m, Kirsten McAslan came through her heat on Friday morning with a run of 53.27 good enough to go through in second.
But, in the semi-final that afternoon, she finished just outside the top three automatic places which would have ensured a final slot with her run in fourth timed at 53.49.
'I would have liked to have made the final,' said the Scot.
'It was always going to be tough from lane one. I'm trying to take the positives from it. It was my first senior international as an individual and I never thought I would be here as an individual.'
Tags: Allan Smith, Chris O'Hare, Euro Indoors, Guy Learmonth, Kirsten McAslan, Laura Muir, Prague