Sharp on form at Anniversary Games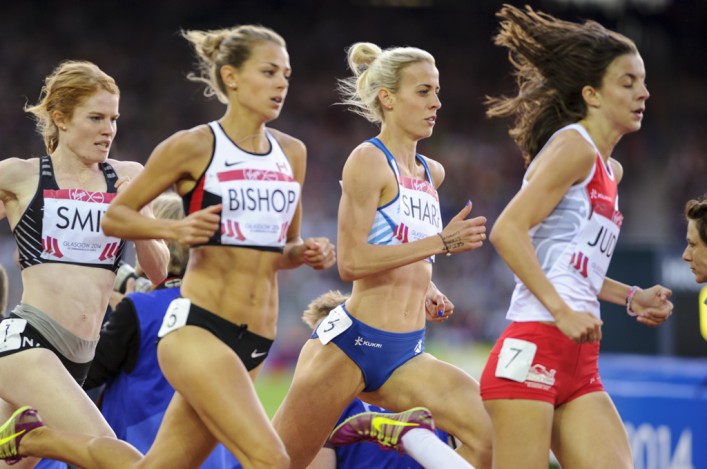 Lynsey Sharp in action at Glasgow 2014 – photo by Bobby Gavin
British Athletics media story – Saturday action
British Athletics media story – Friday action
Lynsey Sharp and Eilidh Child continued their World Champs preparations with good performances at the Anniversary Games.
And the London Diamond League event gave a whole host of Scots a taste of the atmosphere previously experienced by those two Olympians three years earlier.
Chris O'Hare and Jake Wightman both went under four minutes in the Emsley Carr Mile and there were 5000m PBs for Rhona Auckland and Beth Potter on Saturday afternoon.
Sharp's third place and Season's Best run in the 800m was the pick of the Scottish performances as the Commonwealth and European silver medallist sets her sights for Beijing. Lynsey clocked 1.59.57 with Eunice Sum winning the race.
'I think it is going to take 1.57 to get in the final in Beijing and medal,' said the Commonwealth and European silver medallist.
'I am fairly sure I am capable of that, having run 1.58 last season (for the Scottish National Record). It is not about running fast in May. It is about running fast in August.
'I have a lot of confidence in my coach and being ready for the right time – come the World Champs themselves.
'It was good; it's the first race I've been tactically happy with! It has taken me a few races to get into it but it was good mixing it with the big girls so I'm happy with it. I want to get better each race I do, so everything is going in the right direction towards Beijing.
'We knew the crowd would be amazing at the Anniversary Games but when we stepped out onto thr track .  .  . well, it was breathtaking.'
Child finished fourth in the 400m Hurdles on Friday evening – in really poor conditions as a torrential downpour hit the Olympic Stadium. Eilidh clocked 54.48 for just outside her season's best as Zuzana Hejnova won the race.
'I was quite happy with the way I executed the race,' said Eilidh. 'You have to have faith in your technique and the conditions were tough for hurdlers, definitely.
'I think I can maybe run a bit faster; I am in great shape and want to run fast in Beijing.'
Steph Twell is headed for the World Champs in the 5000m and, having achieved two qualifying standards, stepped down to 1500m on Friday night. Steph finished ninth in a race won well by fellow Brit, Laura Weightman.
Twell's absence from the 5000m on Saturday still left three Scots in the field and there was a strong run from Rhona Auckland to finish as the best Brit in seventh place.
The Euro U23 silver medallist at 10,000m clocked 15.27.60 with a PB in there, too, for Beth Potter in 13th at 15.36.49 with Laura Whittle 14th in 15.44.90.
What a fine track season it has been for Rhona, following that Euro Cross U23 gold last December as she prepares now to move to the United States and university in New Mexico.
Jax Thoirs was seventh in the pole vault with 5.30m and Chris O'Hare wasn't content with his 3.56 run in the Emsley Carr Mile – as he looked for a 1500m split qualifying time.
Chris tweeted later: 'Really disappointed with my result today, just need a little more speed work and I'll be ready to compete. Back to work.'
Jake Wightman was a couple of places behind Chris at 12th in the race with a mile PB of 3.57.80.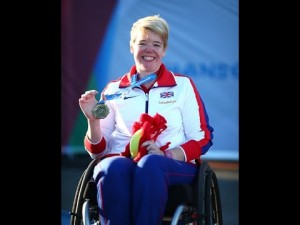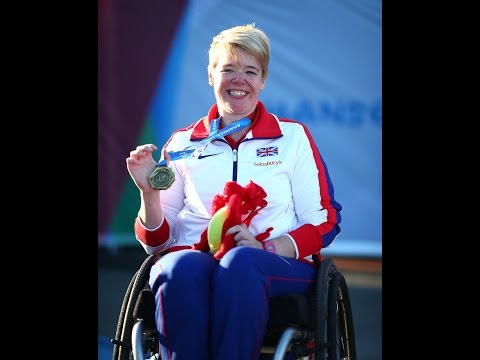 Jo Butterfield – gold medal and Euro record
British Athletics media report – Sunday action
Jo Butterfield broke her own European F51 club throw record at the IPC Grand Prix final as the Anniversary Games concluded on Sunday.
The Glasgow-based athlete improved on her distance to reach 21.50m and defeated one of her main rivals ahead of the World Champs in Doho this autumn.
It was a good day for the Scots at the Olympic Stadium, with Libby Clegg picking up gold in the T12 200m and a PB in the 400m for Paul Davidson of Inverness Harriers.
Jo said: 'That was fully awesome. I knew I was throwing well but that was better that what I've done yet so that was really good.'
Commonwealth Games gold medallist Clegg shrugged off the back and foot ailments that have constrained her season with 200m victory.
With the Worlds in Doha three months away, the Paralympic silver medallist surprised herself with a run of 25.22 seconds to put her build-up back on course.
'I think we're in good shape,; said Libby. 'Being in Lane 8, I was a bit apprehensive. Because you can't see the field – obviously I can't see them anyway. We just got out and we were waiting for them to come and get me.'
Davidson finished fourth with his 51.84 run in the T20 400m with 51.84, while Sammi Kinghorn was fifth in the T54 1500m with 3.45 in a very tight finish with Jade Jones and Shelly Woods.
Tags: Anniversary Games, Beth Potter, Chris O'Hare, Eilidh Child, Jake Wightman, Jax Thoirs, Laura Whittle, Lynsey Sharp, Rhona Auckland, Steph Twell