Senior Indoor numbers up by 26.5 percent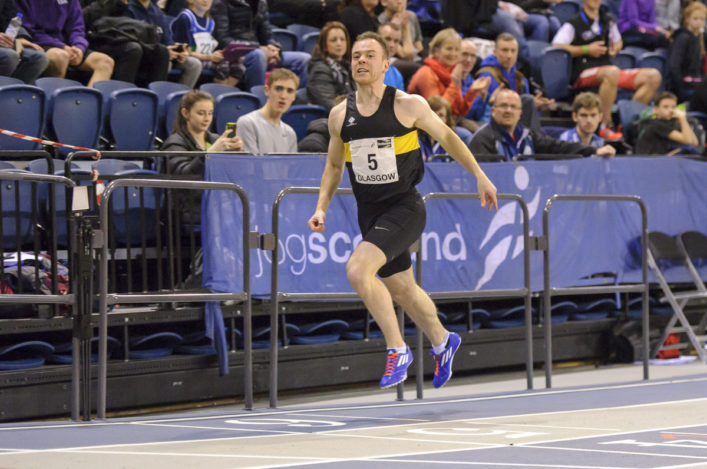 Grant Plenderleith was fastest in the 200m at the National Open and will race at the Seniors (photo by Bobby Gavin)
Kilty add to the glow in Glasgow
Thanks once again for your fantastic support!
Entry figures for the Senior and U17 Champs in Glasgow later this month show big percentage increases on last year.
It's happening at the Emirates Arena on Saturday 28 January and with very close to 600 athletes on start-lists it should be a really exciting and busy day – with strong competition for medals in many disciplines.
We're delighted to report that there are 277 Senior athletes entered and 295 U17 athletes.
That's a 26.5 percent increase on the Senior numbers from last year and 37 percent rise for the U17s part of the event. For the Seniors, this year's event is part of the Team Scotland Series with the meet at the level required, should a Commonwealth Games qualifying standard performance be achieved.
Senior Indoors numbers:
2015 – 196; 2016 – 219; 2017 – 277
U17 Indoors numbers:
2015 – 325; 2016 – 215; 2017 – 295
'The Seniors and U17s merged into a one-day event for the first time last January and that was repeated outdoors in the summer of 2016,' said Alasdhair Love, our Events Manager.
'It is felt by the Track and Field Commission that the format works in terms of the schedule for athletes and coaches and, particularly, our hard-worked scottishathletics Officials.
'Making that change has in turn eased the Age Groups weekend, with three categories involved now instead of four (which ensured very long days).
'Overall, the numbers for the past three years for Seniors and U17s are 521 athletes in 2015, 434 in 2016 (when they competed on the same day for the first time) and now 572. Those 572 athletes have submitted 790 event entries.
'We're very grateful indeed for the support we are getting for National events from the clubs and coaches. I would also want to put on record my personal thanks to our track and field Officials during the Indoor Season and other volunteers involved when we stage events.'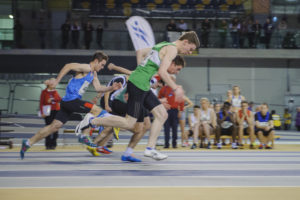 At scottishathletics, we believe these increases reflect a growing commitment to competition within clubs and we want to thank athletes, coaches, parents and volunteers for that commitment.
The question is often asked of us whether and when increasing numbers for many events will plateau (or fall). It's hard to forecast, of course, but really the answer lies with the clubs and the athletes and coaches themselves.
Removing any 'fear factor' of competing in a National event is helping and bigger numbers will mean more heats and finals, which in turn should mean the medals are harder to earn (although we accept this doesn't apply across every single discipline).
Medals that are harder to come by should then help to improve overall standards and that is where participation meets performance.
It has emerged that there were no fewer than 20 new 'impressions' on the Scottish Indoor all-time lists at the National Open – another positive for athletes and coaches.
National Open photos on Facebook
*For U20, U15 and U13 athletes there is still time to join us for the Scottish Age Groups Champs, which are at the Emirates Arena on February 11/12.  The closing date for this one is midnight on Sunday 29 January.
Please be aware, however, that with restricted entries in certain events places are filling up very fast indeed and some events in one or two of the age-groups are now completely full.
Tags: Alasdhair Love, Emirates Arena, Grant Plenderleith, National Open, Senior and U17 Champs