Scottish Seniors Day One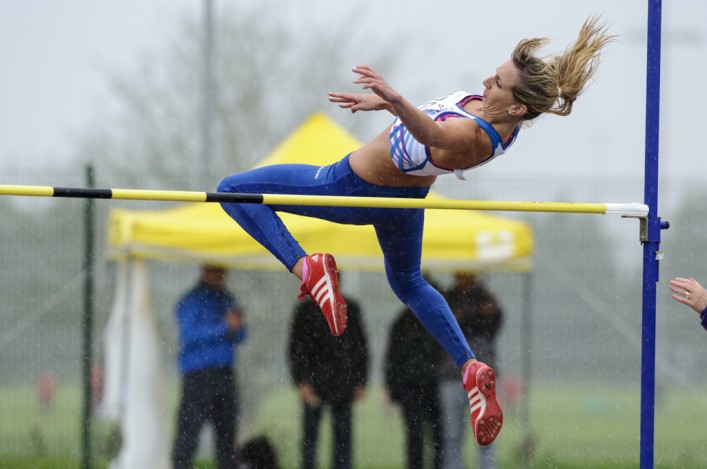 Watch action from Scottish Senior Champs online with VincoSport in association with East Ayrshire Leisure and there is a Day One highlights package
IT is tempting when reflecting on Day One at the Scottish Senior and Para Success Champs to focus on the appalling conditions which prevailed at Kilmarnock.
Showers of torrential rain at times and strong winds ripping across the Ayrshire Athletics Arena clearly had a major impact on performances.
And yet one of the over-riding feelings was of many athletes gamely making the best of it and 'getting on with it' in their bids for Scottish medals.
The officials, too, are well worthy once again of our heart-felt thanks for stoically completing their duties on a trying afternoon.
Among the fine performances was a Season's Best and Scottish title No 8 for Susan McKelvie. The Edinburgh AC athlete's Team Scotland team-mate, Rachael MacKenzie, cleared 1.75 when the weather was its worst while there were three PBs for the medallists in the women's 5000m as Kara Tait gave Kilmarnock Harriers a home winner.
Angus McInroy and Greg Millar cleared 50m and 60m respectively to win in discus and javelin while Kathryn Christie and Callum Innes collected the 100m titles.
It was a successful day's work for Meggan Dawson-Farrell, as well, as she won all four wheelchair races at 100m, 200m, 400m and 800m. Meggan almost had her own commemorative podium at the AAA …
And what about steeplechase champion Ryan McKinlay? Raised in South Africa, Ryan lives in London and made a six-and-a-half hour motorbike journey north to Largs on Friday in order to successfully defend his title.
High jumper Mackenzie had travelled south from Inverness on Friday to compete and duly added the outdoor title to her 2014 indoor success at the Emirates.
'I won the indoors so it is great to make it a double,' said Rachael.
'I am very pleased with 1.75 in that wind and rain, I've surprised myself a wee bit clearing that today. It is difficult between jumps and there's a chance you rush things. I'd one attempt at 1.80 which wasn't too bad but there was no need to carry on.
'Having been at the Commonwealth Games with Team Scotland, and now won this, it has been a memorable season for me and I've enjoyed it.'
Mllar claimed the javelin title with a throw of 62.33m. Dawson-Farrell took the first title of the day when she won the T54 100 in a time of 20.49 as Red Star team-mate, Shelby Watson, collected the gold in the T33 category. Dawson-Farrell was to add three more titles.
'It has been a great few weeks with Hampden, gold at the IWAs Juniors and now these Scottish titles – I'm very pleased,' said Meggan.
'I do prefer longer distances but set a PB in the 100m the other week. That wasn't possible in the conditions at Kilmarnock – it was almost as wet as Hampden, almost but not quite.
'I've a couple more events with Birmingham and Switzerland coming up but then I'm in for an operation at the start of September. It will be time to rest then.
'The Parade was brilliant on Friday because I've watched those on TV before from the Olympics and Paralympics. I couldn't believe the thousands of people who turned out in Glasgow.'
McKinlay won the 3000m steeplechase in 9.20.35 to win by just over a second from Alex Hendry (9.21.94)with another Central AC athlete, Scott Green, in third (9.22.42).
'I won the steeplechase title last year at Scotstoun so it feels good to have defended it this time,' said Highgate Harriers athlete Ryan.
'What was it like today? You could call it 37 water jumps! You are there to be shot at a wee bit when defending your title and there was a serious edge.
'I'd come up on Friday night – a six and a half hour journey on my motorbike. I asked myself at declaration whether it is worth it – paying the membership, paying the enter fee, making the trip – but it is when you step on that podium.'
Caroline Adams won the women's pole vault with 3.50m and McInroy threw 50.74 in the discus.
Christie won the women's 100m in 12.01 with the silver going to Susanna Banjo of Newham and Essex and the bronze to Edinburgh AC's Stacey Downie.
Innes took the men's in 11.43. Curtis Woods of North Down was second and Declan Brennan third in 11.93.
McKelvie won the women's hammer with an impressive 64.21 as Rachel Hunter and Kimberley Reed took second and third.
Zara Asante won the triple jump with 12.58. David John Martin won the men's long jump with 7.24.
Tags: Angus McInroy, Greg Millar, Kathryn Christie, Kimberley Reed, Rachael Mackenzie, Rachel Hunter, Ryan KcKinlay, Scottish Senior Champs, Susan McKelvie