Scottish Marathon Champs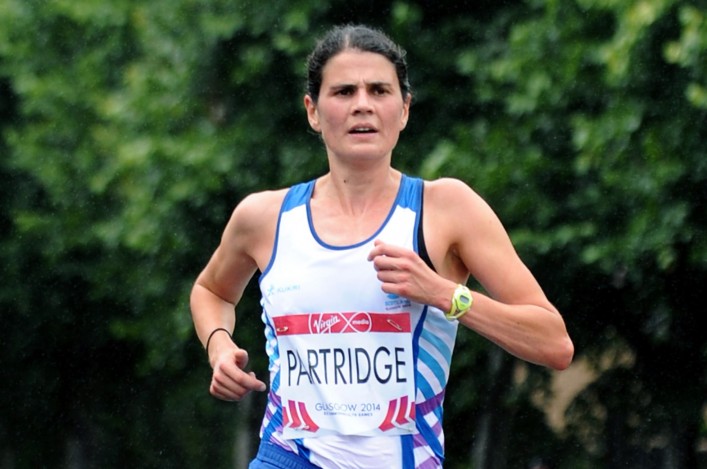 Susan Partridge – Scottish gold medal in London
Robbie Simpson and Susan Partridge claimed the Scottish Marathon Championship medals at the Virgin Money London Marathon – as the team prizes went to Metro Aberdeen in the women's race and  Inverclyde AC in the Men's.
The standard of times achieved by those involved in teams landing medals was again high and, on an individual basis, seven athletes were rewarded with 'shares' were achieved in the Scottish Road Race Grand Prix which asks for certain performances to earn slices of a total of £4000 in prize-money (details at end of this report).
Simpson's 2.15.04 and second place in the British race was of course enough to land him an automatic selection for the World Champs in London this summer, where he joins Callum Hawkins in the GB and NI team.
Partridge unfortunately missed out on the standard for the World Champs and Gold Coast 2018 but was the quickest Scottish female with the Elite race and Club race combined for Scottish Championship purposes, as is the case for the British champs.
Following Robbie home for silver was Inverclyde AC's Craig Ruddy with Fife AC's Andrew Lemoncello taking the bronze.
Central AC athlete Fanni Gyurko took second place in terms of the women with 2.41.20 and Garscube's Katie White was third in 2.42.37.
In the teams, the men's 1-2-3 was led by gold medallists Inverclyde from Hunters Bog Trotters and Edinburgh AC. The women's golds went to Metro Aberdeen, with silvers for Garscube Harriers and bronzes for Carnegie Harriers. The team medals are decided on cumulative times with three to count.
Congratulations to all the athletes and clubs involved. (If you have a query, please email  mark.pollard@scottishathletics.org.uk Thanks)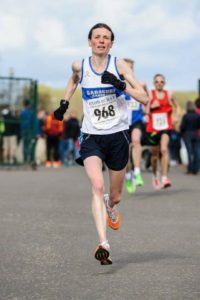 Garscube's Katie White – bronze medal and team silver
Senior Men 1-2-3
Robbie Simpson Deeside Runners 2:15:07;  Craig Ruddy Inverclyde AC 2:22:22;  Andrew Lemoncello 2:24:11
Senior Women 1-2-3
Susan Partridge VPCOG 2:37:51; Fanni Gyurko Central Ac 2:41:20; Katie White Garscube 2:42:37
Vet Men 1-2-3
David Lindsay Garscube 2:37:24; Louis O'Hare Kirkintilloch Olympians 2:38:44; Gordon Clarke Corstorphine 2:39:57
Vet Female 1-2-3
Lisa Finlay Dumfries 2:58:13; Mairi Stanley Garscube 3:07:13; Lynne Stephen Fife AC 3:15:12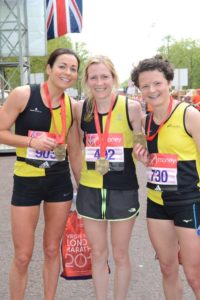 Metro women – British and Scottish team golds (photo via Twitter)
 Senior Teams Men:
1 Inverclyde Ac: Craig Ruddy 2:22:22; Mark Pollard 2:32:51; David Henderson 2:42:49. 7:38:02
2 Edinburgh AC: Leon Johnson 2:34:03; Josh Arthur 2:37:27; Nairn McWilliams 2:42:06. 7:53.36
3 Garscube Harriers: David Lindsay 02:37:24 Gary Mathew 02:44:36 Stephen Porteus 02:38:37 08:00:37
Senior Teams Women
1 Metro Aberdeen: Fiona Brian 2:53:50; Jennifer Elvin; 2:54:41; Hazel Wyness; 2:56:28. 8:44:59
2 Garscube Harriers: Katie White 2:42:37; Mairi Stanley 3:07:13; Marian Kelly 3:21:17. 9:11.07
3 Carnegie Harriers: Joanna Murphy 03:01:32 Jacqueline MacIntyre 03:12:48 Kristin Lownie 03:20:28 09:34:48
+++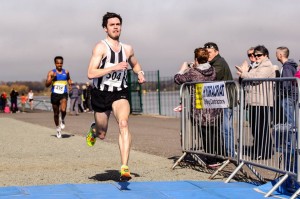 Craig Ruddy – has GP shares from 10-Miler and Marathon
Following the Scottish Marathon Champs in London, seven athletes have had shares allocated after getting below the A and B standard times asked.
Robbie Simpson landed an A standard and Craig Ruddy a B standard in the Men's race.
And in the Women's., the trio of Partridge, Gyurko and White all went below the A standard with B standards handed to Gemma Rankin for 2:44:24 and Shona McIntosh 2.47.52 as they went under 2:48:00.
Details on the page for the Road Race Grand Prix
Tags: Andrew Lemoncello, Craig Ruddy, Fanni Gyurko, Inverclyde AC, Katie White, Metro Aberdeen, Road Race Grand Prix, Robbie Simpson, Scottish Marathon Champs, Susan Partridge