Scots star at the Celtic Games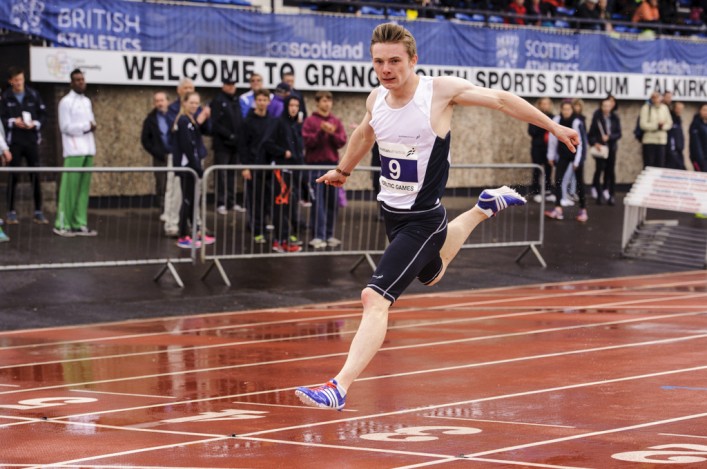 Cameron Tindle – wins at 100m, 200m and 4 x 100m relay (Photo by Bobby Gavin)
The Celtic Games International took place in its 40th year at Grangemouth and there was plenty to enthuse over in terms of the Scottish performances.
Scotland won the overall match with 170 points from Ireland on 156 and Wales on 147. There were category wins for Scotland in three of the four sections – at U18 Boys, U18 Girls and U16 Boys. Ireland won the U16 Girls, with Scotland second.
No wonder scottishathletics director of coaching, Rodger Harkins, was quick to tweet on Saturday night: 'Well done to our Team Scotland at Grangemouth, so proud of you. This is the beginning of your journey to future success. Big congrats, too, to the coaches, families and all support teams and clubs.'
Championship best performances in the 200m again underlined the potential in Cameron Tindle and Alisha Rees – with both those athletes among the six who are headed for the Commonwealth Youth Games.
Alisha broke 24 seconds for the first time with 23.90 while Cameron was at 21.36 to add the 200m to his 100m win.
George Evans won bronze at the World Youths and captained Scotland at U18 on Saturday – and he performed a skipper's role by picking up wins in shot and discus. Alessandro Schenini's long jump performance at 6.97 was the best in this age group in Scotland for 17 years and also a U16 Championship best.
And the Futures Team didn't disappoint, either, with some fine individual performances leading to PBs as their two named captains at U18 level, Sarah Eunson and Joe Arthur, each delivered terrific events wins at 800m (2.14.65) and 1500m (4.01.41) respectively. Lisa O'Neill's javelin performance was a Scottish age group record.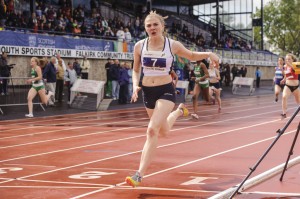 Alisha Rees – 200m Championship best
'I was delighted as I crossed the line and saw the clock was under 24 seconds because I've been hoping for that for a while,' said Alisha Rees, who was also part of a 4 x 100m quartet (Selina Henderson, Jill Cherry, Jenna Wrisberg and Rees) who went close to the Scottish U20 relay record.
'It is a championship best so I will take that and look forward to a couple more competitions before the Commonwealth Youth Games.
'I know that some top Scottish athletes like Chris O'Hare have been to that event in the past and maybe one day we can follow in their footsteps and compete at events like the World Champs. That has to be the long-term goal and they are an inspiration.
'Samoa is a long way to go but I can't wait to be part of the team and experience. I think going to a multi-sport event like that is a great chance to learn and we're all really looking forward to it.'
Tindle recovered from a poor start – by his own admission – to win the 100m in 10.68.
'It is the best I've run the distance out-with the actual start,' said Cameron. 'For some reason I didn't react to the gun but actually to the others getting off the mark. So I had to make up the ground but the main part of the race was good and I'm pleased to win for Scotland.'
He then followed that up with that Celtic Games best in the 200m and was involved in a 4 x 100m relay win for Scotland.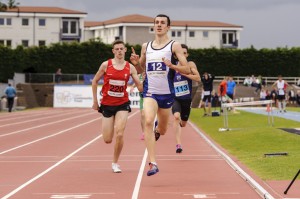 Ben Greenwood – 800m win
Ben Greenwood won the combined U18 and U16 800m race as he held off the challenge of Welsh athlete Jake Heyward as well as Cameron Steven of Scotland Futures.
Carys McAulay, who like Greenwood was at the World Youths for 800m, ran a 400m PB of 55.66 for an early Scotland win before bad weather mid-afternoon caused a couple of issues with the programme.
'Carys was pleased with the win and she is looking forward to Samoa now,' said her mum, Victoria.
'She was born in Scotland lived here for five years before we moved to Warrington. She ran almost as soon as she walked and has been in athletics for years.
'It is a tough sport for teenagers and they have to be very dedicated. But she loves it and the World Youths was a wonderful experience for her. We went over to Colombia as a family to support and it was great watching her run three times and getting a PB in the final to finish fourth in the 800m.'
Sarah Pearson was another Scotland U18 winner, taking the 4oom Hurdles race from the late challenge of Welsh athlete Lauren Williams.
Javelin thrower Lisa O'Neil represented Scotland Futures and she eclipsed the other three U18 athletes with a PB of 43.67m. That is a Scottish age group record, subject to ratification. Natalie Robbins, representing Scotland, was another throws winner in the hammer with 52.07m.
Craig Moriarty won the pole vault with 3.90m; Cameron McCorgray won the high jump with 1.90m and Alix Still won the 80m hurdles with 11.81 seconds; Andrew McFarlane won the U18 javelin with 57.78m.
Erin Wallace won the U16 1500m with 4.35.65 performance on a day when she captained the younger age group Scots. Selina Henderson and Drew McIntyre were 100m invitation sprint winners at U18 and U16 respectively. Other Scotland event winners were Samuel Stenhouse, Jade Carlyle and Adam Scott, who captained the U16s and won his 800m race.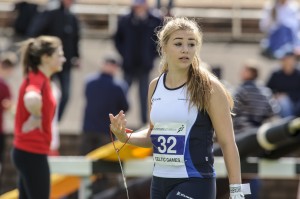 Natalie Robbins – hammer victory
*This report is intended to highlight a number of Scottish wins and good performances. If we have accidentally missed someone out then please accept our apologies.
Tags: Alessandro Schenini, Alisha Rees, Cameron Tindle, Celtic Games, Grangemouth, Ireland, Wales