Scots impress at Inter-Counties XC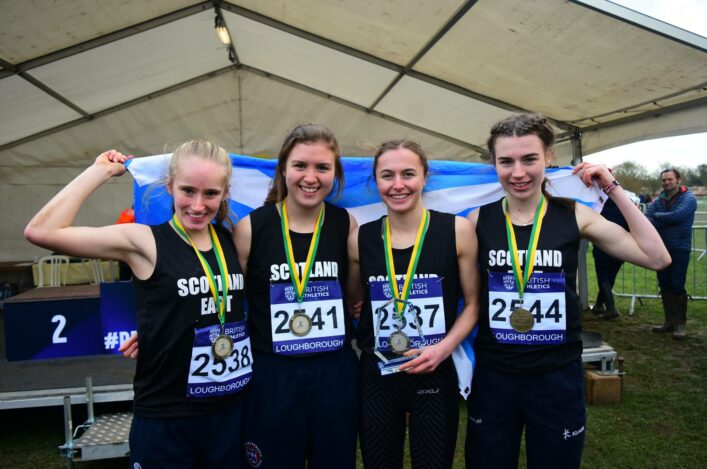 Team golds for Scotland East in the U20 Women's race (photo by Neil Renton)
Photos by Neil Renton on our Facebook page
Report by Alex Jackson
A very windy Loughborough made for a successful day for Scotland at the UK Inter Counties Cross Country Championships.
Mhairi McLennan (Scotland East) took third place in the Senior Women's race and Eloise Walker (Scotland East) placed fourth in the U20 Women race, to leave both in very strong contention for places at the IAAF World Cross in Aarhus later this month.
Luke Traynor (Scotland West) was sixth in the Senior Men's race and must also be very much under consideration in the British Athletics selection discussion, depending on the team size.
Scotland the Brave blasted out on the presentations PA system as Scotland East won the U20 Women's team gold medals headed by Eloise Walker with Cera Gemmell (ninth) Naomi Lang (11) and Zoe Pflug (17) packing in well for a low 41 points total.
Erin Wallace (Scotland West) 23 and Lauren McCulloch (Scotland East) 25 were also prominent in that race.
The U15 Girls race, as last year, brought more medals with Anna Hedley (Scotland East) winning the bronze medal. Scotland West were second team with Meredith Reid (10) Julia Cash (13) Louise Hastie (28)  and Kate Paul (55).
And Scotland East just edged Essex for the bronze medals with Anna Hedley , Katie Johnston (17) Rose Newman (45) and Sorcha Shepherd (64) contributing to the total.
The last time Scotland East won Bronze teams medals in the U15 Girls race at the Inter Counties was 2008 at Nottingham when the vital fourth counter at 33 was a certain Laura Muir!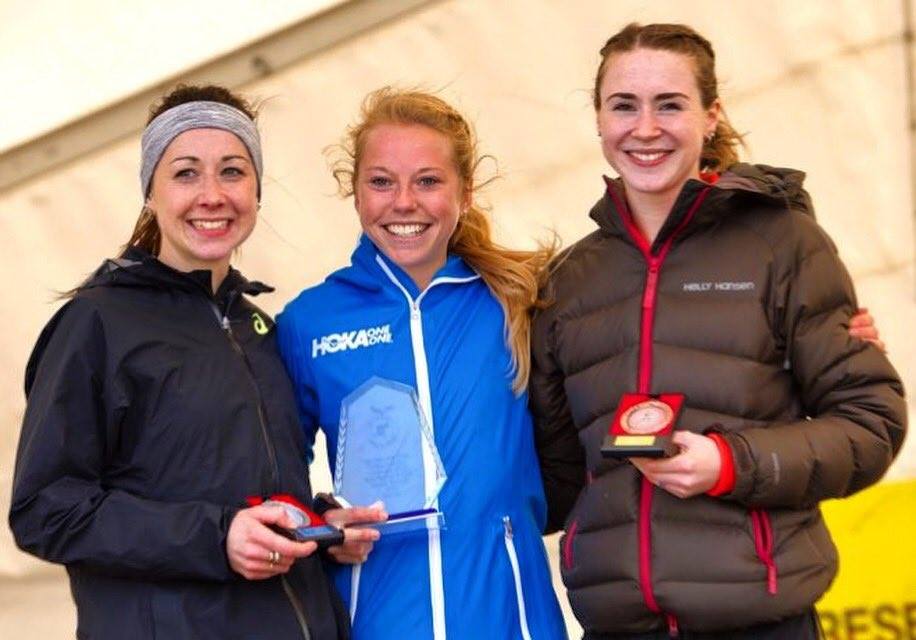 Mhairi Maclennan (on right) on the podium with winner Jenny Nesbitt and Jess Piasecki after third place at the Inter Counties Xc at Prestwold Hall (photo via Instagram)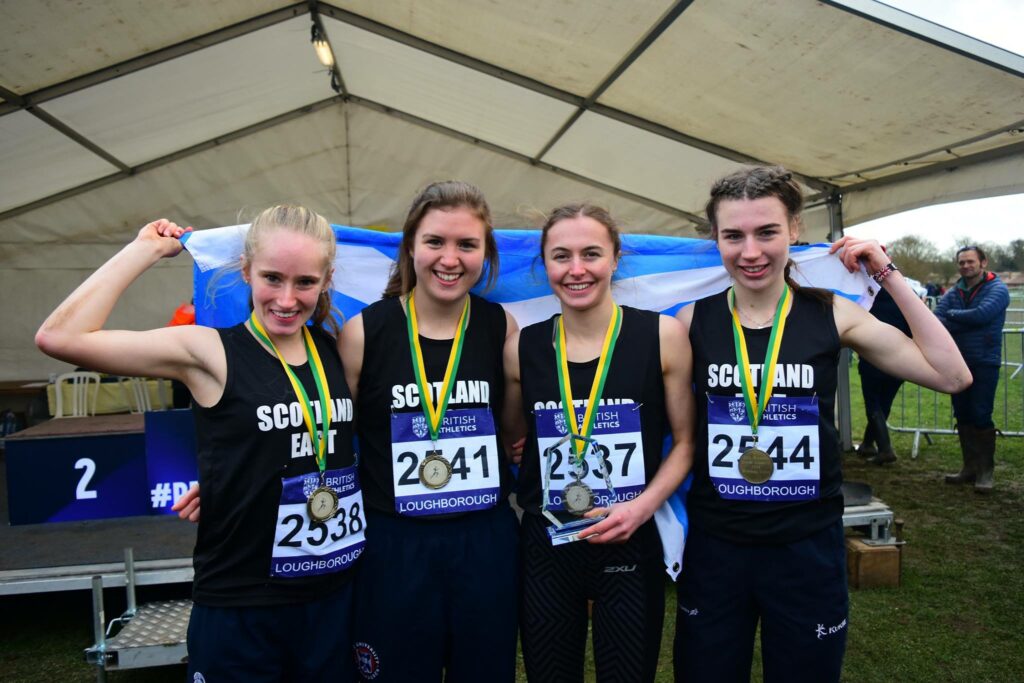 In the U17 Men's race Hamish Armitt (Scotland West) was Silver medallist, with Jack Trainer (Scotland West) 30.
The U17 Women's race had Pippa Carcas (Scotland East) 11, Isla Calvert (Scotland East) 14 and Clare Wallace (Scotland West) 30
In the U15 Boys the top Scot was Harry Henriksen (Scotland East) 14 with Lucas Cairns (Scotland North) 20 and Shaun McDonald (Scotland North) 23
At U20 Men, Hamish Hickey (Scotland North) finished 24 with Christian Graham (Scotland East) 27 and Cameron Wright (Scotland West) 30
The final race of the day the Senior Men's saw Scotland West finish 4th team narrowly being edged out of bronze medals with Luke Traynor sixth, Adam Craig 10 and Lachlan Oates 29 the leading scorers.
With up to three possible World Cross selections, three individual medals and three team medals the large Scottish contingent has plenty to celebrate in the top in-depth cross-country meeting on the UK calendar.
*We will confirm UK Cross Challenge overall places at a later date.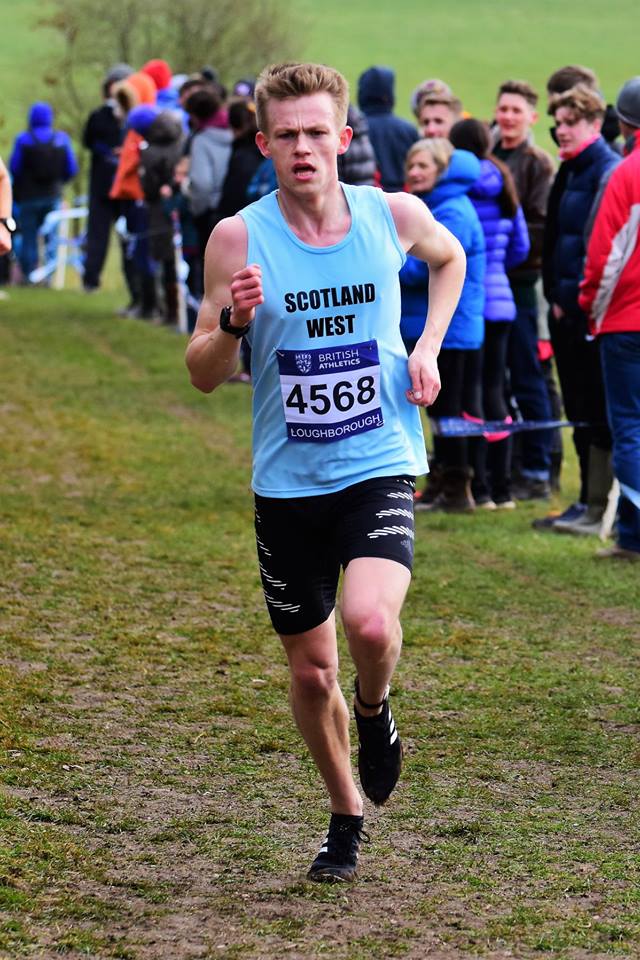 Luke Traynor – sixth place finish at the Inter-Counties XC (photo by Neil Renton)
Tags: Eloise Walker, Inter-Counties XC, Luke Traynor, Mhairi Maclennan