Scotland post six wins at the Manchester International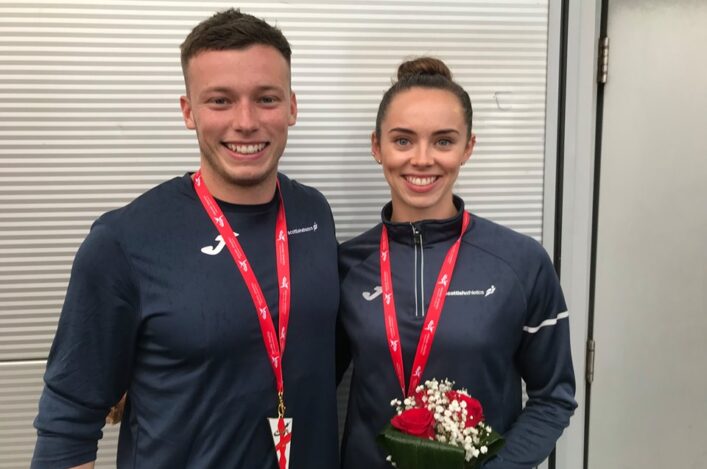 Sprint duo Adam Thomas and Heather Paton took golds in the Men's 100m and the Women's 100m Hurdles 
Scotland posted half a dozen success stories in the Manchester International on a night when the team were no strangers in making visits to the podium in the now annual track and field match.
There were event wins for Jax Thoirs in the Pole Vault, Lewis McGuire in the High Jump, Adam Thomas in the 100m, Heather Paton in the 100m Hurdles,  Nick Percy in the discus and Courtney MacGuire in the Pole Vault.
Zara Asante was desperately close to adding to those wins with a second place in the Triple Jump only on count-back – with the top two both on 12.73m for their best jump.
Scotland Women also took silver medals in the 4x100m relay thanks to the runs of Heather Paton, Sarah Malone, Katy Wyper and Stacey Downie in a race where there were a couple of DQ decision on a night of truly appalling conditions at certain times in the late afternoon/evening programme.
There was also a fine run by Owen Miller in the Para 1500m as he finished in a strong second place behind an American athlete and ahead of all the British competition in his classification. A World Champs trip to Dubai with GB and NI is starting to look a distinct possibility for the Fife AC athlete.
Add in a second for Rachel Hunter in the Women's Hammer and Jack Lawrie in the Men's 400m Hurdles that was no fewer than 11 top two places for Scotland on a night when the opposition featured England, GB Juniors and a strong British League select team.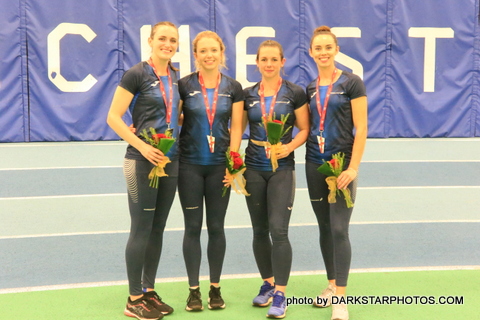 Adam Thomas won the Men's 100m in 10.44 – after a victorious 10.47 run in a guest race.
'I was injured mid-season, just prior to the World Student Games in Italy, and have been coming back from that so it has been a weird season in many ways,' he said.
'It's a wet track so I'm happy enough with the time but I'd love to be down at 10.3 or 10.2 for the British Champs. I'd need that to try and make the final.
'I'm delighted with the way the Relay Programme is going with scottishathletics and I love being with those guys – I'm really keen to play my part.'
Heather Paton picked her first win in a Scotland vest to add further gloss to a season which includes National Records in the sprint hurdles and the 4x100m.
'I'm delighted to get the full points and I went into it feeling confident after a 13.26 windy run last week,' said Heather, who clocked 13.44 to win the 100m Hurdles despite the wet conditions.
'That's making me believe I can run under 13.30. Tonight it was more about trying to see off the competition because there were a few of us at a similar level.
'I'm so proud to represent Scotland because my dad is Scottish and this is the first time I've won while wearing the vest so it feels extra special.'
Lewis McGuire won the high jump as the only man to clear 2.10m and was delighted to post full points.
'It's always in your mind you want to do well for Scotland because there is a strong sense of pride wearing the vest,' said Lewis.
'I also wanted to make amends for finishing fifth here for Scotland last year. I actually came to this stadium for the UK School Games a few years ago and was fifth in that competition, too, so I'm delighted to have put all that history to bed, so to speak.
'It's coming together for me now this season and the 2.13m attempts were all quite close.'
Nick Percy is no stranger to competition wins but this was a first success at this particular event as he delivered for Scotland in the discus with a best throw of 61.10m.
'My form is good now because that's me over 60m seven times in the last eight competitions  – I am really looking forward to Grangemouth now and the FPSG Scottish Seniors.'
Jax Thoirs went into the match on a high after being named Scotland captain alongside Stacey Downie.
And he duly delivered maximum points with a clearance of 5.11m in the wet conditions. He was the only athlete to clear that height, in fact, and thus gave Scotland an early win in the field action.
'I'm pleased to get the win and help the team with full points,' said Jax.
'It was pretty tricky conditions out there. And it was a tight competition with everyone clear with the same card until we reached 5.11m. I made it on my third attempt but nobody else cleared that height!'
Courtney MacGuire made it a Scottish pole vault double much later in the programme, with a 4.06m clearance in a competition that was affected by the weather.
'It started and stopped a couple of times but fortunately I had not come in at that stage, before the heavens really opened,' said Courtney. 'I cleared 3.96 and 4.06 and then tried at 4.16.
'It's good to win in a Scotland vest because I didn't do well here last year. My season has been brilliant and being in Loughborough has really helped. I've changed my jumping completely and confidence is high at the moment.'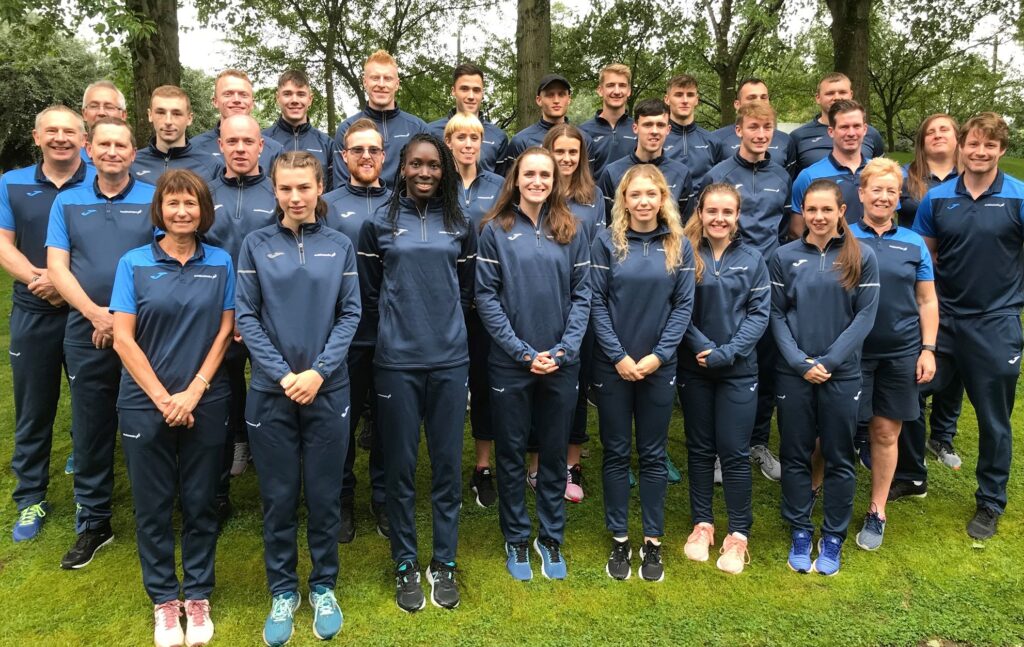 Jack Lawrie came up with a solid run in the Men's 400m Hurdles to take second place. Hammer thrower Rachel Hunter was another with a top two finish as she took second with 64.27m – only just short of her SB.
Katy Wyper ran a strong race for third in the Women's 100m – with 11.88 as the second-placed athlete clocked 11.87.
Grant Plenderleith was edged into fourth in the Men's 400m. Mike Deason was another to finish fourth in his 3000m steeplechase run. There were also fourth-place finishes for Kane Elliott in the mile, Mhairi Porterfield in the shot and Andrew Murphy in the 110m Hurdles.
Erin Wallace represented GB in the mile event and finished third, just ahead of her training partner and Scotland pick, Kerry MacAngus. Erin's run of 4.44 for the bronze medal looks to take her seventh on the Scottish all-time lists at U20 for the mile on the track.
Fraser Angus was another Scot wearing GB Juniors colours and was fifth in the 200m while Stephen Mackenzie was fourth in the long jump. In the 800m races, there were fifth places for Philippa Millage and Patrick Taylor.
Stacey Downie was fifth in a competitive Women's 400m match race and placed fourth also in the 200m.
Para athlete Alexander Thomson had a strong run in a guest race 400m which had Billy Doyle taking third place. Alexander was then fifth in his 100m race with his 11.93 time the second fastest he has run that distance.
Stef Reid was another Scottish Para athlete in action, with 5.18m in the Long Jump before retiring from the competition.
And Amy Carr took a bronze in her ambulant 100m, via the points system, with a run of 14.74 seconds.
Eloise Walker was fourth in the Women's 3000m race which opened the track events just after 4pm. Henry Clarkson, in his first appearance for Scotland, was fourth in the Men's Triple Jump with Miraji Ahmed fifth for GB Juniors.
Scotland were fifth in the 4x400m Men's Relay via the efforts of Billy Doyle, Jack Lawrie, Kyle Alexander and Grant Plenderleith

Tags: Adam Thomas, Courtney MacGuire, Heather Paton, Jax Thoirs, Lewis McGuire, Manchester, Manchester International, Nick Percy, Scotland