#SALdohadozen! 12 Scots are selected for IAAF World Champs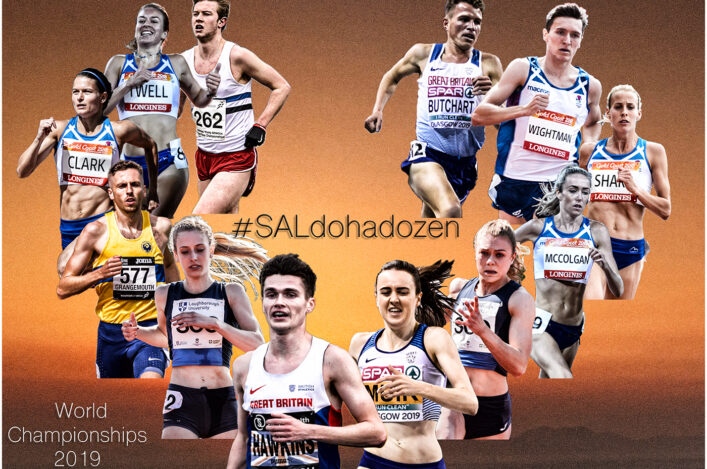 Photo montage by Bobby Gavin
British Athletics website announcement
British Athletics have today named a 72-strong team for the IAAF World Champs which start in Doha later this month.
And there is once again a terrific representation for Scots with no fewer than 12 athletes named in the GB and NI team.
Jake Wightman completed an all-Scottish trio in the Men's 1500m selection, with Laura Muir alongside Jemma Reekie at that distance in the Women's lineup.
Steph Twell will race the 10,000m and Eilish McColgan is named for both the 5000m and 10,000m and is yet to decide on doubling up or choosing one event.
Congratulations to these athletes and their families and coaches!
#SALdohadozen (in alphabetical order)
Andy Butchart (5000m) Central AC
Zoey Clark (4x400m) (Eddie McKenna) Aberdeen AAC
Beth Dobbin (200m, 4x400m) (Leon Baptiste) Edinburgh AC
Neil Gourley (1500m) (Mark Rowland) Giffnock North AC
Callum Hawkins (Marathon) (Robert Hawkins) Kilbarchan AAC
Josh Kerr (1500m) (Danny Mackey) Edinburgh AC
Eilish McColgan (5000m, 10,000m) (Liz McColgan-Nuttall) Dundee Hawkhill Harriers
Laura Muir (1500m) (Andy Young) Dundee Hawkhill Harriers
Jemma Reekie (1500m) (Andy Young) Kilbarchan AAC
Lynsey Sharp (800m) (David Harmer) Edinburgh AC
Steph Twell (10,000m)  Kilbarchan AAC
Jake Wightman (1500m) (Geoff Wightman) Edinburgh AC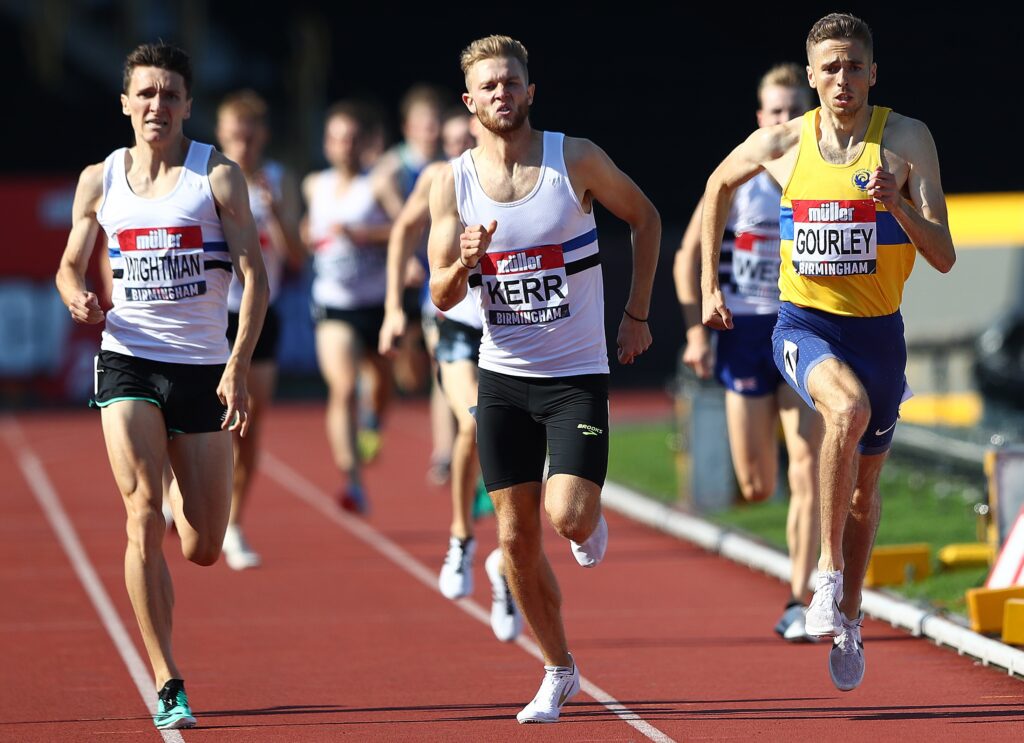 Scottish 1-2-3 at the British Champs when Neil Gourley (on right ) won from Josh Kerr and Jake Wightman – and all three are picked for Doha (photo via British Athletics/Getty Images)
Tags: Andy Butchart, Beth Dobbin, Callum Hawkins, Doha, Eilish McColgan, IAAF World Champs, Jake Wightman, Jemma Reekie, Josh Kerr, Laura Muir, Lynsey Sharp, Neil Gourley, Steph Twell, Zoey Clark