Run Balmoral preview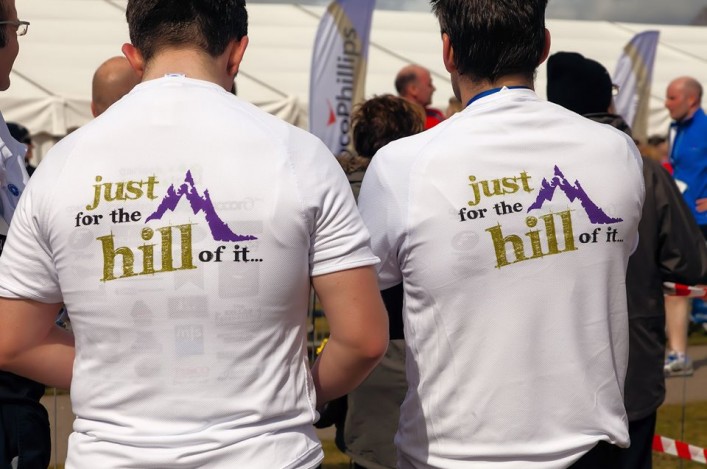 Aberdeen AAC's Nicola Gauld and Central AC's Jenn Wetton could threaten the longest-standing Balmoral course record when this weekend's festival of running goes ahead at the royal estate.
It's 10 years since Aberdonian Lynn Wilson (Carnethy Runners) recorded 36.23 to win the women's prize in the Stena Drilling Tartan 10K.
No one has bettered that mark since then but there's no doubt Gauld and Wetton are more than capable of putting it to the test on Saturday, although Nicola has been nursing an injury.
Gauld and Wetton showed good form in the Scottish road relay championships at Livingston this month when they respectively posted the fastest two times on the 5.8 mile stage. Wetton's time of 34.07 on the final leg secured the title for Central AC  while Gauld's 33.36 gave Aberdeen AAC bronze medals for the first time in 25 years.
'Jenn and I were both meant to be running at Balmoral last year but each of us pulled out with injuries, so that was disappointing,' said Gauld.
'Hopefully we'll make it this time. I was thinking about doing the Buckie 10K last weekend but my hamstring was a bit tight so I decided not to take any chances. Hopefully a few days rest will allow it to calm down.
'This is only the second time I've run at Balmoral. When I won three years ago I was in the middle of a good spell when I think I won seven races in a row. I'm not so sure if I'm as fit now as I was then.
'I was happy with my run at Livingston, however, where I think I performed better than I had done at the Inverurie Race. Balmoral always attracts a good quality field, so it should be a competitive race.'
North of Scotland cross country league champion John Newsom (Inverness Harriers) is the leading entrant in the men's competition.
More than 5,000 runners of all ages will take part in the Run Balmoral programme of eight races at the royal estate on Saturday and Sunday and Inverness athlete Jenny Bannerman will feature in the 5K – after landing a Scotland half marathon call-up this week.
Bannerman is aiming for a fast time but admits Rhona Auckland's course record 15.55 is out of reach at the moment.
'I always like to race and get a fast time and finish as high up the field as possible. The course is not the fastest of courses so I am more likely to compare my time with what I did in 2014.
'Rhona's time is a first class performance and if I remember correctly she beat all but one of the men. I don't think anyone will touch that record for a long time. Rhona is one of the best Scottish distance runners of all time and I really look up to her.'

Kenny Wilson (Moray Road Runners), who has been unbeatable on the north 10km circuit this year, will start as favourite to win the men's 5K.
His rivals include Run Garioch 5K winner Callum Symmons (Aberdeen AAC), top north 800m and 1500m runner Stephen Mackay (Inverness Harriers) and Aberdeen AAC's Stewart Millar who won the Kongsberg Maritime secondary schools 2.5K race last year.
Ten years ago Robbie Simpson won the Kongsberg Maritime secondary schools 2.5K at Balmoral Castle. He has competed in the annual running festival here almost every year since then and has set record times for the 10K and the trail race on a number of occasions.
Now established as one of the world's top mountain runners, 24 year-old Simpson loves competing at Balmoral, but will miss this year's event because it clashes with the London marathon on Sunday.
Robbie will be in London, his mind firmly focussed on achieving a qualifying time for the  Olympic Games in Rio de Janeiro. Auckland is another GB international with Olympic aspirations who has competed at Balmoral on a regular basis since she was a 10 year-old.
So, there may be more stars of the future taking part this weekend in the junior races.
Meanwhile, Aberdeen-based doctor, Moira Davie (Forres Harriers), returns to defend the women's title in Sunday's Glacier Energy 15 mile trail race but she could be challenged by 2014 champion Veronique Oldham (Cosmic Hillbashers) and 2011 winner Clare Whitehead (Deeside Runners).
Michael O'Donnell (Inverness Harriers) and Brian Bonnyman (Westerlands) could be among the front runners in the men's race.
Aberdeen's Ian Russell and Laura Wood will defend their respective men's and women's titles in the Apollo duathlon which has attracted a field of 250.Competitors start with a 6K run, then cycle 16K before finishing off with a 5K run.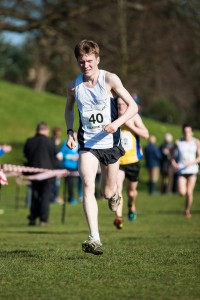 Callum Symmons – Scotland U20 XC international races the 5K at Balmoral (photo by Steve Adam)
With thanks to Fraser Clyne
Tags: Jenn Wetton, Jenny Bannerman. John Newsom, Kenny Wilson, Moira Davie, Nicola Gauld, Run Balmoral, Stephen Mackay