Records smashed in HOKA Highland Fling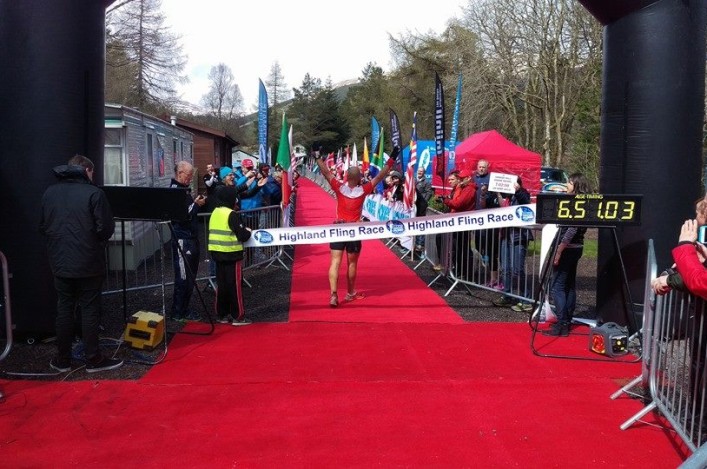 Course record – as Donnie Campbell celebrates
Album of photos on HOKA Highland Fling Facebook page
Many of the UK's best ultra-distance runners toed the line of 11th Hoka Highland Fling Race on Saturday – with records ultimately being smashed at the finish in Tyndrum.
As host to the UK Trial and Scottish National Ultra Trail Championships 2016, the depth of talent was arguably the best that any UK ultra had ever seen.
Race favourites Joe Symonds and American Devon Yanko both dropped from the race with injury, leaving the best of the 750 plus runners battling it out for podium positions.
From the gun, a core group of Donnie Campbell, Damian Hall, Kim Collison and Robbie Britton led the 53-mile race , which starts in Milngavie and follows the West Highland Way to the finish line in Tyndrum.
Donnie Campbell (unattached) from Edinburgh went on to win the race, breaking the previous course record by 11 minutes to finish in 6:51:06. It was Campbell's 6th Hoka Highland Fling finish. His previous best was taking 3rd in 7:17 at last year's race.
'My training had gone well and my plan was to go with the pace with the lead group for as long as possible,' said Donnie.
'I was feeling good and put in an effort approaching Beinlgas at 40 miles. I'm delighted it came together on the day.'
Although with vast experience in ultra-distance running, Damian Hall was a relative outsider in the race preview rankings. He was second home in a very impressive time of 6:54:16.
Kim Collison (Raidlight UK) the 2014 UK Ultra Trail Champion, joined them on the podium with 7:00:35. All three were inside the previous course record 0f 7:02 set by Lee Kemp in 2012.
These three were followed in by Robbie Britton (Centurion Running Ultra Team) Eoin Lennon (Carnethy Harriers) and Jez Bragg (The North Face and Bournemouth AC) with 7:08, 7:27 and 7:38.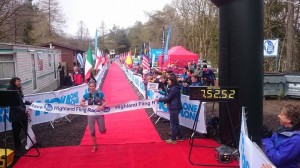 Women's winner Beth Pascall crosses the line in Tyndrum
In the Women's race, Beth Pascall (Bristol & West AC and Raidlight UK) smashed the previous record (8:10) which has stood unchallenged since 2008 to finish in 7:52:55.
Sally Fawcett (Dean Park/Montane) led from the start, but with Pascall never too far behind. Pascall caught Fawcett around Loch Lomondside and the pair ran together for a while, before Beth made her break and stormed through the second half.
This adds to Pascall's repertoire of phenomenal race performances including Dragon's Back, Lakeland 100, The Spine and Spine Challenger. She has recently been selected to represent the GB team at the European 24 hour championships in France last this year.
'I only decided to have a go at the Fling about a month ago and came up recently to recce the course over two days,' said Beth. 'Sally certainly went off fast, but I just held back and ran my own race.'
Sally Fawcett (Dean Park/Montane) and Sophie Grant (Serpentine) completed the podium with a close 8:14:16 and 8:15:04 respectively.
Hot on their heels was Lizzie Wraith (Bath AC) in 8:18:43 with those athletes followed by Garscube Harriers duo Nicola Adam-Hendry and Debbie Martin-Consani.
To emphasise the quality this year, the top 11 women on Saturday finished in under 9 hours, in times that would have won the race in previous years.
The top three men and women have put themselves in contention for selection for the GB team for the IAU World Trail Championships in Portugal in October.
Scottish National Trail Championship 2016 medals were awarded:
Men's: Eoin Lennon (Carnethy); Donald McParlin (Garscube); John Connolly
Women's: Nicola Adam-Henry (Garscube Harriers); Debbie Martin-Consani (Garscube Harriers/Centurion); Morgan Windram-Geddes (Fife AC)
SAL Masters: Neil MacNicol (Beacon Runners); Emilio Cosimo (Springburn Harriers); Mark Caldwell (Ayr Seaforth.
Women's Masters: Debbie Martin-Consani (Garscube Harriers); Lorna McMillen; Michelle Hetherington (Helensburgh)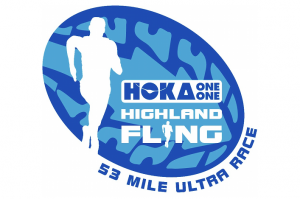 With thanks to Adrian Stott and Debbie Martin-Consani
Photos via Facebook