Officials short-listed for FPSG Awards Dinner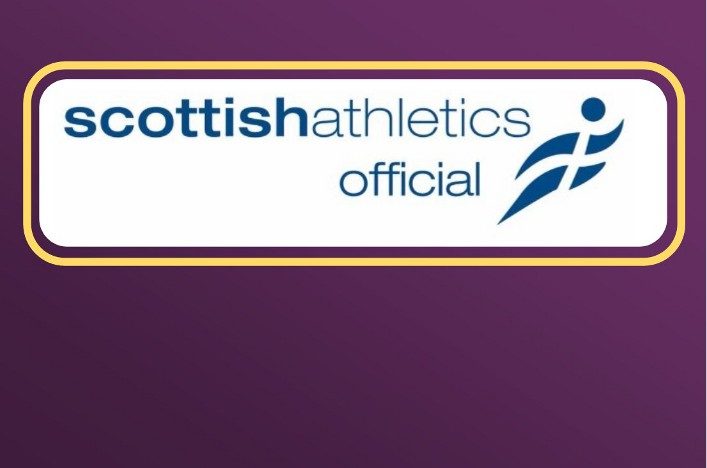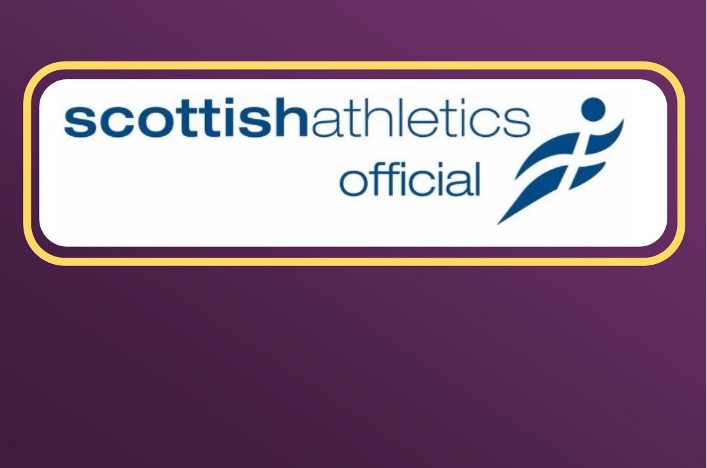 The FPSG Awards Dinner is looming up in Glasgow next month and we're delighted to bring you the final nominees for two further important accolades.
All at scottishathletics and within the wider community of the sport in Scotland fully appreciate the huge contribution made by our qualified Officials.
That's why we are pleased the FPSG Awards Dinner includes both the Official of the Year title and the Raymond Hutcheson Trophy for Services to Officiating.
Last year, Brian Brown accepted the former award with the latter being received by Ann Carter. This year, there are two nominations in each category and the formal presentations to this year's two winners will be made at the FPSG Awards Dinner.
Here's our guide to those nominated:
Official of the Year:
Carol Rose has been a scottishathletics Official for just a few months. In that time she has risen from a helper to Level 2 Field Judge working towards Level 3.
However, Carol has been working at athletics competitions for much longer, supporting her children who are current active athletes. Carol is widely considered one of the officials who can be looked to fro support and leadership, and who will help carry on the high standards to which everyone else aspires.
Janice MacFarlane is both an athletics official and a volunteer at a number of sporting events. She demonstrates a high level of competency at whatever role she undertakes.
Her progress within athletics demonstrates her commitment to the sport. In July 2014 Janice MacFarlane was a volunteer at Glasgow Commonwealth Games, with no officiating qualification. In September 2017 Janice is a qualified Level 3 Photo-finish official working towards her Level 4 application, having already "chiefed" photo-finish at senior meetings during the year.
Janice was a volunteer at IPC and IAAF World Championships in London in 2017. Her expertise is widely recognised within volunteering as exampled by her role as both an interviewer and trainer for these events.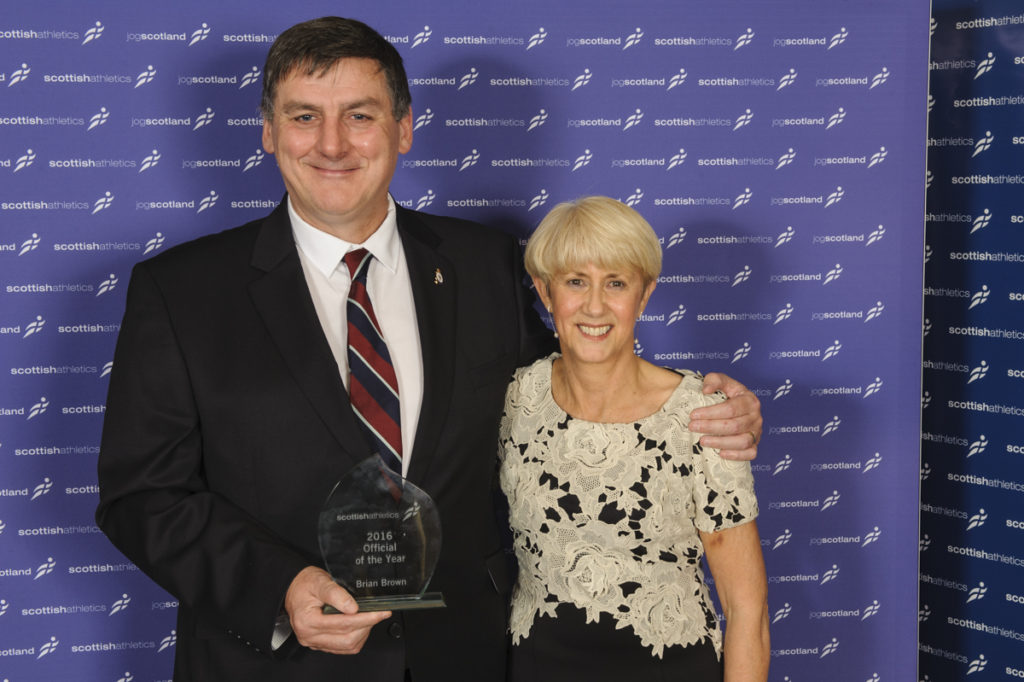 Brian Brown accepted the 2016 Official of the Year Award from Margaret Brown last year (photo by Bobby Gavin)
+++
Raymond Hutcheson Trophy for Services to Officiating
Alison Mathieson began her athletics career in admin but moved to field officiating in 1979 and qualified as a Grade 1 official in 1982.
She is a member of Aberdeen AAC but also helps out at club events for Ellon AC. Since then she has officiated at meetings all over Scotland from Club Championships to National Championships as well as at British Athletics events and Grands Prix in Sheffield, Birmingham, Crystal Palace and Gateshead.  She has been referee at the Home Countries Combined Events and Celtic Games in Aberdeen.
She was invited to officiate at the 1990 Commonwealth Games in Auckland but did not take up the opportunity as her son was competing for Scotland and she wanted to be able to watch him. Alison did, however, officiate at the Commonwealth Games in Glasgow in 2014. While Alison no longer travels much to national competitions she is still very active in the North East and is often Field Referee for most of the League and YDL meetings in Aberdeen, Inverness, Perth and Dundee.
Ian McWatt started timekeeping in April 1986 and he soon passed both the practical and theory tests require by Scottish Amateur Athletics Association/Scottish Women's Amateur Athletics Association, and became a Grade 1 timekeeper – 1987 style.  Since then Ian has continually officiated as a timekeeper at both Endurance (Road Running and Cross Country) and Track and Field events.
Ian has assisted and mentored many new timekeepers over the years. As an example, at the Scottish U13 and U20 Championships in August 2017 Ian, as Chief Timekeeper, used his knowledge and experience to lay out the timekeeping team in manner that enhanced the skill level of his team – by insisting on capturing times other than first place.
Under the tutelage of Ray Hutcheson, Ian expanded his role in athletics to include Photo-Finish. Ian is one of the core individuals whose expertise makes this aspect of athletics in Scotland the envy of the rest of the UK.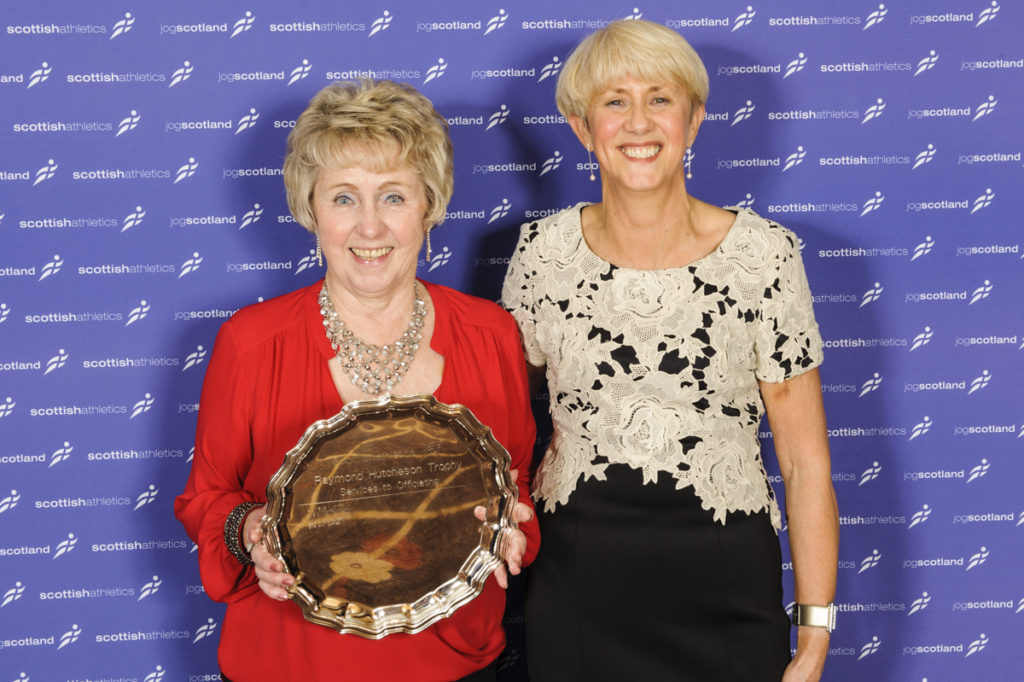 Ann Carter receives the Raymond Hutcheson Trophy for Services to Officiaiting from Margaret Brown at our 2016 awards (photo by Bobby Gavin)
+++
Officials Conference: Carnegie Conference Centre, Dunfermline

22 October 2017, 9am – 4.30pm
Cost – £10
The day will be packed with keynote speakers, annual updates, discussion groups on scenarios, and workshops. Lunch will be provided.
Spaces are limited to 100 so early booking is advised.
If you would like to attend please complete the Officials Conference 2017 Booking Form and return to Shona Malcolm with payment on shonamalcolm@scottishathletics.org.uk or call with card details and relevant information on 0131 539 7320 or 07731 862567.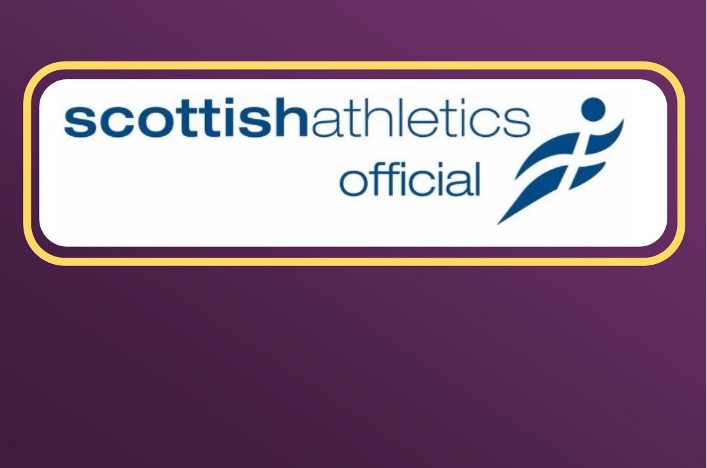 Tags: FPSG Awards, Margaret Brown, Official of the Year, Officials Conference, Raymond Hutcheson Trophy for Services to Officiating