New arrivals are lifted by Loughborough
The Loughborough International invariably throws up a series of absorbing stories behind the performances of Scottish athletes and 2017 proved no exception.
This year, the Scottish presence was right across a number of teams and guest races with no fewer than seven athletes making their debut in the Scotland vest in a track and field international.
We spoke to three of those who took their bow on Sunday and came up with moments to savour at the Paula Radcliffe Stadium.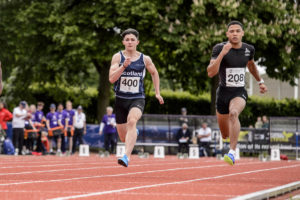 Adam Clayton – raced against Dwain Chambers for PB
Adam Clayton had to look up the Loughborough International online to find out more about the event after being selected to represent Scotland in the 4 x 100m Relay.
Come Sunday afternoon and he had raced against Dwain Chambers to a 100m PB of 10.73 which may yet propel him to the Commonwealth Youth Games in the Bahamas with Scotland this summer.
'I am chuffed to bits and I could not have imagined having a day like this at all,' smiled the 16-year-old sprinter from Giffnock North AAC.
'In fact, when the email came through with the Scotland call-up I actually had to go and find out a bit more about the Loughborough International. I didn't know much about the event or the level that it is at – I soon realised when I saw some of the names down to compete!
'This morning we were hoping there might be a chance of a guest run. At the last minute, I was told I was being put into the Guest A race with Dwain Chambers. It was a bit surreal to be honest and he was a couple of lanes along from me at the start.
'I tried to shut it all out and not think about being nervous. I just wanted to do my best but to come up with a PB like that was an amazing feeling. I've gone from 11.1 to 10.73 today.
'At the time I didn't realise the Commonwealth Youth Games qualifying had been extended. I think that was a good thing because then I'd have been even more anxious probably.
'I'm not sure what happens next but it is not every day you get the chance of a trip and competing in the Bahamas! I will wait and see now but it is so exciting. Even before that, just being here with Scotland was a huge experience and a learning curve.'
*Adam's 10.73 performance is one hundredth outside the 10.72 Scottish National Record at U17 – set by Peter Little some 40 years ago in 1977.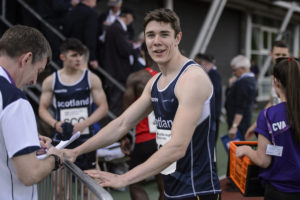 Interview technique – Fraser chats at Loughborough
Kilmarnock Harriers sprinter Fraser Angus is already in the frame for Commonwealth Youth Games selection in the sprints.
He raced in the 4 x 100m Relay for Scotland at the Loughborough International and ran 22.12 in a 200m guest race. Fraser, coached by Donald McIntosh, is 17 and from Prestwick.
'It was a bit nerve-wracking but I really enjoyed the experience and I'm delighted to get an event like this under my belt.
'Put it this way: lining up alongside Olympians and GB Senior internationals was definitely a bit different from a District Champs or the Scottish Schools!
'I've had a good indoor season – I went down to England a couple of times and performed well and improved my times. So I am really pleased with my progress after injury last year.
'With the help of my coach we changed around a few things in terms of training and strength and conditioning and it seems to work for me. Hopefully I can keep getting quicker in the outdoor season and can represent Scotland again.'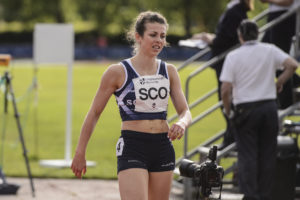 Anna Tait – big PB in the 1500m
As an U23 athlete, Anna Tait is a little bit older than young sprinters Adam and Fraser, but the VP-Glasgow middle distance runner has made a lot of progress in the past 12 months as part of coach Bill Parker's group. Anna won cross country honours during the winter and has built on that base early in the track season.
A late selection for Scotland for the Women's 1500m, after Jemma Reekie was called up to GB Juniors, she had raced to a 4.28 PB at the West Districts and then ran a 3000m in Manchester last Tuesday night.
Come Sunday, however, and she found herself contesting places with World silver medallist Hannah England on her way to a PB of 4.21.15 in a race where her Scottish 1500m rival, Megan Davies, came through for 4.21.11 (also a huge PB).
'That's so fast for me! It just turned out a great race for me, at a good pace and not a championship event where sometimes people are cagey.
'I had no idea I was just behind Hannah England with 200m or so to go to be honest, I was just trying to put in as good a finish as I could manage.
'It was great to get the opportunity to run for Scotland here. I've taken it with seven seconds off my PB – which was only from last week – and that time will get me into the British Champs in Birmingham in a few weeks.
'I wasn't sure if I would get into that, so this is another big step forward. I've been running PBs so I will just keep working hard.'
Photos by Bobby Gavin
Tags: Adam Clayton, Anna Tait, Fraser Angus, Loughborough International, Scotland