National Road Relays diary . . .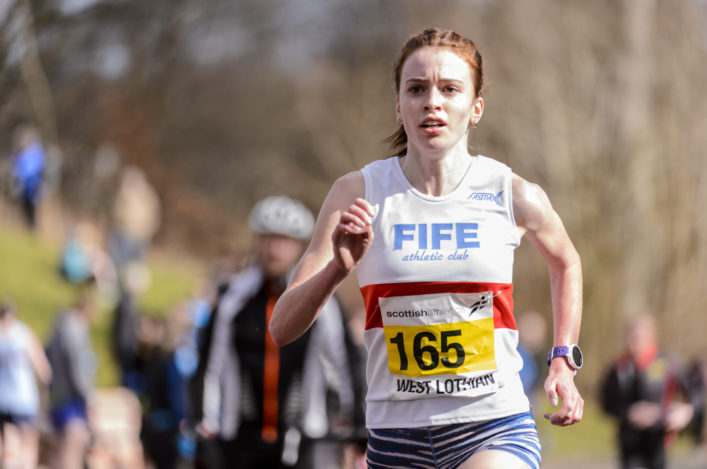 Steph Pennycook leads home Fife AC for their first win at the National Road Relays (photo by Bobby Gavin)
Provisional Results online on Events page
By Peter Jardine, Communications Manager
It has been quite a winter season for Steph Pennycook – winner of the Scottish Cross Country Grand Prix  in the women's table for individuals and now a national champion in team terms at three different events.
Pennycook made a significant contribution to Fife AC's National Road Relays victory at Livingston as the Kirkcaldy-rasied athlete raced for the club where she first enjoyed athletics by taking the final leg in the club's maiden success in this event.
Steph has been very loyal to Edinburgh Uni Hare and Hounds in recent years, though, and enjoyed team gold wins in a green and white vest at both the Lindsays National XC Relays at Cumbernauld and the Lindsays National XC at Falkirk.
There's no doubt, this time, Fife AC benefitted from both Annabel Simpson and Pennycook running for their clubs rather than their universities as Megan Crawford and Helen Sharpe completed the quartet.
It was quite a day for Fife AC women, as it happened, with their B team finishing in sixth place at Livingston and Alison McGill winning the Balloch to Clydebank half marathon.
Now they will head for the English Six-stage relays and may even manage to field two teams there. We wish them well . . .
+++
While Central AC Senior Men are always the ones to beat at Falkirk in the Lindsays National XC – where their run of gold success stretches back seven years – the National Road Relays have become a little more open.
Yes, Central sill have an impressive record with a couple of victories and a couple of second places over the past five years with Derek Easton having proved very adept at making the most of a squad regardless of personnel changes.
But Corstorphine AAC's first win in this event also ensured four different clubs have won the Senior Men's race over the past four events.
Here's the recent roll of honour:
2015: Kilbarchan AAC
2016: Cambuslang Harriers
2017: Central AC
2018: Corstorphine AAC
As Corstorphine AAC's Moray Anderson put it: 'Fair play to Central they always seem to manage to put out a very strong team and that's what a 6-stage relay is all about – trying to get your best athletes there and then finding the best combination. They have done that so often.
'If you finish above Central, you know will have a fair chance of the golds . . .'
(NOTE: After checking Archive, Central AC Senior Men have finished in top two for 11 years in a row. So Moray's comment is spot-on!)
+++
It was good to see the likes of Pennycook, Simpson, Mhairi Maclennan and Sarah Inglis racing at Livingston as well as Naomi Lang and Jo Williams, who had raced for Scotland the previous day at the Home Countries XC.
The top-end quality in the Men's race was a wee bit less obvious, to be honest, and it would be good to see that rectified for 2019.
Nonetheless, there's no disputing the terrific club atmosphere generated by a day out at St Margaret's Academy. Witness a first appearance in the Men's race for Anster Haddies.
'We managed to get a team of six, with a big variety of ages, but it was good to be here,' we were told.
'We enjoyed it and it is a good event. I think next year we will see if we can get a Masters team or a V50 team as well as a Senior one and I think we can certainly try and put together a Women's team. We are only a small club but you want to be part of National Championship events.'
#SALBelong, in fact.
+++
Livingston always delivers stories and across every club there will be tales of athletes who made a commitment to compete like the one from, think it was Calderglen Harriers, who flew in from holiday in Portugal at 12.30am in order to race.
Siobhan Coleman of Lothian Running Club provided another as she made the podium to claim a silver medal with the host club – for her first National medal for nine years. And this after an ankle injury had threatened to cut short a comeback year even before it had really started.
Welcome back, Siobhan.
+++
There are a number of other stories along similar lines – like V50 Chris Creegan of Edinburgh AC picking up his first National Championship medal after four decades or so of trying.
A number of these emerged on Twitter and our social media channels were once again alive with reaction through Sunday and Monday. In fact, we made it more than 51,000 'impressions' on the scottishathletics Twitter feed on Sunday alone and indeed that took us through ONE MILLION for March and for the third consecutive month in 2018. Thanks!
On the subject of thank-you we must once again commend Alex Jackson and his team of helpers, the Road Running and Cross Country Commission as well as a number of clubs who contributed marshals for Livingston. We mentioned Alex and the team in a Tweet on Sunday night and it was great to see that being endorsed by so many.
The clubs who proved marshals were as follows: Calderglen Harriers, Cambuslang Harriers, Corstorphine AAC, Edinburgh AC, Falkirk Victoria Harriers, Gala Harriers, Hunters Bog Trotters, Kirkintilloch Olympians, Livingston AC, Lothian RC, Penicuik Harriers and VP-Glasgow.
Tags: Anster Haddies, Central AC, Corstorphine AAC, Fife AC, Livingston, National Road Relays, Siobhan Coleman, Steph Pennycook