Murray ready for Aberdeen title defence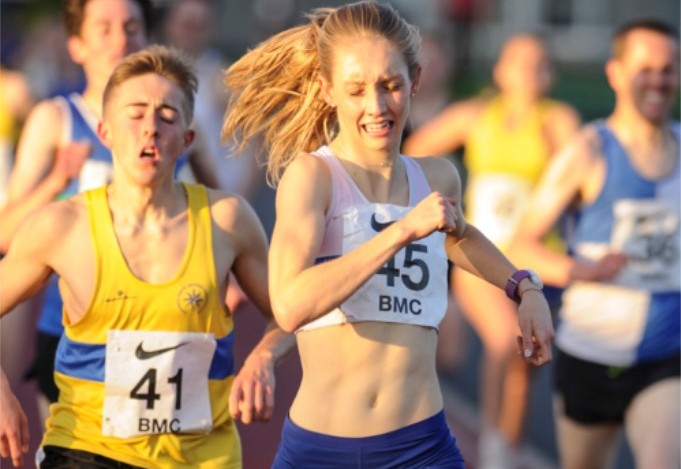 Murray lands her 1500m PB at GAA Miler Meet (photo by Bobby Gavin)
Start-lists and timetable for Senior Champs
Maddie Murray raced to another track PB in the British Women's League – and now can't wait to defend her Scottish 1500m title in Aberdeen.
The National XC winner had her eligibility to compete for Scotland cleared earlier in 2015 and the Australian-born Edinburgh AC athlete then made a fine debut by taking the Home Countries International title in Antrim in March.
Improvement on the track has followed for Murray with her 1500m PB coming down from 4.20 to 4.13 this year, with a recent run at the Glasgow Athletics Association miler Meet which saw her scoop £400 in prize money for breaking a specified time barrier.
Now, with a 2.03.66 run at 800m under her belt from last Saturday's BWAL meeting at Eton, she will head to the Aberdeen Sports Village for the Seniors as one of a number of defending champions look to repeat their 2014 success.
'It was good to win the Scottish last year and I'd love to do it again now I've had my eligibility sorted out and won a Scotland vest at cross country,' said Maddie, who is coached by John Lees.
'I am pleased with the improvements on the track this summer and things have been going well.
'You try not to chase times too much because sometimes when you do that they don't come along. But I am delighted to have improved at both 800m and 1500m. I guess it may reach the stage where it becomes much harder to get a PB!
'I've still got one or two races to do before the end of the season but the main focus now is the 1500m at Aberdeen. I'm not sure exactly who will be in the field – Hanna Tarver and Kathryn Gillespie were involved last year. Kathryn's had a good summer and is a strong finisher.
'It was pretty tough weather conditions at Kilmarnock last year with wind and run so I'm hoping it might be a little better this year.'
Decent conditions at the Miler Meet saw both Murray and Gillespie set PBs back on July 24, with the latter now putting her prize-money to good use it seems.
'I'm really grateful to the GAA event organisers because that £400 comes in handy for events in Birmingham, Manchester and Aberdeen late in the season,' said Maddie.
'I've just set-up as a podiatrist this summer and it takes a while to build up a client-base. And, with a number of events, there's been a bit of expense and a bit of travel but it has been worth it.'
Murray's Edinburgh AC team-mate, Emily Dudgeon, will be looking to replicate her 2014 success at 800m – with last year's silver medallist Katy Brown likely to offer a significant challenge again. Euro U20 GB international, Mhairi Hendry, is also in that field.
Holder Grant Muir is among the 1500m entrants for the men while Chris Watson is listed for the 800m, with last year's winner sure to be wary this time of Guy Learmonth and Jake Wightman in an event which will feature heats, semi-final and final.
Tags: Aberdeen Sports Village, Chris Watson, Emily Dudgeon, Grant Muir, Kathryn Gillespie, Maddie Murray, Scottish Senior Champs