Laura and Jake land titles at SPAR British Champs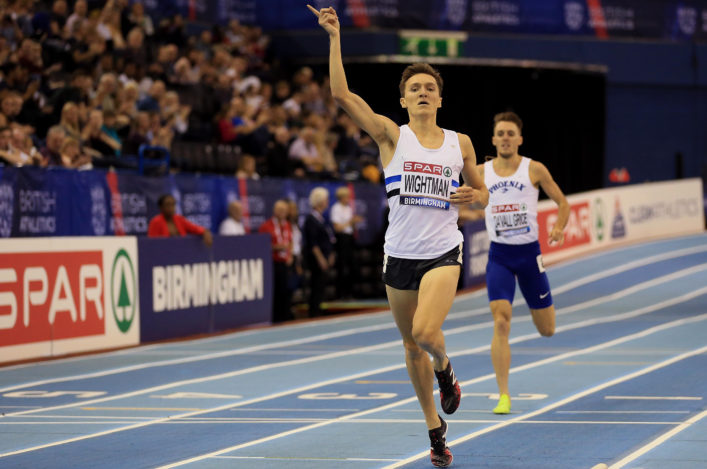 Laura Muir and Jake Wightman sealed British Champs gold medals on Saturday – and stamped their tickets to return to Arena Birmingham for the World Indoors.
Muir led home a Scottish 1-2 in the 3000m final as her Dundee Hawkhill Harriers team-mate, Eilish McColgan, joined her on the podium for the silver.
For Laura, it completed a fine British Indoor Champs endurance hat-trick – after winning golds at 800m and 1500m in previous years.
Wightman, who already had the qualifying time for the Worlds, took advantage of Chris O'Hare's withdrawal to win his first indoor title.
These were the medal highlights in terms of the Scottish performances, but there were commendable PBs in other events, too. (We will have another report on the Sunday action and thus, please note, this report does not include heats in those events not yet concluded).
Laura turned up the heat on the 3000m field in the final three laps and her final 1K was at 2.42 after a slower start. Her winning time was 8.46.71 with Eilish strongly holding off Rosie Clarke for second in 8.50.87.
'I'm really pleased, the win was sort of the important thing and I had to test my speed over the last few laps but I'm really pleased with how I executed the race and happy with the win,' said Laura.
'I wanted to test my speed in the indoor race, I was either going to go at 400m or 600m and I felt really good, so I went at 600m.
'It's been tough juggling training but so far it's gone really well and my sessions this week have been very close to PB sessions so I'm in really good form and it's about maintaining that in the next couple of weeks before the Championships.
'I've won the 800m and 1500m at these Championships before and it's nice to have the setting and have the 3000m and show my range of endurance so I'm really pleased to add another title.'
American-based Holly Rees was eighth in that race in 9.32.39 after her run at 3K in Armagh on Thursday evening. Steph Twell had decided against racing after travelling back from America and not feeling 100 percent.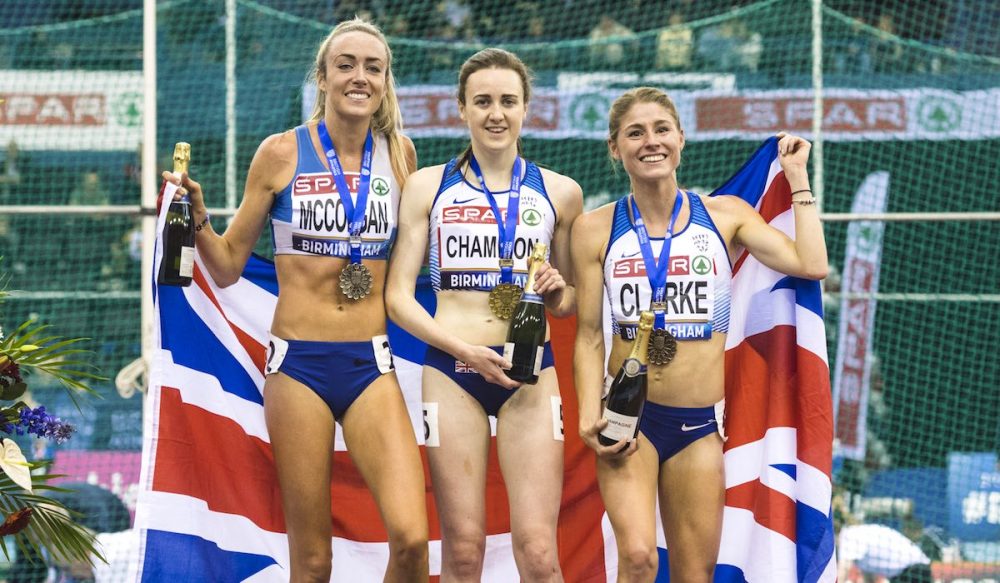 Jake won the 1500m final in 3.43.83 in a race that featured a number of Scots. Sol Sweeney took seventh place with a PB of 3.50.17  just ahead of Jamie Williamson and Ben Potrykus with Stuart Ferguson in 11th place.
'I think without Chris (O'Hare) there I knew that it'd be a little bit more relaxed because I knew that I'd be the one who was in control,' said Jake
'When I went I tried to lose sight of them as quickly as possible so I could get away as quickly as I could and it paid off.
'The Worlds was never definitely in my plans it was just if I got the standards then I'd look to go. I did that last week and there would have always been disappointment not to make the team from the position I was in but I'm glad today went as it did and it leaves me relaxed.
'I'll take any title I can get and the indoors is a really nice one to win.'
Also on Saturday (only in events that concluded):
Heather Paton finished fifth in the 60m Hurdles final after a run of 8.40 seconds.
Katy Wyper set a PB of 7.47 in the Women's 60m semi-finals but, unfortunately, was a DQ in the final after a false-start.
Michael Olsen and Adam Clayton reached the 60m semis but bowed out with 6.84 and 6.94 respectively. Jenna Wrisberg similarly made the Women's semis where a run of 7.62 wasn't enough to progress.
Alessandro Schenini (with 6.91m) and Rachel Alexander (5.84m) were both in long jump action, too, and gained experience at British Champs Senior level.
Tags: Birmingham, Eilish McColgan, Jake Wightman, Laura Muir, SPAR British Champs